Review: Enough Said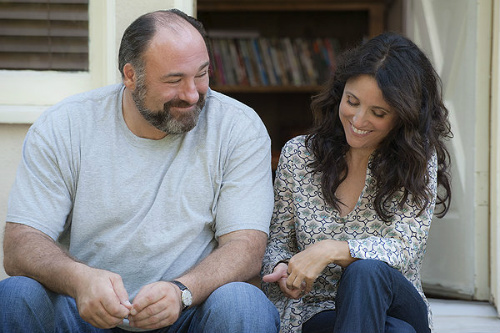 Enough Said comes from the mind of writer/director Nicole Holofcener, whose works tend to focus on foibles and miscommunications among small groups of upper-middle-class characters. Some of her characters can be gratingly obtuse, yet always have a grain of something relatable about them. This movie differs from her earlier work in that it veers more towards the romantic comedy genre. It's still very obviously a Holofcener film, however.
Divorced masseuse Eva, played by the marvelous Julia Louis-Dreyfus, begins to date divorced museum worker Albert (the late James Gandolfini in his second-to-last film role), and attempts a friendship with new client Marianne (Catherine Keener). She also worries about her daughter Ellen (Tracey Fairaway, webseries First Day), about to head off to college. These three relationships form the core of the film. Once Eva discovers that Marianne and Albert were once married, she decides not to tell either of them that she is involved with the other. What would a Holofcener movie be without things left unsaid?
The writing is so crisp in Enough Said, and the script certainly provides Louis-Dreyfus and Gandolfini with wonderful material to start with. "I'm tired of being funny," Albert confesses to Eva after their second "date." Such a line has double-meaning, as if now the two can really be serious with each other. Of course, his making such a statement, and her response in agreement, makes us in the audience laugh because the innate humor of their characters isn't something to be switched off.
Gandolfini and Louis-Dreyfus are flawless in their roles. Eva and Albert are far from perfection, but the actors play them with ease. The supporting cast is no less impressive. Keener plays poet Marianne as fairly smug, yet lonesome. Toni Collette and Ben Falcone (Bridesmaids) play Eva's frazzled married friends who just can't fire their addled maid Cathy (Anjelah Johnson, using an accent for some reason?). Oh, rich people problems. Even Tavi Gevinson (aka the teen who founded webmag Rookie) is better than expected as Ellen's friend Chloe, her first feature-film role. It's not hard to see why Ellen would become miffed at the easy rapport Eva and Chloe seem to share.
This goofy, sweet film has fewer uncomfortable moments than, say, Friends with Money or Please Give. There are a few, definitely, but nothing so awkward that I had to cover my eyes or feel any shared humiliation. Enough Said just has a natural, comfortable look and feel about it, reflecting Eva's character. Chloe refers to Eva's style as "normal" -- in comparison to her own mother, who wears the same style of clothes Chloe does. Louis-Dreyfus appears free of makeup at times, and Keener and Collette only look to be wearing very light shading. It is refreshing to see actresses over 40 in film portraying characters comfortable with their age.
My only minor quibble is that the one person of color with a speaking role in this film is playing a maid. Maybe this decision was made to show how insulated these characters are... but, boy, is this movie vanilla. That bugged me, but not enough to stop me from loving Enough Said.