AFF Review: Sombras de Azul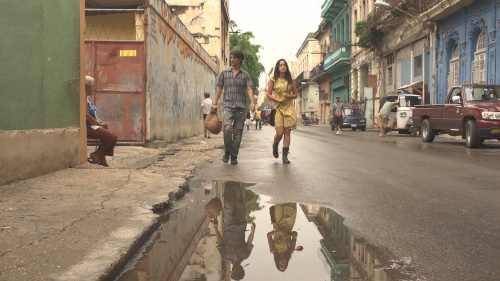 A long-form poem set to film and interspersed with dialogue, Sombras de Azul from Kelly Daniela Norris takes the viewer on a scenic trip to Cuba. Maribel, played by the director's cousin Seedne Bujaidar, arrives in the country after the sudden death of her older brother Carlos. In the touristy areas, silent museums and colorful back streets of Havana, she looks for hints of her brother at the same time she pays a sort of tribute to him.
During her short time in the country, Maribel meets friendly cafe owners, a Swedish tourist (Charlotta Mohlin, True Blood), and carpenter/failed thief Eusebio (Cuban actor Yasmani Guerrero). Each in their different way aid in her healing process.
Sombras de Azul moves in quiet meditation, with Maribel's reflections about her brother spoken over scenes of landscape, cityscape or beach. People in white congregate on the streets for an unnamed sacred event. Maribel sits silently in a graveyard under a tree, the audio of her narration softly spooling out a tall tale Carlos once told her about a snake.
I recognized a Celia Cruz tune among the many genres of songs used here; music pervades the movie and helps set the scene. The rhythmic language of Maribel's narration adds more lyricism to Norris' film. I was slightly surprised when the director told us after the Austin Film Festival screening that her script was originally written in English, then translated by a trusted friend to Spanish. Maribel reads poetry by Dulce María Loynaz, after a bookseller on the street quotes her a line from "Viajero":
Yo soy como el viajero
que llega a un puerto y no lo espera nadie...
(Something like: "I am like the traveler who arrives in a port and doesn't expect anyone.")
The Carlos of the film represents the director's own brother, giving Sombras de Azul the feeling of a visual eulogy. Norris used her brother's poetry in her script and references old journal entries she had written around the time of his death. Like the character of Maribel, Norris and her brother had always wanted to go to Cuba. Plus, Norris explained, the country "lent itself very well visually."
Sombras de Azul translates to "shades of blue," and this film is filled with the colors of life in Cuba. I noticed some sporadic blurriness in the print screened during AFF, but that may have been from the projection onto the IMAX screen. That was really the only downside to this simply beautiful depiction of a young woman dealing with loss.
Austin/Texas connections: Sombras de Azul won the Texas Independents Audience Award at the 2013 Austin Film Festival. Although director Norris is co-directing a film in Ghana at this time, she usually resides in Austin.