Review: Saving Mr. Banks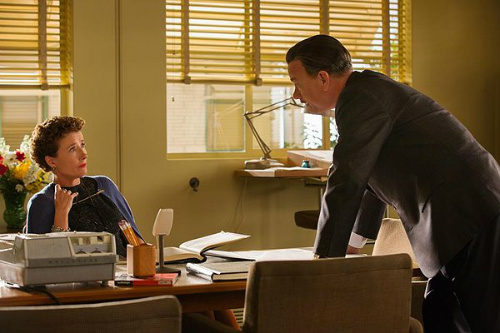 Saving Mr. Banks is "inspired" by the making of Walt Disney's effervescent classic musical Mary Poppins. Emma Thompson artfully plays the caustic creator of Mary Poppins, P.L. Travers, who flies out to Los Angeles to oversee the cinematic adaptation of her work. Walt Disney (Tom Hanks in a mustache) has started work on the film without her full approval. Along with the songwriting Sherman Brothers (Jason Schwartzman and The Office's B.J. Novak) and storyboard artist Don DaGradi (Bradley Whitford), Disney hopes to convince Travers to sign over the film rights.
As we see Travers spout acerbic wit in later middle age, scenes from the Australian childhood of the author are depicted. Colin Farrell and Ruth Wilson (Luther, The Lone Ranger) play her troubled parents. Bank employee Travers Goff (Farrell) encourages the imagination of young daughter Ginty (Annie Rose Buckley as the young P.L. Travers, nee Helen Goff) while he depends on alcohol for his own escapism. Mama Margaret (Wilson) is so beset with problems that she sleepwalks into a lake (IRL, this happened when the author was older and Mr. Goff already dead).
One can't really view this film as "based on a true story," because it isn't. Certainly these characters are based on real people who had real dealings together (well, Disney and Travers anyway). But as perfectly as Thompson plays this version of Travers, the author in Saving Mr. Banks seems a flimsy copy of the real thing. As I watched the film, I recalled a New Yorker article I had read some years ago about Travers and her thoughts on Disney's musical (get it while it's free!). We are told nothing here of the author's adult relationships, and the character demurs when asked about children. The grumpy Travers of the film, we are led to believe, was formed and inspired by the events of her childhood -- never mind the years afterward.
If we ignore this issue -- and believe it or not, the film is entertaining enough that I could mentally put my questions aside until later -- Saving Mr. Banks can be a delightful film that includes some dark elements. The film is enthralling whenever Emma Thompson is onscreen and less so when she's not. Indeed, in a scene where Disney is once again pleading with her for the rights to the film, Hanks delivers a melodramatic monologue about Disney's rough childhood and I found myself losing interest.
Hollywood loves movies about movies (see: The Artist), and this film has already made it on a few year-end "best of" lists. I'd agree that Thompson gives one of the best performances of the year in Saving Mr. Banks, and the film moved me to the brink of tears at a couple of points (it's pretty much a given that I get choked up when I hear "Feed the Birds"), but I'm of two minds about it. As much as I love Thompson in this movie, the simplistic treatment of Travers is too troubling.
Note: If you see the film, be sure to stick around through the credits. Travers stipulated that audio recordings of her conversations about Mary Poppins be made while at Disney's studios, and part of one plays at the end.