Sundance Review: Before Midnight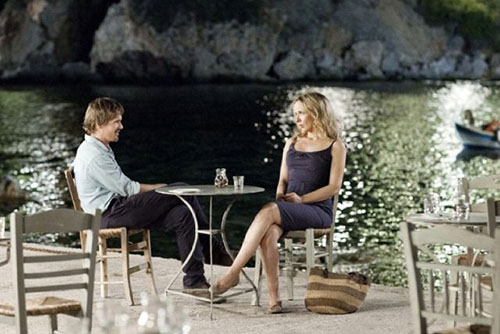 Not many details were given in last month's announcement that Before Midnight would premiere at Sundance, which left many wondering what the latest episode between Jesse and Celine would entail. So I was interested to see how the movie would fare, the follow-up nine years after Before Sunset and 18 years after Before Sunrise. I am pleased to report that Before Midnight is by far my favorite of this Richard Linklater trilogy.
It's been nine years since Jesse (Ethan Hawke) and Celine (Julie Delpy) were reunited while he was on a book tour, and they now live in Paris with their twin daughters. Although Jesse is a successful writer and Celine still works for an environmental organization, they still have difficulties. Jesse is conflicted by the distance between himself and his son Hank, who resides with Jesse's ex-wife in Chicago. Celine struggles with her own identity, both in her work as well as dealing with fans of Jesse's books who are convinced she is the woman in his stories. While vacationing in Greece with their children, they engage in philosophical conversations about love with both friends and one another.
The cinematography and art design of Before Midnight is exquisite, and the Greek locales of Messinia and Kardamili provide a lovely backdrop to the story. However, the real beauty to the story is the writing and direction. I've found Julie Delpy's writing and characters to be overly acerbic in her solo writing projects, but this treatment co-written with Linklater and Hawke is mature and well-balanced. The flawless dialogue is so natural that it seems almost unscripted, full of wit and gaiety during dinner conversations while raw and emotional during intimate moments.
Hawke and Delpy are natural in their roles, and the relatively unknown supporting cast provides a strong tour de force. Athina Rachel Tsangari as Ariadni exudes a natural beauty and sexy humor that only begs for more of her, as she banters with her onscreen husband. Tsangari is also one of the film's co-producers.
Austin composer Graham Reynolds reunites with Linklater to produce a lush and lovely score for Before Midnight. Reynolds collaborated with the director previously on Bernie and A Scanner Darkly.
Before Sunset and Before Sunrise focused on two people falling in love, but Before Midnight demonstrates how love can endure despite faults and idiosyncrasies of a lover. Hopefully this film will inspire viewers to appreciate and thank their partners for their support, compromises and sacrifices.
Austin/Texas connections: A number of crew members involved with this movie reside in Austin, including director Linklater, composer Reynolds, producer Tsangari (part-time) and editor Sandra Adair. Local company Stuck On On worked on post-production. And Ethan Hawke is a native of Austin.