AFS Grants 2013: All the Details We Could Find (Part One)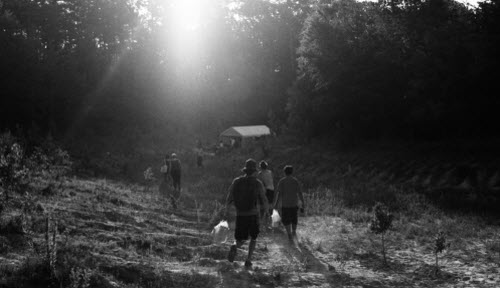 Last week, the Austin Film Society announced its 2013 AFS Grants for 2013 --formerly known as the Texas Filmmakers' Production Fund (TFPF). Between the AFS Grants and Travel Grants, AFS is giving away $116,000 to Lone Star filmmakers ... including quite a few from Austin.
I love AFS Grant time. Of course, it's great to see local filmmakers getting needed funds and resources, and so on, but I like it because I get a sneak peek into upcoming Austin features and documentaries. Some of this year's recipients and projects should be very familiar to Slackerwood readers -- others are new to me.
In addition, it's a pleasure to look at the travel grants and realize that previous awardees completed their films, even if they haven't screened in Austin yet -- the grants allow filmmakers to bring Texas movies to film festivals around the world. For example. Russell Bush received grants to bring Vultures of Tibet to $500 to AFI Docs and Edinburgh International Film Festival, and Nathan Duncan was able to bring Ash to Full Frame Film Festival.
I roamed the internet to find out anything I could about this year's AFS Grant recipients. Here are my notes, along with the official blurbs from the AFS press release. If you have info I don't, feel free to share it in the comments. Or drop us a line if you're involved with one of the films.
Above All Else (documentary feature)

The grant: $9,000 for production
The blurb: Above All Else (pictured at top) is a feature documentary film that tells the story of a group of landowners and activists who tried to stop construction of the Keystone XL pipeline in East Texas. The film follows David Daniel, a soft-spoken carpenter, whose backyard became the epicenter of a tree sit that blocked the path of the controversial pipeline. Above All Else is the story of David and his allies, their struggles, and what happened when they stood in the way of the most powerful industry in the world.
The filmmaker: John Fiege lives in Austin -- his master's thesis film at The University of Texas at Austin was the documentary Mississippi Chicken (our review), for which he received an AFS Grant in 2004. He's also worked as cinematographer on local docs Inside the Circle and The Least of These.
The production: In 2012, Fiege and Above All Else received an AFS Grant of $7,000 in MPS Camera Austin services for production/post-production. Fiege ran a successful Kickstarter campaign this spring to fund editing and finishing costs for the documentary.
Other notes: Fiege wrote an excellent column about the Keystone XL pipeline for The Huffington Post in May. (Yes, I'm linking to HuffPo, so it must be a good column.)
Barge (documentary feature)
The grant: $4,000 for post-production
The blurb: Barge is an experiential journey into the lives of people who navigate the Mississippi River. From lowly deckhands to seasoned mates, the characters throughout Barge give insight into the social spectrum of the inland waterways. Through their experiences, we gain new perspectives throughout the film of how the river industry works.
The filmmaker: Ben Powell is a local filmmaker and photographer, and a former AFS intern. Barge is his first feature documentary. Powell also has worked as cinematographer on the upcoming feature Homemakers.
The production: Barge received an AFS Grant of $7,000 for production in 2011.
Here's a teaser trailer for Barge:
Forty Panes: A Portrait of Wendell Berry (documentary feature)
The grant: $12,000 for production
The blurb: Forty Panes is a portrait of the world lensed through the works of farmer, writer and activist Wendell Berry.
The filmmaker: Laura Dunn is a local filmmaker whose previous film, The Unforeseen, explored Central Texas development and its effects on Barton Springs ... and won the "Truer Than Fiction" Independent Spirit Award in 2008. Dunn received an AFS Grant previously in 1999 for her documentary Green.
The production: Visit Dunn's website for more info and photos from the Forty Panes production (it looks like Lee Daniel is DP). Forty Panes received a Sundance Reach grant in 2009.
Hellion (narrative feature)
The grant: $5,700 for post-production
The blurb: When a motocross-obsessed teen's delinquent behavior forces his little brother to be taken away, Jacob and his emotionally absent father must take responsibility for their destructive behavior to bring Wes home.
The filmmaker: Kat Candler is a local filmmaker and instructor (run a search on Slackerwood for loads of info about her). She's received several AFS Grants in the past, from 2000 (Cicadas) to 2012 (Black Metal).
The film: Candler is expanding her short film Hellion, which premiered at Sundance in 2012. The feature is shooting in Central Texas now. Producer Kelly Williams received a Sundance Feature Film Creative Producing Lab fellowship in 2012 to develop this project. Candler also received an AFS Travel Grant to bring the Hellion project to the Independent Film Week Project Forum.
Here's the trailer for the short film Hellion:
Higher Ground (experimental short)
The grant: $3,000 for production
The blurb: Building an Art Car style spaceship in their Houston backyard with cardboard boxes, home appliances and imagination power, the collaborative artist team of Hillerbrand, Magsamen and their two children embark on an adventure to construct and fly a rocket ship to the moon.
The filmmakers: Mary Magsamen and Stephan Hillerbrand are Houston visual artists who have created a number of experimental videos. They received an AFS Grant in 2010 for their short Four Place Setting. Magsamen is the curator of Aurora Picture Show.
The Honor Farm (narrative feature)
The grant: $6,000 for production, $4,000 MPS Camera Austin Award
The blurb: After all hell breaks loose at prom, Lucy's new plans bring her deep into the woods, and on the ride of her life.
The filmmaker: Karen Skloss is an Austin filmmaker and editor. She directed the 2009 film Sunshine, for which she received two AFS Grants, as well as the Madonna pap-smear redux in Slacker 2011 (Elizabeth's interview).
The film: The Honor Farm was one of three films to receive a group grant of $33,000 from the City of Austin's Cultural Arts Division in October 2012.
King Bling (narrative short)
The grant: $700 for post-production
The blurb: Rey, a spiritual crossing guard and electronic music enthusiast, gets help from a gothed-out girl in dealing with the death of his mother.
The filmmaker: Lauren Kinsler is an MFA student at UT Austin. She was a 2011 Sundance Screenwriters Lab Finalist.
The film: King Bling was shot in La Porte. The filmmakers ran a successful Kickstarter campaign for the film in late 2012. The short also won the Women in Cinema Film Festival Scholarship in May. Read Kinsler's website for more information.
Here's the trailer from the King Bling Kickstarter campaign:
Part-Time Jobs (narrative/experimental short)
The grant: $4,100 for production
The blurb: A short film constructed in part from dozens of re-appropriated VHS home movies originally produced between 1984-1993. The film explores an adolescent's interpretation of adult genre fare, predominantly focusing on horror, fantasy, action and adventure, all with absurdist, surrealistic overtones both intentional and unintentional. In-camera editing and VFX, creature creations, and cross-dressing child actors populate this fever-dream narrative.
The filmmakers: David and Nathan Zellner are prolific Austin filmmakers, and I am actually in slight fear about what they might do with a bunch of home movies. They directed one of the sequences in Slacker 2011. The Zellners have received several AFS Grants, including a couple for their feature Kid-Thing (Don's review), currently in theatrical release/VOD. David Zellner just appeared (unrecognizably) in Ain't Them Bodies Saints.
If you haven't seen any of the Zellners' movies and are unfamiliar with their sense of humor, enjoy one of their earlier shorts below, Aftermath on Meadowlark Lane:
Petting Zoo (narrative feature)
The grant: $10,000 for post-production
The blurb: Petting Zoo is a fiction feature about sex, love and teen pregnancy in San Antonio, Texas.
The filmmaker: Micah Magee is a San Antonio native and UT Austin grad, and she's also a former Cinematexas co-director. Her previous short, Heimkommen, screened at SXSW 2012 (Mike's preview).
The film: Petting Zoo had a successful Kickstarter campaign to cover production costs about a year ago.
Here's the Kickstarter campaign video for Petting Zoo:
But wait, there's more ... check out Part Two, which includes grants for Pit Stop and a new Todd Rohal feature.