AFS Grants 2013: All the Details We Could Find (Part Two)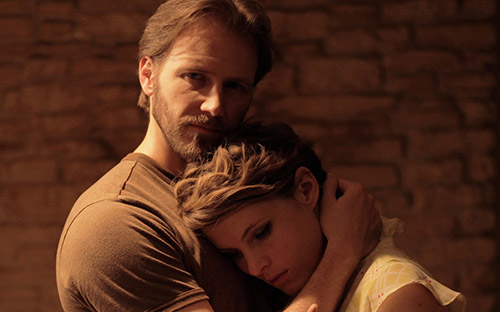 Continuing from Part One, here are detailed descriptions of AFS Grants winners this year -- not just the blurbs from the press release, but any other material I could unearth on the web.
Again, if you have info I don't, feel free to share it in the comments. Or drop us a line if you're involved with one of the films.
Pit Stop (narrative feature)
The grant: $3,000 for distribution
The blurb: Two men. A small town. A love that isn't quite out of reach.
The filmmaker: Yen Tan is a Dallas filmmaker (Ciao, Happy Birthday) who has also designed posters and title sequences for a number of local/indie films, including the short Hellion -- check out a gallery via The Austin Chronicle.
The film: Pit Stop (pictured at top) premiered at Sundance this year (Debbie's review), and screened again at SXSW. Tan and Pit Stop received an AFS Grant in 2011 for $7,000 for production costs. Kelly Williams produced this movie, along with the Hellion short and feature. DFW-area filmmaker David Lowery, whose film Ain't Them Bodies Saints is currently in theaters, co-scripted. The feature won the Texas Grand Jury Prize at the Dallas International Film Festival. Wolfe Releasing has the U.S. and Canadian VOD/DVD distribution rights, and is expected to release the film in 2014.
Rehearsal (documentary/experimental short)
The grant: $1,500 for post-production
The blurb: A surreal study of a simulated terrorist attack in Middle America. Composed frames observe the meticulous care taken to create a hyper-real terrorist event. Once the bomb goes off, hundreds of volunteers deliver a convincing performance as stunned and mutilated blast victims.
The filmmaker/film: I'm stumped, and can't find anything on this movie or filmmaker Thomas Rosenberg, other than that he appears to be a graduate student at The University of Texas in Austin. If you have info, please enlighten us in the comments.
Seeker (documentary feature)
The grant: $5,500 for post-production
The blurb: Seeker documents three families on a journey to live in the remote forests of northern Wisconsin for one full year, using only the natural resources at hand to survive. These personal stories of survival provide a window into the struggle to balance environmental and emotional needs of individuals with the needs of the larger global community.
The filmmaker: Michel Orion Scott is an Austin filmmaker whose previous film was The Horse Boy (Debbie's review). That film also received an AFS Grant, was nominated in 2009 for a Grand Jury prize at the Sundance Film Festival and received the Audience Award at SXSW 2009.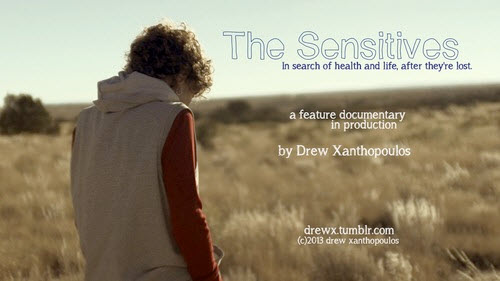 The Sensitives (documentary feature)
The grant: $1,500 for production
The blurb: The Sensitives is a feature-length documentary taking the viewer deep into the fragile existence of those exiled from society by extreme environmental sensitivity. Set in remote edgelands, deserts and rural backwoods, The Sensitives walks in the shoes of those with a complicated and often misunderstood illness that's radically changed their lives forever.
The filmmaker: Local filmmaker Drew Xanthopoulos was the cinematographer on Russell Bush's film Vultures of Tibet, which received an AFS Grant in 2012 and a travel grant this year, and on the short film Hellion. He was also an associate producer on Computer Chess, which received an AFS Grant in 2012 and a travel grant this year (for Sundance and the Berlinale). The Sensitives is his first feature-length film as a director. His Tumblr site has details on his current projects.
Some Beasts (narrative feature)
The grant: $5,000 for post-production
The blurb: Soon after a young man moves to rural Virginia to escape the complications of modern life, he finds that life in the indifferent and harsh landscape of Appalachia can be even more savage than the world he left behind.
The filmmaker: Cameron Bruce Nelson is based in Fort Worth. He's directed five shorts, and Some Beasts is his first feature. He's also a programmer for Dallas VideoFest. The Some Beasts cast includes Texas actor Frank Mosley (Upstream Color, Ain't Them Bodies Saints).
Star Nation (documentary)
The grant: $6,000 for production
The blurb: Star Nation is a character-driven documentary following the most polarizing figure and most beloved in the midst of the emerging landscape of electronic sports.
The filmmaker: Justin Agnew is from Minnesota and now lives in Austin.
The film: Among other locations, this documentary about the game StarCraft II was shot in Austin and Dallas. The film's producers include Andrew Lee and Bradley Jackson, who are also producing Andrew Disney's locally shot film Intramural right now. The project ran a successful Kickstarter campaign in 2011, and there's an official website you can check for updates.
Here's a teaser trailer of Star Nation:
Sweet Cheeks (narrative feature)
The grant: $8,000 for production; $6,000 MPS Camera Austin Award; $6,000 Kodak Film Award
The blurb: Tyson & Tyler are 9-year-old brothers that find a man's discarded rear end inside an abandoned mailbox and give it to their Momma as a gift. She's enraged. She didn't raise no ass thieves! To make good, the brothers set out on a mission to return the rump to the mysterious man who somehow lost his backside. Along the way they run afoul of a slick reverend with strange ideas about love, steal a car from a dirty hobo, get chased by a 6-inch man in a balloon, and confront Jesus Christ in heaven.
The filmmaker: Wait, Todd Rohal lives in Austin? He's teaching at UT? I can't always keep up with local film news. Rohal's previous films include The Guatemalan Handshake, The Catechism Cataclysm and Nature Calls.
The film: Sweet Cheeks may be in production in Austin now, per a May casting call (by Austinite Vicky Boone) for children. I have to say the above description of this movie has me intrigued.
Untitled (documentary feature)
The grant: $2,000 for production
The blurb: A feature documentary about American religion in the 21st century.
The filmmaker: Jeffrey Peixoto and this film present a bit of an enigma, and I'm leaping to conclusions (correct me if I'm wrong) on the assumption that there's only one Jeff Peixoto involved in filmmaking. Peixoto has also co-written the feature Confederacy with Jody Lee Lipes, which won them a spot at the Sundance Institute's Screenwriters Lab in 2010. Looks like he has also worked on at least one music video with former Austinite Margaret Brown (The Order of Myths).
The film: From local camera operator EJ Enriquez's online resume, it looks like this documentary might focus on Scientology, or at least it did at one point in its production. Also per Enriquez (who worked on this film as well as Pit Stop and Computer Chess), the cinematographer is Nick Bentgen, who worked with Peixoto on the crew of Tiny Furniture.
Untitled Freakshow Animation (animated short)
The grant: $3,000 for production
The blurb: In a fantastical Indian circus, a young boy delves into the world of freak shows and unexpectedly falls in love with The Wolf Girl.
The filmmaker: Nidhi Reddy is an undergraduate in radio-TV-film and mathematics at UT Austin, and is an officer in the university's Women in Cinema group (their faculty sponsor is Hellion filmmaker Kat Candler). Reddy's short The Yellow Wallpaper screened in May in UT's Wofford Denius Longhorn Showcase along with previous AFS Grant recipients Ash and Vultures of Tibet. And she's worked as an assistant editor for Fiege Films, which means John Fiege, director of Above All Else ... which brings us full circle.