DVD Review: Mississippi Chicken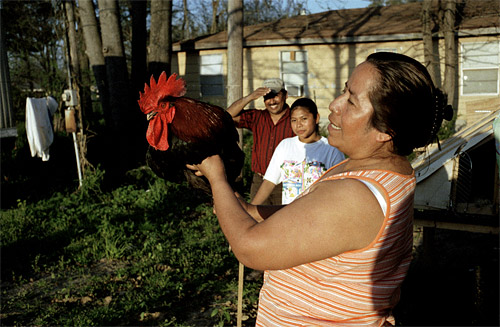 John Fiege's documentary about the Latin immigrant experience, Mississippi Chicken, has recently been released on DVD. The 2007 documentary, which served as Fiege's MFA thesis film in Radio-Television-Film at UT Austin, was nominated for a "Best Film Not Playing at a Theater Near You" Gotham Award. You may have seen it locally in 2007 at Austin Film Festival.
The Deep South is not a place most people associate with Latino workers, but apparently the poultry factories in Mississippi have been trying to entice immigrant workers for decades. In the 1990s, they even began to bus workers in from border towns. Mississippi Chicken evocatively puts real faces to the exploitations of South and Central American immigrants and the obstacles they face, whether they are legal residents or not. These are people who feel it's a step up to work for the money available at a poultry processing plant, and the plants want them because they'll work there at least for awhile.
There are many stories, each representing a different exploitation, such as non-payment of wages, workplace safety, and price gouging on debilitated housing. The types of people who take advantage of the workers may surprise you. All of the stories are tied together by the story of Guillermina, a former poultry worker who now provides meals for the workers, her daughter Rosario, and those who are committed to helping them.
Many of these stories have unsettling parallels to African-American workers from the mid-century, right along with activists trying to improve their circumstances. The audience's guide through these stories is narrator and workers' rights activist Anita Grabowski. She works closely with the immigrants to set up a workers' rights center, and has clearly established trust with the people she is working to help. Not surprisingly, the people who come to her for assistance don't know their rights, or how to navigate the U.S. legal system to assert their rights.
Despite dealing with serious subject matter, and using spirituals in the soundtrack, Mississippi Chicken isn't an emotionally exhausting film. Instead of screaming in outrage, the vignettes are deceptively simple stories as they are happening, frequently ending with voiceovers updating us on what happened later. Amid the overpriced, shanty-style trailers, a Catholic priest performs a street Mass because he learned it was a tradition in Mexico, resulting in neighbors meeting each other for the first time.
Shot entirely on Super 8, Mississippi Chicken has an immediate intimacy, like watching a home movie. Unlike other documentaries relying on Super 8, Fiege uses it to full advantage. It feels appropriate; the slightly grainy images give the impression that Fiege is meeting the subjects on their level, instead of using a slicker, high-definition choice. He frequently includes daily life and celebrations in the scenes, instead of relying solely on interviews.
Not surprisingly, watching Mississippi Chicken will bring to mind Slackerwood favorite and SXSW/Cine Las Americas selection The Least of These. Fiege is the cinematographer on both films. With these two films under his belt, Fiege is well on the way of establishing a very strong reputation in documentary filmmaking. In 82 minutes, Mississippi Chicken manages to shed light on the dark side of the New South without patronizing either the audience or the film's subjects.
The Mississippi Chicken DVD is part of the Watchmaker Films new Extremely Low Frequency Edition series, which intends to "present compelling work in affordable editions" that contain simply the movie and an information booklet. The DVD does not include chapter menus, although the movie is divided into chapters, and has no English subtitle option for English-language films, which would be helpful for the hearing impaired (or in some cases, those unfamiliar with Deep South drawls). At $15.99 on Amazon, the price isn't that low, considering how much non-indie DVD prices are dropping lately. The Watchmaker website is fairly bare-bones and mostly under construction, so more information is not available about the Watchmaker ELF DVDs at this time.