SXSW Review: Kid-Thing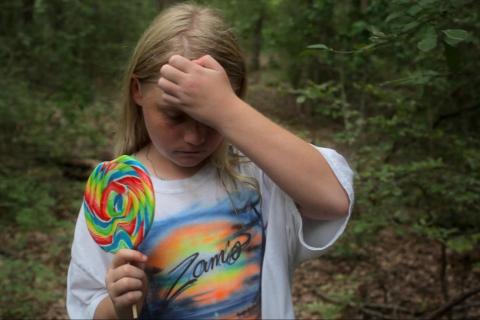 The SXSW 2012 feature Kid-Thing is aptly titled, for this latest effort from Austin filmmaking brothers David Zellner and Nathan Zellner deftly captures a child's world.
At the center of this oddly tragicomic story is 10-year-old Annie (Sydney Aguirre), a virtually parentless girl whose father, Marvin (Nathan Zellner), is too preoccupied with his goat farming, demolition derby driving and beer drinking to pay much attention to his lonely and bored daughter. Left to entertain and fend for herself, tomboyish Annie does, well, kid things, exploring the world around her rural home near Austin and getting into various forms of mischief. She makes crank phone calls, shoplifts, smashes things with a baseball bat and hurls balls of dough at passing cars. She is anything but a model child.
On a walk through the woods, Annie hears a call for help and discovers Esther (Susan Tyrrell), a woman trapped at the bottom of a well. But rather than summoning help, Annie visits Esther repeatedly, bringing her food and carrying on bizarre conversations with the increasingly desperate woman. Annie checks in with Esther as if toying with her is just another childish amusement, like playing with fireworks or splattering various objects with her paintball gun.
In some ways, the callously indifferent Annie is another in a long line of pint-sized cinematic sociopaths, from The Bad Seed's murderous Rhoda Penmark to the titular demon child in We Need to Talk About Kevin. But Kid-Thing is a fresh take on the devil-child genre in that it approaches its dark story from the child's point of view. The film treats Esther's predicament as yet another situation that is beyond a 10-year-old's ability to fully understand and deal with, especially a 10-year-old with almost no parental guidance.
Annie regards Esther with equal parts contempt and confusion. She's no doubt a mean and sometimes horrifyingly amoral kid; in one cringe-inducing scene, she happens upon the birthday party of a young girl in a wheelchair, smashes the girl's birthday cake and steals one of her presents. But whether smashing a cake or leaving a woman trapped in a well, Annie's malevolence seems to stem more from perplexity and lack of empathy than mere childish anger or hatred. Obviously, her mostly absentee father never properly socialized her, helped her develop any coping skills or gave her much moral guidance.
Kid-Thing is also highly original for its potentially risky combination of psychopathology and the sort of absurdist humor that is a hallmark of the Zellner brothers' films. The movie is mostly successful in this respect, although some of the more childish antics (many of them instigated by the allegedly adult characters) border on slapstick and create jarring contrasts with Kid-Thing's darker moments. But the bizarre humor is a generally effective device, emphasizing the sheer absurdity of Annie's home life.
Kid-Thing has many other intriguing elements, including its minimalist dialogue (many sequences are dialogue free, and all the more effective for it) and cinematographer Nathan Zellner's striking visual sense. And again, the film is a dead-on depiction of a 10-year-old's world and worldview. It reminds us of our silly youthful pursuits, but never dulls its dark edge with clichéd nostalgia. Kid-Thing's narrowly focused story also has broader metaphorical implications; Annie's story reflects those of many other kids who feel lost and alone in a society that is increasingly indifferent toward them.
As Kid-Thing revolves around Annie, Aguirre completely carries the film. She is the perfect choice for such a complex character, with innocent, fresh-faced looks that belie an often contemptible personality. Aguirre's performance is mature and wholly believable. It may not be much of a stretch for her to play a curious and mischievous 10-year-old girl, but she's equally at home playing a monstrous one. Aguirre's Annie also is greatly ambiguous; there is much we don't know about this sad girl, which opens the door to some intriguing theories about her personality and behavior. (I'm all but convinced that the unseen Esther is just a strange figment of Annie's childish imagination. She could be real, but she just as easily could be a tortured child's captive, agonized imaginary friend.)
Nathan Zellner is also perfect as Marvin, a hapless loser who sports a balding head of comically unkempt hair while living in a not so funny world of hurt. Marvin obviously means to be a much better father than he is; his conversations with Annie often include apologies for his lousy parenting. And veteran actress Tyrrell -- whose credits date back to The Patty Duke Show in the mid-1960s -- does great work as the mysterious Esther, who is both a darkly comic foil for Annie and an embodiment of the girl's inner conflicts.
Kid-Thing isn't a perfect film; some of the dialogue and interplay between the characters is a bit farfetched, and more back story would help explain why Marvin and Annie live in borderline poverty and relentless ennui. But Kid-Thing is a generally well executed and entertaining twist on an oft-told tale of a child's bad behavior run amok.
Austin/Texas Connections: Kid-Thing was filmed in Austin, Angleton, Bryan and College Station with a mostly local cast and crew. The Zellner brothers grew up in Texas and have been prolific Austin-based filmmakers since the mid-1990s. Local actors and filmmakers in smaller roles include Heather Kafka (Lovers of Hate), Sam Wainwright Douglas (Citizen Architect) and Alamo programmer Zack Carlson.
If you missed the SXSW premiere of Kid-Thing, you can catch it at three additional screenings.