Slacker 2011: Karen Skloss Shoots in 35mm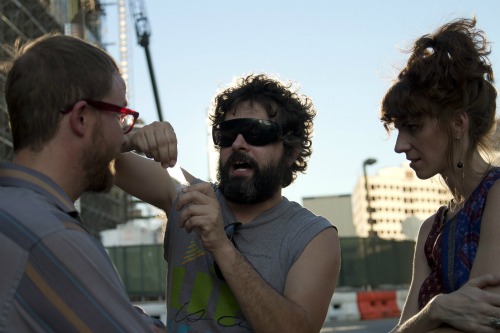 In celebration of Slacker's 20th anniversary, local filmmakers are re-creating scenes from the Richard Linklater movie for Slacker 2011, a fundraising project benefitting the Texas Filmmakers Production Fund. The trailer is now available. As we await the August 31 premiere, we're chatting with some of the filmmakers participating in one or more of the short films that will comprise the project.
Today's interview is with Karen Skloss, whose first film, Sunshine, premiered on Independent Lens last year. Skloss also edits feature documentaries, and worked on Taken by Storm and 2004's Be Here to Love Me (streaming on Hulu).
Slackerwood: Which scene from the film did you re-shoot?
Karen Skloss: I re-shot the Madonna's pap smear scene and a few short scenes that followed it: the "t-shirt terrorist" and "wants to leave the country." It's about 9 minutes of the original film.
Why were you looking forward to re-creating this particular scene?
I chose this scene because it is one of the most entertaining and bizarre scenes in the original, thanks to an awesome and weirdo performance from Teresa Taylor, the original drummer for the Butthole Surfers. It really freaked me out when I first saw the film.
What do you think your challenges have been in re-visiting this scene?
Probably the biggest challenge was living up to Teresa Taylor's iconic performance. Plus, I wanted to use non-actors/people from Austin who I felt embodied the same spirit as the original. So, after lots of phone calls to friends and then reading with some really great people (i.e. I almost cast Silky Shoemaker who would have been much closer to Teresa's original type), I settled on John Wesley Coleman.
Wes is kind of beloved in the Austin music scene in a way that seemed like it would update things with something new, but on the same wavelength as the original. The other big challenge was actually another good type of challenge -- we shot on 35mm (thanks to wrangling from one of our producers, Roland Alonzo Romero, and cinematographer Deb Lewis). We ended up with a free Panavision package (thank you UT) and 5 rolls of gratis 35mm from Kodak.
So, we had to be able to nail the long dolly shots and performances with non-actors within a pretty low shooting ratio. That was a really good exercise. And Lee Daniel's camerawork sets the bar really high.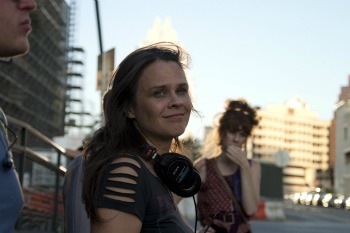 Do you have any connections or memories related to the original Slacker?
I first saw Slacker when it was playing at the Dobie Theater way back when I was a sophomore in high school. Oddly enough, it was my first date with a boyfriend I went on to date all the way through college, so it was kinda monumental.
Plus, it was one of the first movies I saw that was not a typical Hollywood thing, so it totally blew me away and became one of those early experiences that steer you along in life. I think especially because I'm from here, it was a revelation to see something like that come out of Austin. It made me feel like I could do it too.
So, when they asked if I wanted to be a part of this remake it was pretty exciting -- and daunting. I think the Austin film community has an authenticity and a rare nurturing thing happening thanks to the legacy of these guys. It's been really humbling to revisit their work.
[Photos courtesy Karen Skloss, taken by Patrick Rusk]