2009 in Review: Jette's List
This isn't a list of the top ten movies I saw in 2009, or the top movies of the decade, or anything that straightforward and prim. Not that I won't do those later, but at this time of the year, we at Slackerwood wanted to have a little fun. So we're each making lists of memorable moments and events in 2009, but we're creating any categories we like. Best Cinematography is not as much fun as Best Movie-Related Button I Received or Best Half-Nekkid Live Film-Related Moment.
So here are my picks for the most memorable film-related bits of 2009 -- some are about Austin, some are not. Most should not be taken very seriously.
Best Austin Meta Moment: Watching the Alamo Ritz date scene in Whip It ... while at Alamo Ritz. One of the few scenes in this Austin-set movie that was actually shot in Austin, the scene caused the whole audience to laugh in recognition. My favorite line from the movie, however, was the rollerderby emcee warning everyone to be respectful of the neighborhood around them on their way home -- because I live in walking distance of an Austin rollerderby venue myself.
Best Austin Reference: During Zombieland, Jesse Eisenberg's character Columbus mentions that when the trouble began, he was at school in Austin, Texas. During its Fantastic Fest gala screening at the Paramount, when he said "Austin" the entire audience exploded in applause and whoops. I love seeing local films with a big local audience.
Best Austin Performance: Local musician Bob Schneider plays a wedding singer in Bob Byington's film Harmony and Me (my review). It may be his finest moment on film. This movie has a short run at Alamo on South Lamar later this month, so you can see if I'm right.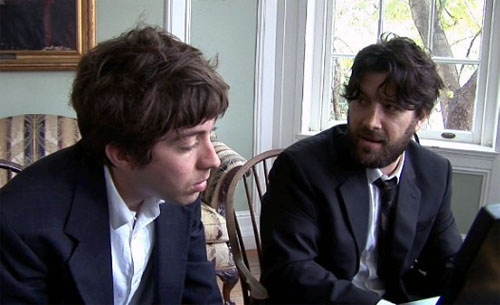 Favorite Austin Location on Film: My neighborhood go-to lunch place, San Francisco Bakery, appears briefly onscreen in Artois the Goat, which premiered in Austin during SXSW 2009. During that same fest, it was also nicely nostalgic to see the old Alamo on Colorado again in Best Worst Movie.
Best Austin DVD Releases: Watchmaker Films released not one but two good Austin films on DVD this year -- very different movies but both given high-quality DVD treatment: The Whole Shootin' Match (review) and Gretchen (review). Hoping that in 2010 we'll see Watchmaker release Tobe Hooper's first feature Eggshells, which had a special screening in 2009 and was in the process of being restored.
Local Movie I Most Wish Was Better Than It Was: Tim McCanlies's comedy The 2 Bobs (review), which premiered at SXSW and has pretty much vanished since then. It's a fairly funny movie if you live in Austin, but the high-tech/gamer humor isn't quite right and falls flat. I do love the combination BBQ joint/strip club, though.
Film Series I Most Want to Return: Austin Film Festival's "Made in Texas" series was excellent, with a variety of monthly screenings and many writers or directors in attendance, and I hope they bring it back in 2010.
Biggest OMG OMG Moment: Learning that Austin Film Society was hosting a series called "Censors, Drop Your Scissors! Billy Wilder's Later Comedies." I may have jumped around a bit and made squeaking noises. I didn't get to see all movies in the series, but I especially enjoyed the One, Two, Three screening.
Best Texas Film That Is Allllmost Austin-Connected: St. Nick, which premiered at SXSW 2009. David Lowery shot the film in the Dallas/Fort Worth area, and says in my interview with him that some of the crew was from Austin. He's worked on a number of local films, most recently as DP on Bryan Poyser's Lovers of Hate. Regardless of any Austin connections, Lowery's film about two children who run away from home is still one of my favorite films of the year -- slow-paced, but beautiful and rewarding.
Most Bizarre Moment in a Theater: At the World's Greatest Dad screening at Alamo on South Lamar, Bobcat Goldthwait told us he was going to show us a clip from his next film, and I got all excited -- woo! a scoop! He then showed us a "Barkie" -- one of those weird dog shorts from the 1930s. The whole evening was odd and sidesplittingly funny.
Best Half-Nekkid Live Film-Related Moment: Zack Carlson showing the audience his Troll 2 tattoo after a SXSW screening of the documentary Best Worst Movie.
Comfiest Red Carpet: The Texas Film Hall of Fame Awards event has the most comfortable, accessible, least nervewracking red carpet I ever get to cover, thanks to the location as well as Agnes Varnum's management. I enjoyed all my opportunities to cover red-carpet events this year, and most of them were well done, but being indoors and not having to politely shove is a wonderful thing. Check out my photos from the 2009 and 2008 TFHoF red carpets.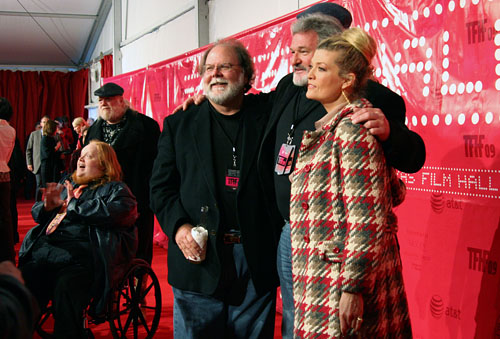 Funniest Celebrity Encounter: I had no idea who Alexander Skarsgard was. All I knew was that he had a role in Metropia and he was Stellan Skarsgard's son. So imagine my confusion -- and amusement -- when the True Blood star was surrounded by what Jenn called the "cloud of estrogen" after the Metropia screening at Fantastic Fest.
Favorite Button: I collect the buttons people give away at film festivals, which I use to decorate and disguise an ugly old lampshade. My favorite this year has to be the "Now let's go you s*** eating horse rapers!" button from Simmons on Vinyl, which played Austin Film Festival (my review). Not only is it huge and takes up lots of lampshade real estate, but it adds that needed touch of class.
Most Unexpectedly Entertaining Yet Bizarre Film: Bad Lieutenant: Port of Call New Orleans, which I reviewed. Which also wins the award for "Most Unexpectedly Accurate Portrayal of New Orleans in Recent Films." I would totally see this Werner Herzog film again; I heard Alamo has a great pre-show of Nicolas Cage clips.
Most Underrated 2009 Release (Non-Austin): Medicine for Melancholy, which had a brief theatrical release (not in Austin) then hit DVD this year. It was on my Top Ten list for 2008 when I saw it at SXSW (my review), and that's the only reason why it's not on my Top Ten list this year.

Biggest Regret: Not going to see writer Bud Shrake talk about his movie Songwriter shortly before he died in May. I should have just taken a buttload of migraine drugs and sucked it up. Damn, that was a bad decision.
Second Biggest Regret: I'm still kicking myself for not seeing Moon this year. I missed it at SXSW on the grounds that I would be able to see it later, then was too busy during its brief Austin theatrical run. I can't wait until its release on DVD later this month.
Most Useful Lesson Learned: You cannot concentrate on a movie and eat a cheese plate while sitting on the sofas at the back of the small Alamo Ritz theater.
Useful Lesson Still Not Learned: When going to interview someone, do not forget your notebook with all your interview questions in it in your car, especially if you have had to valet park. I did this twice this year -- the interviews were still great, but geeeez, whatta flake.
Best Money I Spent on Slackerwood: Getting John Gholson to draw a supercool rendition of the Slackerwood logo as part of his fundraiser to get to Fantastic Fest.
Favorite Article I Wrote for Slackerwood: "Fantastic Fest Secret Screenings: When Festivals Collide." In retrospect, it may have been naive or oversimplified, but I was angry and frustrated with the situation. And I'm pleased with myself for not chickening out of writing the article.
Best Slackerwood Moment: Getting to host a preview screening of The Men Who Stare at Goats. Lots of fun, and I think we did a great job of filling the theaters. I reviewed the film as well. It was flawed, but I think Jeff Bridges was excellent and I'm sorry his performance in that film has been overshadowed by Crazy Heart.
Biggest Wish for 2010: Bring Kid Blue out on DVD, please, with the commentary that Bud Shrake recorded right before he died.
Second Biggest Wish for 2010: Film more movies in Austin (and give Slackerwood all your scoops!).