DVD Review: The Whole Shootin' Match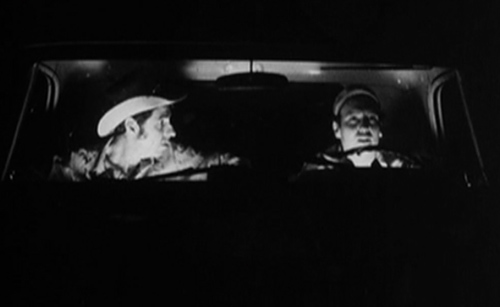 Editor's Note: We're starting a new feature at Slackerwood -- reviews of movies and DVDs that have a strong connection to Austin. If you're interested in contributing, let me know.
What better way to start Austin-related reviews on Slackerwood than with such a quintessentially Austin movie as Eagle Pennell's The Whole Shootin' Match? When I heard Watchmaker Films was releasing this movie in a set with The King of Texas, the documentary about Pennell, I knew I had to write about it here.
I watched The Whole Shootin' Match on a plane from Austin to Orlando, on my laptop. It turned out to be the perfect movie for the trip -- catching glimpses of Austin in the 1970s in a fascinating example of regional filmmaking from the time, as I headed closer to some of the most artificial places on earth. And now I'm back in Austin and I want to watch the movie again, this time maybe sharing it with a group. I figure when you want to re-watch something within a week of the first time, it must be a pretty damn good movie.
The Whole Shootin' Match follows a pair of friends, Frank (Sonny Carl Davis) and Loyd (Lou Perryman), who are also continually partners in trying to find The Next Big Thing and get rich from it. Loyd tinkers with machinery and inventions -- I love the scene where he puts together a bubble-blower from an old electric razor for no reason other than his own enjoyment. Frank tries to work out the financial end of things, while also fretting about his cousin Olan's (Eric Henshaw) extra-special attention to Frank's wife Paulette (Doris Hargrave), and spending his free time chasing other women himself.
The film was restored recently from an old 16mm print, so the DVD transfer is sometimes a little grainy. The nighttime scenes are sometimes so dark you can barely see what's going on, but perhaps that was Pennell's intent in the original film. Frank and Loyd driving through unidentifiable darkness has a subtle energy to it; do you really need to see the sides of I-35? That would have just been distracting.
The three-disc boxed set also includes the documentary The King of Texas, about Pennell and the influence his movies had on Austin filmmaking and independent filmmaking in general. The consensus seems to be that Pennell's movies were one inspiration for Robert Redford to expand the U.S. Film Festival in Utah into the Sundance Institute and film festival.
The documentary includes interviews with cast and crew from Pennell's movies, Austin Chronicle publisher Louis Black (who is credited as a producer on the restoration of The Whole Shootin' Match, writer Kim Henkel (Pennell's Last Night at the Alamo and the original The Texas Chain Saw Massacre), Bud Shrake, Richard Linklater, and even Willie Nelson. I'm not entirely sure why Nelson is in the movie, but I suspect that if you can think of even the most tangential reason to include him in your film, you would.
The King of Texas was directed by Rene Pinnell, Eagle Pennell's nephew, whose dad is Chuck Pinnell. Chuck co-produced the documentary, and appears onscreen to tell stories about his brother. Chuck composed the original score for The Whole Shootin' Match.
The DVD set also includes Pennell's first movie, the short A Hell of a Note; commentaries on the short and on The Whole Shootin' Match from cast and crew; and a third disc that's a CD with the soundtracks from both The Whole Shootin' Match (Chuck Pinnell) and The King of Texas (Chuck Pinnell and Slaid Cleves).
The materials that make up this boxed set are lovely -- it's the DVD version of a coffee-table book. This set is obviously made for you to keep and watch again, not rent from a big chain or sell to the used bookstore. It includes a booklet with essays about the film and Pennell from cast and crew, Louis Black, and Roger Ebert. (For a sample, check out Steve McVicker's excellent essay about Pennell from The Texas Observer, which is similar to his essay in the booklet.)
Austin Connection: The movie was shot around Austin with a primarily local cast and crew. The documentary The King of Texas includes interviews with Austinites, too.
Notable Austin Locations: Keep a sharp eye out and you can see glimpses of Austin in the late 1970s. Frank and Loyd visit an office on Congress Ave. and you can see the State Theater in the background as they leave; later, Frank goes shopping on Congress. Some of the bar scenes were filmed at the Scoot Inn in east Austin. You also get a brief look at I-35 at night. In an Austin Chronicle interview, Sonny Carl Davis says some of it was shot at Gordo's on Sixth Street, which I suspect was gone before my time. (I'm sure I'm missing some of the locations; let me know if you recognized anything I didn't.)
Buy The Whole Shootin' Match from Amazon.
For more about the restoration of this film, check out Ray Pride's interviews with Mark Rance, who produced this boxed set under his new label, Watchmaker Films. I bet this isn't the only Austin film we'll see released as a DVD under the Watchmaker Films label -- the website mentions Steven Collins's Gretchen as a 2009 release.