Quick Snaps: Zack Shows SXSW His 'Troll 2' Tattoo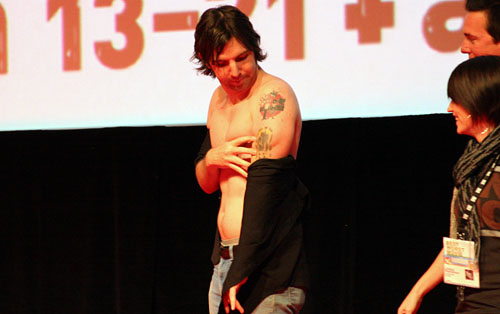 I've got plenty of SXSW 2009 photos to share, but one of my favorites is from the Best Worst Movie screening on Friday night. Best Worst Movie is a documentary about the weird cult phenomenon of the film listed as the worst on IMDb, Troll 2. I should have known that the movie would have an Austin connection, namely Alamo Drafthouse. One of the Troll 2 events shown in the film took place at the old Alamo on Colorado. It was nice to see the old place again. In addition, Austin-turned-L.A. filmmaker Nick Robinson was interviewed at the Alamo screening, and Rolling Roadshow did a big event where Troll 2 was shot, so we also saw Tim League and Zack Carlson.
Zack was at the Q&A Friday night along with the Best Worst Movie filmmakers and some of the original Troll 2 cast. And in the documentary, you see that he is such a big fan of the film that he got a tattoo to commemorate it. So naturally, during the Q&A, everyone started chanting for him to take off his shirt and show off the tattoo. Thus, the above photo. But wait, there's more.
Here's a photo of everyone at the Q&A, including moderator Will Goss on the far right: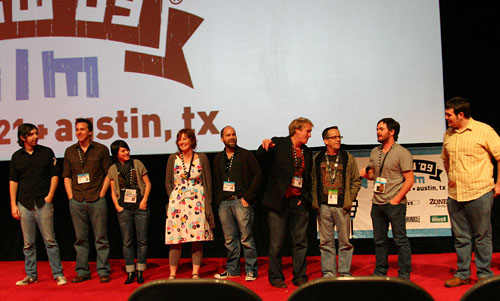 And in case you really are interested either in Troll 2 or Zack's physique, here's a close-up of the tattoo: