Red Carpet: 2009 Texas Film Hall of Fame Awards
Catching up after SXSW. Tax prep. Allergies. Excuses, excuses. At last, I am going to post some of my favorite photos from the Texas Film Hall of Fame awards. I've already published a photo gallery from the event over at Cinematical, but I didn't include photos of people who are well known locally. Plus, I have to say I prefer an essay format over a gallery, because then I can share stories as well as photos.
The event started with a red carpet. At the Texas Film Hall of Fame awards, everyone walks through the red carpet to enter the event. This is a lot of fun for me because I can take photos of various friends and colleagues (if they'll stand still long enough), as well as any interesting people who are not necessarily honorees that evening. The red carpet was very long this year and structured beautifully so we weren't all fighting one another for space. Plus, I was right next to Stephanie Beasley from Austinist and a friendly photographer from Austin Monthly and between the three of us, we figured out who exactly we were taking pictures of. (They helped me with the Friday Night Lights cast; I helped identify "that guy who looks kind of like Steven Spielberg" as Tobe Hooper.)
It took a little while for the first attendees to make their way down the red carpet to us (we were close to the end) and while we stood and waited, I heard drums in the background. Standing behind a rope for the party to move our way, in a room that hadn't quite heated up yet, it felt oddly like Mardi Gras. There were even a couple of photographers on stools that reminded me of kids on stepladders. But I digress. You want to see photos, don't you? Let's start with one of the first people I recognized on the red carpet, musician Ray Benson from Asleep at the Wheel: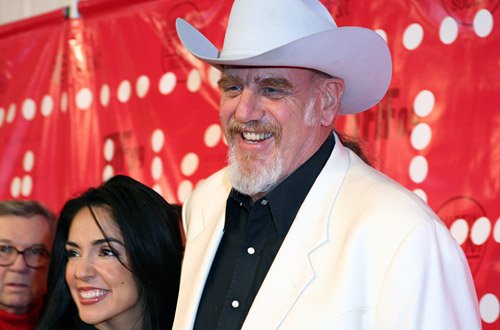 Kinky Friedman was easy to spot, too:
I saw Friedman again the following week, when Along Came Kinky, the documentary about his gubernatorial campaign, played at SXSW. Here's my interview with the director to refresh your memory.
Shades of Mardi Gras again: we could see some of the bigger celebrities at the other end of the red carpet, being interviewed by TV station after TV station, and had to wait patiently for them to reach us. Larry Hagman was receiving an award that night from his Dallas co-star Linda Grey, and they arrived together with Hagman's wife, Maj. They were very popular with the press. While we waited, Turk Pipkin showed up and I snapped a photo.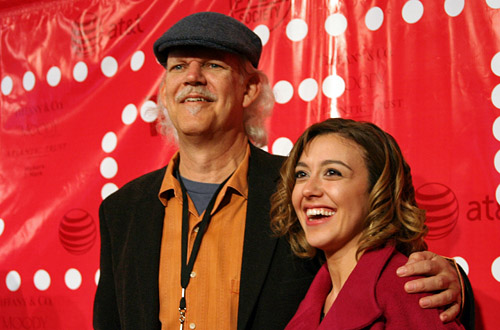 Pipkin often has odd cameo roles in movies shot locally, and the very next night, I saw him portraying a transsexual spammer in The 2 Bobs at SXSW. But he's also about to release a new documentary, One Peace at a Time, which is a follow-up to his call-to-action film Nobelity.
The Hagman-Grey trio finally stopped in range of our cameras: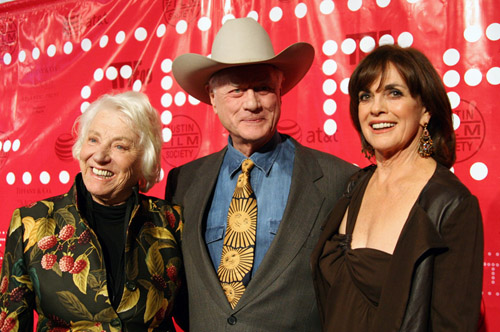 I had to explain that the gentleman below was Tobe Hooper, but the minute I mentioned Texas Chain Saw Massacre, everyone around me was interested: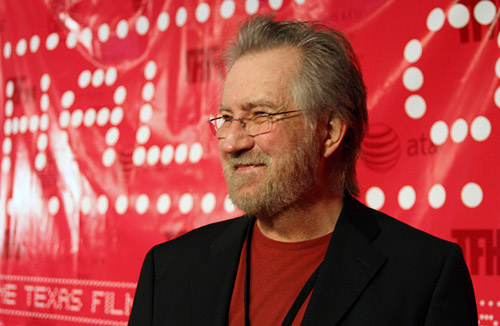 Again, Hooper is someone I saw later during SXSW -- his first feature film, Eggshells, played at SXSW this year and he was there. He hadn't seen it in a theater since its premiere in 1968. Check out my Cinematical article about the screening.
The red carpet started to get crowded: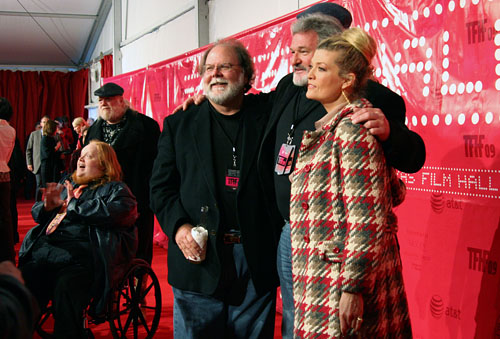 There are actually four people in that group mid-carpet, although you can only see three. Turk Pipkin is the unseen person -- that's his hat. Two of the other three are Friday Night Lights stars Brad Leland and Dana Wheeler-Nicholson, who ran the auction that evening. And of course if you are an Austin film geek, you recognize Harry and Jay Knowles on the left.
Another Friday Night Lights star, Kyle Chandler, appeared with his wife Katherine:
Friday Night Lights has just been renewed for two more seasons, and Chandler has announced that he and his family are moving to Central Texas. So I figure we can go ahead and start claiming him as an Austinite now. The other Friday Night Lights star on the red carpet was Connie Britton, but I've already shared that photo with you.
Austin Chronicle fashion columnist Stephen Moser was happy to pose on the red carpet for us: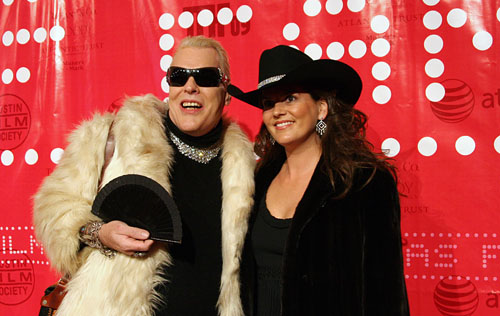 I don't know who his friend was. Hey, if you're reading this and you recognize anyone in any of these photos whom I have not identified, please post a comment or e-mail me, and I'll be happy to credit them. Because it was difficult enough just to keep track of the celebrities that evening.
At a certain point in the evening, with so many people headed down the red carpet, and so many interviews, it's inevitable that celebrities all end up hanging out on the red carpet together. This is how I got my favorite photo from last year's awards. This year, Catherine Hardwicke waited around for Brendan Fraser, and after they happily posed for photos together, Thomas Haden Church caught up with them and I got the photo you see at the top of this page. It looks like a sitcom waiting to happen.
Here's another photo I liked of Hardwicke, who is best known right now for directing Twilight. The McAllen-born filmmaker/production designer received the Ann Richards award that evening. She was lots of fun on the red carpet: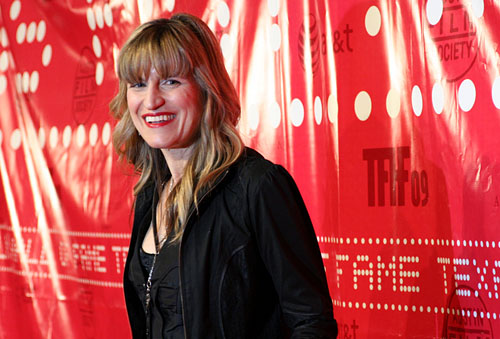 I've already shown you an awfully nice photo of Dennis Quaid, who was presenting an award to Billy Bob Thornton that night. Quaid and Thornton ended up walking the red carpet together, right at the end of the red-carpet portion of the evening. Here's a photo of them together: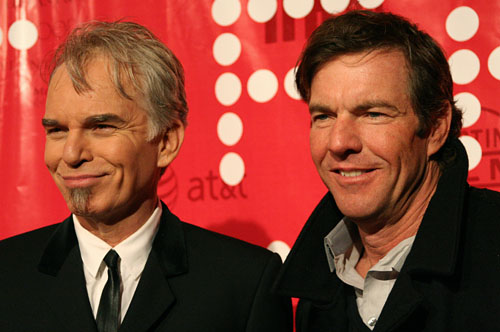 Finally, one more shot of Quaid that I like even better although it's not as good, because it looks more candid: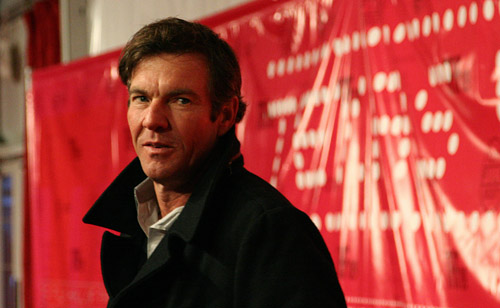 I've also got some photos from the actual awards ceremony -- hope to post them soon. I know, no excuses! In the meantime, check out my Flickr set from the event, which includes many more photos from the red carpet.