Another View of Slackerwood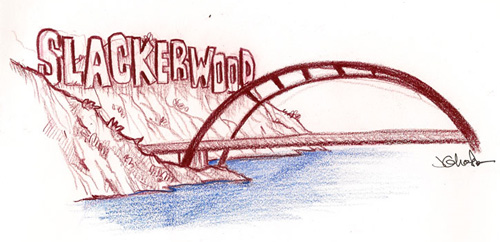 So not only do I have this cool new illustration to show you this morning, I have a good story about where it came from. John Gholson is a local film geek who wanted to raise some funds so he could go to Fantastic Fest this year. So he came up with a fun way to earn the money: a blog called Taking Requests, where you can pay him $5 to draw anything (within reason) and he posts the requests and resulting illustrations on his site.
I heard about this on Friday and thought, "Ooh, I wonder if he could draw the Slackerwood photo." The photo at the top of this page doesn't quite measure up to the way I wanted it to look in my head. And, you know ... five bucks? You can't beat that. Sure enough, the resulting art is a lot closer to the way I've always envisioned the Slackerwood theme. Thank you, John!
Tim League also heard about John's fundraising project, and not only requested a drawing of his own, but posted the info to the Fantastic Fest blog. Naturally, this increased the requests John's received. He's drawn some cool and bizarre things: a zombie for Megan Hagins, who produced her daughter Emily's zombie film Pathogen; a Patrick Swayze centaur for Austinist film writer Steph Beasley; and my favorite so far, a sketch of H.I. McDunnough from Raising Arizona.
Go check out the Taking Requests site, see John's latest illustrations, and maybe spend $5 on something wild and crazy all your own.