SXSW 2015 Guides: Austin and Texas Features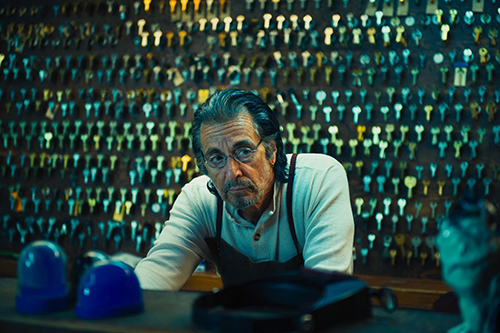 The number of features and documentaries with Austin and/or Texas connections at SXSW Film Festival, which takes place from March 13-21, is staggering this year. As in the past, many familiar local filmmakers and cast have multiple movies with which they're associated. Here's this year's slate:
Headliners:
Manglehorn (pictured at top) -- During my interview with director David Gordon Green at Dallas IFF last year, he described this film starring Al Pacino as an urban movie "looking through the face of characters, three wandering souls looking for their place on a magical journey. Melancholy but full of hope and life and love." (screening times)
Narrative Spotlight:
7 Chinese Brothers -- Written and directed by Bob Byington (Somebody Up There Likes Me), this film features Jason Schwartzman as despondent and drunk Larry, whose only true companion is his French bulldog, as he pines for his Quick-Lube boss Lupe (Eleanore Pienta). In 2010, Austin Film Society awarded this project a Texas Filmmakers Production Fund grant (now known as the AFS Grant). (screening times)
I Dream Too Much -- Former Texan and Austin Film Society's former managing director Katie Cokinos wrote and directed this dramatic comedy about an imaginative young woman, Dora (Eden Brolin), who forms a bond with her great aunt Vera (Diane Ladd) while volunteering as her caretaker. This female-character-driven story was executive produced by Richard Linklater and produced by former Houstonians Jack and Ed McWilliams and Jay Thames. Look for Elizabeth's interview with Cokinos later this week. (screening times)
Wild Horses -- This modern day western written and directed by Robert Duvall was shot in Utah, but is set in Texas and focuses on a Texas Ranger set on solving a cold missing person case. (screening times)
Documentary Spotlight: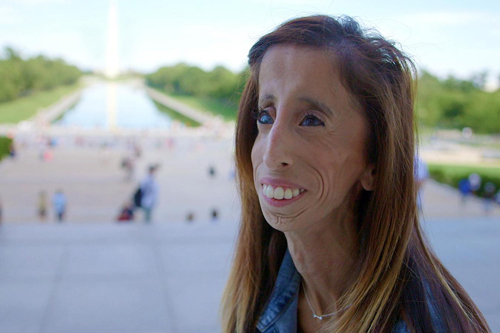 A Brave Heart: The Lizzie Velasquez Story (pictured above) -- Austinite Sara Bordo makes her directorial debut as she documents the challenges of a young woman who overcomes cyber-bullying, and inspires and empowers others both in the virtual and real world. Born with a rare syndrome that prevents her from gaining weight, Elizabeth "Lizzie" Velasquez has gone from motivational speaking for TedX talks to Capitol Hill, where she's lobbying for the first federal anti-bullying bill. Cinematography by Austin filmmaker Ben Powell (more on his SXSW documentary Barge later on). (screening times)
Deep Web -- Writer/director Alex Winter digs deep into the minds and activities of Bitcoin and Deep Web in this saga of the battle for technology and digital rights. The documentary features archival footage of Ross Ulbricht, who grew up in Westlake, along with interviews of his parents and Cody Wilson, who was a student at The University of Texas School of Law when he developed the 3D printed gun. (screening times)
Raiders! The Story of the Greatest Fan Film Ever Made -- Directed by Tim Skousen and native Texan Jeremy Coon, this entertaining documentary relates the story of three eleven year old kids who remade Raiders of the Lost Ark in 1982 -- albeit the airplance scene. Thirty-three years later the filmmaking team reunites to accomplish this final shoot. The documentary includes interviews with Austin writer Harry Knowles (Ain't It Cool News) and screenwriter/author Ernie Cline (Fanboys, Ready Player One). (screening times)
Narrative Feature Competition:
6 Years -- Writer/director Hannah Fidell (A Teacher) explores the challenges of young love with Taissa Farmiga and Ben Rosenfield as Mel and Dan, whose relationship is challenged by an enticing colleague (Lindsay Burdge). With cinematography by Andrew Droz Palermo (Black Metal, A Teacher) and sound design by Stuck On On's Lyman Hardy, this film was executive produced by former Austinites Mark and Jay Duplass, and produced by Kelly Williams (Hellion), Jonathan Duffy and Andrew Logan. (screening times)
Funny Bunny -- Saturday Morning Mystery actress Josephine Decker has a supporting role in this dramatic comedy about an offbeat love triangle and bonds between an anti-childhood obesity crusader, a disowned trust-funder and a reclusive and attractive animal activist. (screening times)
Krisha -- Expanded from a short film that received special jury recognition at SXSW 2014, this feature directed by Trey Edward Shults centers around Krisha (played by Shults' Aunt Krisha) as she returns home for a holiday gathering. The cast includes familiar Austin-related talent including Chris Doubek, Alex Dobrenko and Augustine Frizzell. Read Elizabeth's interview with Shults. (screening times)
Manson Family Vacation -- Produced by the Duplass brothers and written and directed by J. Davis, this tale focuses on two brothers portrayed by Jay Duplass and Linas Phillips touring the Manson hideouts and crime scenes with two very different agendas. (screening times)
Festival Favorites: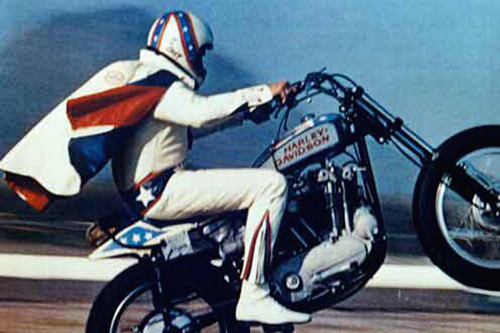 Adult Beginners -- This comedy directed by two-time Oscar nominee and producer Ross Katz and produced by the Duplass brothers centers around Jake (Nick Kroll) a yuppie who loses it all -- his girlfriend, investors money, and job -- and attempts to start over where it all began. Only his childhood home is not as easy to return to as it might seem. (screening times)
Being Evel -- This documentary by Oscar- and Emmy-winning filmmaker Daniel Junge is a complex portrayal of the legendary Evel Knievel, a hero to generations growing up in the 70s. Austinite Lathan McKay of Evel Knievel Enterprises served as consulting producer and provided much of the memorabilia -- including photos, leathers, helmets and x-rays that will be on display at the screenings -- as well as never-before-seen footage in what was by far my favorite documentary at this year's Sundance Film Festival. (screening times)
The Overnight -- A family playdate doesn't go quite as planned in this feature written and directed by Patrick Brice and executive produced by Mark Duplass. Duplass and Brice previously teamed up on Creep, which screened at SXSW 2014. (screening times)
Results -- Shot in Austin by local filmmaker Andrew Bujalski (Computer Chess), this dry comedy is about two seemingly incompatible personal trainers who are even more challenged when they must deal with a wealthy and eccentric client's demands. The production received an AFS Grant in 2014. (screening times)
Western -- The winner of the Special Jury Prize at the 2015 Sundance Film Festival, this film directed by Turner Ross and Bill Ross IV (Tchoupitoulas) and shot by Dallas filmmaker Daniel Laabs (Easy, 8) focuses on the two border towns of Eagle Pass, Texas and Piedras Negras, Mexico as they face the increasing challenges of modern times and cartel violence. (screening times)
Visions: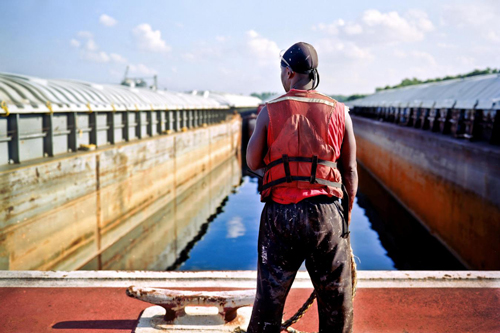 Barge -- This first feature documentary from Austin director Ben Powell portrays the towboat culture near his hometown of Cleveland, Mississippi, and the misfits who "find purpose and direction twenty-eight days at a time as the steady hands of a towboat due for the port of New Orleans." The film received an AFS Grant in 2011. (screening times)
Petting Zoo -- Shot in San Antonio by former Austinite and UT Austin graduate Micah Magee, this dramatic portrayal of a young impoverished teenager facing an unexpected pregnancy is a thought-provoking view of the different perspectives and interpretation of potential. Read Elizabeth's interview with Magee. (screening times)
Uncle Kent 2 -- In this follow-up to Joe Swanberg's 2011 movie Uncle Kent, Kent Osborne travels to a comic-book convention in San Diego where he "loses his mind and confronts the end of the world." Written by Osborne, this surreal sequel is directed by Austinite Todd Rohal (The Guatemalan Handshake, Rat Pack Rat) and promises an interesting experience for viewers. (screening times)
24 Beats Per Second:
Sir Doug and the Genuine Texas Cosmic Groove -- Writer/director Joe Nick Patoski and fellow Arts+Labor writer Jason Wehling (Saturday Morning Mystery) pay homage to beloved Texas musician Doug Sahm in this documentary that explores his talent and personality of the groove. (screening times)
The Jones Family Will Make a Way -- Arts+Labor Director Alan Berg is joined by writers Lauren Sanders and writer Jason Wehling in this film chock full of Austin filmmaking talent that showcases a gospel group and their unlikely connection to atheist and music historian Michael Corcoran. Check out Elizabeth's preview. (screening times)
A Poem is a Naked Person -- This retrospective screening of Les Blank's 1974 feature-length documentary captures the day-to-day events at Leon Russell's Oklahoma recording studio over a three-year period, and includes Texas country legend Willie Nelson. (screening times)
Special Events:
A longtime fan of Austin film and music, director Jonathan Demme returns to our city for "Jonathan Demme Presents: Made in Texas," a program of six shorts that he curated back in 1982 after a visit.
The shorts program will have its first official screening in its entirety during SXSW include:
Invasion of the Aluminum People (Director: David Boone) -- A celebration of "fifties science fiction films, aluminum, and life in the modern world."
Speed of Light (Directors: Brian Hanson, Paul Cullum) -- With cinematography by Vince Hollister and editing by Lorrie Oshatz, this film by Hansen of new wave mechanical noise group Radio Free Europe has been described by its creators as "a screaming red piece of time crashlanding in the cultural backwash of the American Gothic."
Death of a Rock Star (Director: Tom Huckabee) -- Austin music critic Jeff Whittington portrays Jim Morrison in this surreal homage to the iconic frontman of The Doors.
Leonardo Jr. (Director: Lorrie Oshatz) -- Oshatz pays tribute to the silent comedic legend Buster Keaton.
Fair Sisters (Directors: Ed Lowry, Missy Boswell, Louis Black) -- The robbery of a high-stakes poker game is the theme of this tribute to Demme's Caged Heat.
Mask of Sarnath (Director: Neil Ruttenberg) -- This horror short features a soundtrack by British punk group Throbbing Gristle, which had a huge cult following here in Austin.
Check out Jette's coverage of the double feature of Invasion of the Aluminum People and Speed of Light that screened during Austin Film Festival 2013 and was hosted by Demme and Black.