Chatting with Nicolas Cage, David Gordon Green and the 'Joe' Cast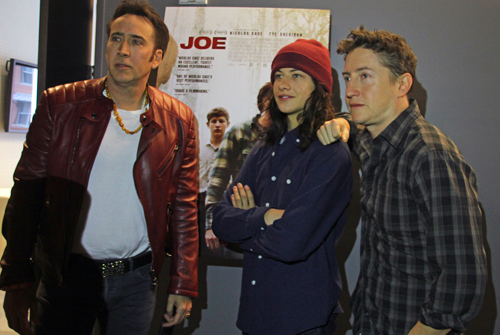 After a series of premieres across the country including SXSW and Dallas International Film Festival (DIFF), Joe opens today in Austin at the Violet Crown Cinema and Alamo Drafthouse Slaughter. Based on the novel by Larry Brown, this dark drama reveals the raw and often brutal nature of an impoverished family and what happens when a damaged man becomes involved in the family drama.
The leads of Joe are veteran star Nicolas Cage in the title role and Texas' up-and-coming young actor Tye Sheridan (Tree of Life, Mud) as Gary. Cage, Sheridan and Austin-based director David Gordon Green (Prince Avalanche) spoke to members of the press at a conference during SXSW last month. I also spoke with several cast members at the recent DIFF premiere.
Green said he was attracted to the script for Joe because it struck him as "a great contemporary western, a genre that I've always been drawn to." He was already familiar with Brown's novel, and had even worked on a documentary about the author.
Joe was shot in and around the Austin area. Apart from Cage, the movie was cast with Texas residents, many of whom were not professional actors. Green and his casting directors went out frequently to day labor locations, casting on looks and voice.
Green said he cast non-actors because he "really wanted to have a raw Southern authenticity and not necessarily the Hollywood polish. I wanted to make sure these characters felt like of a real world and that we were dropping in."
In particular, he said it was challenging to find the right man to portray Wade, Gary's erratically behaved father. Green explained how they located Gary Poulter:
"We wanted a fresh face but didn't want to fall to cynical Hollywood villain. Somebody that felt sad in a way, that had a depth and darkness behind his eyes rather than just a guy that was going to roll up his sleeves and chew on a bad guy role.
"Our casting directors met Gary Poulter at a downtown bus stop, on the way back from his father's funeral. He had been living on the streets downtown for quite awhile, and had a lot of hardships and stories to tell and charisma -- he hit it off with Nic [Cage] and Tye [Sheridan]."
Cage also talked about working with Poulter: "I said, 'Just keep it together for one year, and your life is going to change dramatically.' He was a real trained street performer -- when I was ready to work, he was ready to work and vice versa. It didn't feel that much different from working with someone from Juillard. He was on point. It was bittersweet -- he passed away."
On working with Green, Cage said the filmmaker "will interview his actors, and invite stories that they may recall from their own lives, and put into the film so it gets that feeling of spontaneity and life actually happening as opposed to acting."
Green was asked if there was a spiritual connection between Prince Avalanche and Joe, which were in development at the same time and were both shot around Bastrop. He said that at the same time he was trying to woo Cage for Joe, he was location scouting -- driving around in the ashes and remains of the Bastrop State Park forest fire. Green felt the two overlapping projects did have a connection:
"There's something about Mother Nature's efforts and the catastrophic nature of a forest fire. And there's also something very intimate and peculiar about a man that takes a hatchet with poison and takes out a tree at his own will.
"A lot of my films have been studies about strange conflicts of masculinity, but there's always a backdrop -- I'm always fascinated about where we are. One was filmed in the ashes, and the other across the street where life began -- made back to back. One is funnier, and the other darker. I think Joe is hilarious."
Green said his upcoming film Manglehorn, currently being edited, will conclude his "Texas trilogy." He described the movie as more of an urban movie, "looking through the face of characters, three wandering souls looking for their place on a magical journey. Melancholy but full of hope and life and love" that "came from similar place with similar heartbeat" as Prince Avalanche and Joe.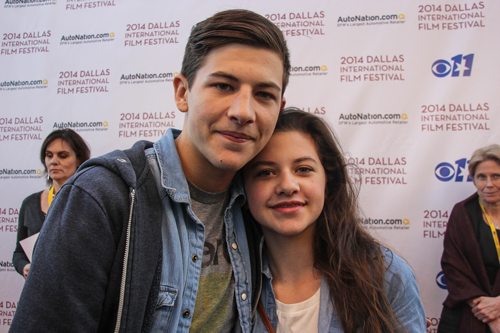 Tye Sheridan and his sister Madison Sheridan (pictured above) walked the red carpet at Dallas IFF. Sheridan said he enjoys working with Texas filmmakers, and he tries to take away one thing from each director.
He said Green and Terence Malick are both spontaneous but Malick is "a little bit more off-book -- never know what you'll be shooting that day." With Green, "You show up and do the scene and might do it a couple ways or take out a few lines."
In regards to his work on Mud, he shared that director Jeff Nichols is "solemnly based off of his script and you know the schedule for three weeks before you shoot."
When asked at the press conference about working with Sheridan, Nicolas Cage said he enjoys working with young actors.
"Young people haven't had their dreams kicked out of them yet, they're full of confidence, imagination and vision." He said he liked being the veteran actor telling younger actors, "This is how it's done -- we are equals, we're finding it together."
Green said he expected Sheridan to "bring a lot of ideas to the table -- why not look to the young man to tell us what to say? If he says this line is bogus, it's gone -- say what you need."
In Dallas, I also spoke with Austin actress Heather Kafka (pictured at right) who walked the red carpet for two films at DIFF -- About Mom and Dad and Joe. I was interested to hear about the creative basis of her portrayal of prostitute Lacy in Joe, which she revealed was not the role that she'd originally auditioned for.
"David decided he wanted me to feel that out, so we really sort of created her on her feet, which was nervewracking to me because I like to know what I'm going to do before I go in -- and I didn't really know. I had no reference for that, and it gets you off your game but that's a good thing.
"If you just put yourself in the hands of the director that you trust, then interesting things happen -- David definitely does that."
When asked about her upcoming film projects, Kafka described the Appalachian-set epic drama Some Beasts as "beautiful -- almost like a novel." Written and directed by Fort Worth-based filmmaker Cameron Bruce Nelson, the movie also stars Fort Worth actor Frank Mosley (Upstream Color) and Lindsey Burdge (A Teacher).
Bernie favorite and Longview, Texas actress Kay Epperson appears only briefly in Joe, but once again she steals the scene as she did on the DIFF red carpet. Green saw Bernie while casting for Joe, and wanted to find a role for Epperson. In the original story, the character of Stacy was male. For the film, Green changed the gender specifically for Epperson, whose dialogue was all improvised.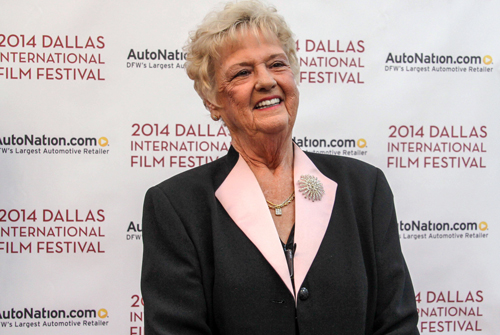 Epperson (pictured above) credits Richard Linklater for getting her started in film at 72 years of age, after placing her in a scene with Jack Black (as Bernie) after she responded to an open casting call. Epperson was raised in Rusk, Texas, where she worked in a restaurant.
Epperson will also be in two Austin films currently in post-production -- Manglehorn and Lost in the Sun, which stars Josh Duhamel and two young Texas actors: Josh Wiggins (Hellion) and Emma Fuhrmann (The Magic of Belle Isle).
I asked Epperson if she wanted to work with any particular directors or act any types of roles.
"People at home say, 'You're just being Kay,' but I'd like something that would really challenge me," Epperson said. "I love David Gordon Green, I like Rick Linklater ... show me the money!"
[Photo credits: "Nicolas Cage, Tye Sheridan, and David Gordon Green at SXSW 2014," "David Gordon Green at the Texas Film Awards," "Tye and Madison Sheridan on the 2014 Dallas IFF Red Carpet," "Kay Epperson on the 2014 Dallas IFF Red Carpet" all photos by Debbie Cerda, for use by request with attribution. "DFS Day 2 Red Carpet" photo of Heather Kafka by "Doc" Strange, used with permission from Dallas International Film Festival.]