SXSW 2015 Guides: All About the Theaters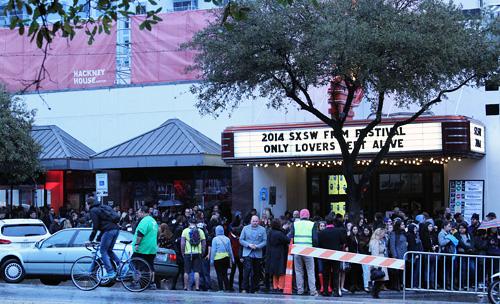 That's right, it's time again for the ever-popular, witty and charming annual Slackerwood SXSW Film Venue Guide. SXSW has ten venues for movie-watching this year, some with multiple screens. Here are the biggest changes from previous years:
Alamo Drafthouse on South Lamar returns, post-renovation, with three screens devoted to SXSW filmgoing. If you haven't been there since it remodeled, many surprises await you. More screens, less Highball (it's there but smaller), fun lobby, no patio, garage parking.
Alamo Village is no longer a venue. Visitors won't care, but North Austin locals may be a little sad. (It's practically in my backyard.) Fortunately we still have the Marchesa as a satellite venue for the entire fest, along with Alamo Slaughter through Thursday.
Alamo Ritz is being treated as a single-screen venue. I'm guessing from the capacity number SXSW provides (240) that both screens are being used most of the time, and the fest is not counting the balcony seats in #1. Please correct me if I'm wrong.
As in 2014, Violet Crown is also being treated as a single-screen venue -- all four screens will show the same movies at the same times.
The other big change you need to be aware of, if you have a badge, is that the SXSW Shuttle system has changed entirely. Two shuttle routes are available for any badgeholder -- not just SXSW Film. Here's a PDF of the routes: One circles downtown, one goes south across the lake and will get you to Rollins, Alamo South and Topfer. Expect a couple more stops, and a short walk from the Marriott stop (4th and Congress) to Violet Crown. Once the Music fest starts, downtown shuttles can move more slowly than walking, and remember rush-hour traffic jams affect both routes on weekdays between 4 and 7 pm.
SXSW is also offering a "Lake shuttle" during Interactive (through 3/17), from 9-6, that you can take from the Waller Creek Boathouse (not far from Austin Convention Center to the Hyatt Regency (not far from Rollins/Long Center). The 36-seat boat leaves the Hyatt on the hour, every hour from 9-6, and returns on the quarter hour. I want to take this just for the novelty, really, and will be interested to see how well it works.
Consider using the SXCycles program to bike to any central venue too far for you to walk. The venues all have nearby racks for the shared bikes, except Alamo South Lamar. You have to set up an Austin B-cycle account with a credit card, but B-cycle will give away vouchers for 30-minute rentals every morning of SXSW, from their depot at 604 Driskill St. near ACC.
Also, those of us who relied on "Catch a Chevy" a lot when shuttles weren't available will be disappointed to hear that Chevy is no longer a sponsor, and no similar program seems to be taking its place. At least it means fewer cars downtown -- a shuttle bus is theoretically far more efficient, after all.
Update: SXSW sponsor Mazda is offering "Mazda Express" service during the daytime hours of the entire fest. That link includes a map of the locations where you can catch a Mazda, so to speak. Can't tell whether they will take you anywhere that isn't a shuttle stop (e.g., Alamo South or Topfer at ZACH), but we'll see.
Here are mileage estimates if you prefer walking or cycling instead of shuttling between venues. Note: These are walking distances -- not driving or even cycling -- and are for one way, not round trip:
Rollins at the Long Center to/from Topfer at ZACH: about .75 mile if you take Riverside Drive.
Topfer to/from Violet Crown: .9 mile (and you get to take the Lady Bird Trail over the lake).
Rollins to/from Violet Crown: .5 mile.
Rollins to/from Paramount/Stateside: 1 mile. I've done this walk at a run to get from one screening to another when I couldn't wait for the shuttle. But it's best if you're not in a hurry and can stop for a snack break on 2nd Street.
Topfer to/from Austin Convention Center (ACC): about 1.4 miles. I'd shuttle for that one unless I needed exercise.
Rollins to/from ACC: .9 mile. That lake shuttle might help.
Alamo South Lamar to/from the Paramount: 1.9 miles via Congress/Barton Springs/Lamar -- take the shuttle, at least once you're on the same side of the lake as Alamo South.
Alamo South Lamar to/from ACC: 1.8 miles
Alamo South Lamar to/from Rollins: 1 mile
Alamo South Lamar to/from Topfer: .6 miles
Alamo Slaughter and Marchesa are not on the shuttle and are too far away for walking or cycling. Trust me. You could take MetroRail from ACC to Highland Mall and walk about .7 mile to the Marchesa, but make sure to plan an alternate bus route in case MetroRail trains are too full, which happens frequently during SXSW. No public transportation is convenient to Alamo Slaughter.
Any other SXSW theatergoing advice? Let us know in the comments.