Austin Convention Center (ACC) Vimeo Theater at SXSW
in
Address:
500 E. Cesar Chavez, Austin, TX 78701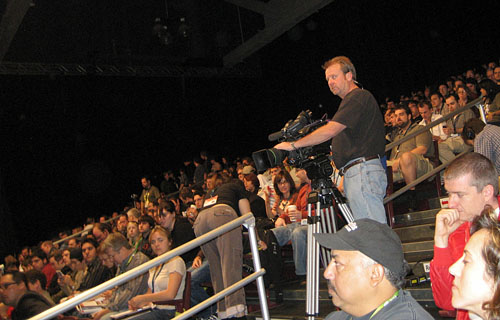 The Vimeo Theater in the Austin Convention Center (ACC) is a temporary setup on the ground floor of the convention center during the SXSW Film Festival. It's in ACC Exhibit Hall 2. During the film conference, this is the most convenient theater of the festival. During the music festival, I sometimes feel weirdly out of place here, but it's even easier to find a seat at most screenings.
Pros: ACC may be the best downtown venue for passholders or individual ticket buyers to see SXSW films. The location is unbeatable during the film conference -- you're right in the heart of the festival. The seats are on a good incline and short people should have no problem viewing the screen. And it's right on the SXSW Film Flyer shuttle route.
Cons: You don't get the movie-theater vibe that you would with other venues. Also, once the music festival starts, the area outside the theater gets even more crowded than usual, although the theater itself almost always has seats.
Screens and capacity: The Vimeo Theater holds 645, making it the second-largest SXSW film venue (after the Paramount). Lines are always indoors, which is nice on a wet day.
Parking: If you get downtown super-early, you can pay to park in the garage next to the convention center. If not, try the ACC secondary garage at Brazos and 2nd Street. Honestly, I'd recommend the Long Center and take the shuttle or walk across the bridge. (Free parking? No such animal during SXSW anymore.)
Distance: You can walk without much effort to the Paramount, Alamo Ritz and Violet Crown. and you're smack in the middle of the film conference.
Food and Beverages: Skip the convention center itself unless you're dying of hunger or in need of (not-so-terrific) coffee. Outside, you'll find affordable spots like Iron Works, PF Chang's and Mongolian BBQ. These places will be super-swamped at lunchtime, so walk a few blocks more and explore Austin's many downtown lunch options. Or you can walk over to Rainey Street and try the SouthBites food-trailer setup, which has some tasty options. (I've had people stop and give me free ice cream on that walk, so you might get lucky.)