Marchesa Hall and Theatre
Address:
6226 Middle Fiskville Road, Austin TX 78752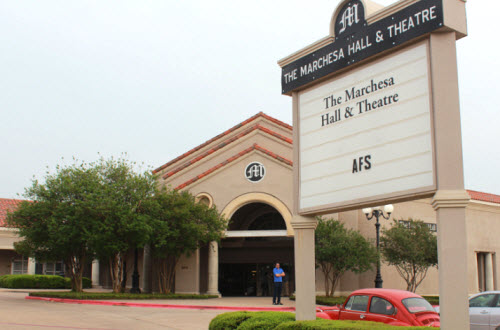 The Marchesa, near Highland Mall in central Austin, is a single-screen theater where Austin Film Society hosts most of their screenings. There's also space for other events, so you can still catch movies here while Blue Genie is going on, for example. Old-school Austinites will recognize the location as the old Lincoln Village theater. The theater shows both digital and 35mm prints. AFS has done a superb job of decorating the lobby area with movie posters and sleeves from soundtrack albums.
Pros: The location is fairly central and not difficult for most Austinites to reach. It's a nice theater experience -- not plushy and fancy, but fairly comfortable and intimate. The lobby is spacious and terrific for socializing before and after, with drinks and snacks available (fairly affordable by theater standards).
Cons: For film festivals, the one difficulty is that it's not downtown, and hard to get to without a car/taxi. The seats aren't on much of a rise so short people may want to favor the aisles (it's better than the Paramount, though, in terms of rise). You may get annoyed by the parking lot.
Screens and capacity: This single-screen theater seats 278.
Parking: Parking is free. There's a parking lot around the theater with plenty of parking, but be warned that it's tightly set up and, well, weird. Park off to the side near adjacent buildings for a little less stress.
Distance: It's about 5 miles away from downtown Austin. If you've got a bicycle, you could take MetroRail from ACC to the Highland Mall station and cycle over to the theater, but it's too far for a walk.
On-site food options: Concessions are available, including a full bar.
Nearby dining options: The best restaurant nearby may be Quality Seafood on Airport just south of Koenig. Another good nearby option is the Arpeggio Grill on Airport going toward N. Lamar.
[Photo courtesy of Austin Film Society.]