Movies This Week: August 22-28, 2014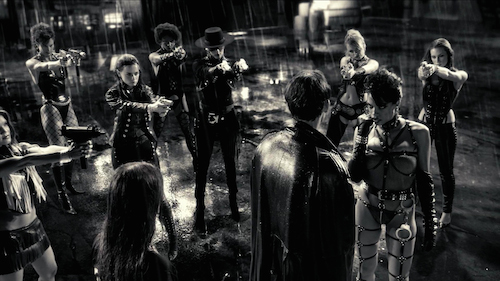 The Austin Film Society teams up with aGLIFF tonight to bring the new documentary To Be Takei (my review for Paste) to the Marchesa for a one-off screening. It's a touching and genuinely funny profile of George Takei, whose career has taken him from Star Trek to social media icon and gay rights activist. This month's Roger Corman series continues this weekend with X: The Man With The X-Ray Eyes. This 1963 thriller screens tonight and again on Sunday in a 35mm print. On Wednesday night, AFS presents SXSW doc Big Joy: The Adventures of James Broughton (Don's review) and then the Barbara Stanwyck Essential Cinema series will close Thursday with Ball Of Fire. Screening in 35mm, this classic 1941 Howard Hawks comedy, written by Billy Wilder and Charles Brackett, pairs Stanwyck with Gary Cooper.
Over at the Alamo Drafthouse Ritz, The Complete David Lynch series is winding down but has several more gems on the way. This weekend, they've got a 35mm print of Billy Wilder's Sunset Boulevard on Saturday and Sunday as part of the "influences" sidebar of this series. Ingmar Bergman's 1968 feature Hour Of The Wolf also screens as an influence title on Monday night. The last feature film from David Lynch in the series happens on Wednesday night, 2006's Inland Empire. He hasn't made a full-length film since and this 3-hour surrealist epic will start a little earlier (at 6:45 pm) due to its length. A few extra afternoon matinees of Inland Empire are thrown in on Monday, Tuesday and Thursday. Also at the Ritz, there's a Robin Williams Memorial Screening of The Fisher King on Sunday afternoon (with all proceeds being donated to Comic Relief) and a Zzang!!! screening of The Monster Squad on Sunday night.
There's a very special event tonight at the Alamo Slaughter Lane. DJ/Producer/Record Label Owner Andy Votel is going to be on hand for Kleksploitation, an "entirely re-contextualised version of [Andrzej] Zulawski's psychedelic, proto-electric scores for the cult Pan Kleks trilogy of children's films from the 1980s with live DJ accompaniment." Slaughter (and Lakeline) also will be screening Reservoir Dogs again on Sunday and Wednesday.
The Alamo South Lamar is hosting a brand new digital restoration of Elvis: That's The Way It Is on Monday night and have just added a Memorial Screening of Dead Poets Society on Tuesday night in 35mm (with all proceeds being donated to the American Foundation For Suicide Prevention). Alamo Village has another installment of their Eastern Fury series on Tuesday with The Magic Blade presented in a 35mm print from the AGFA vaults. Any ticketholders can stick around to watch Dirty Ho, a film that is being rescreened due to previous projection issues. Finally, Lakeline will be celebrating the 30th anniversary of Ghostbusters with a brand new 4K restoration playing twice on Thursday night.
Head to the Paramount Summer Classic Film Series on Saturday and Sunday afternoons for a 35mm "Fights and Flirtations" double feature of Bell, Book and Candle with An American In Paris. The Paramount is also throwing in a bonus free 35mm screening of The Birdcage on Sunday night at 7 pm to pay tribute to Robin Williams. This is a first come, first served event with no ticket or RSVP required. After the weekend, we head into 70mm week with It's A Mad, Mad, Mad, Mad World on the big screen Tuesday and Wednesday night and Spartacus on Thursday.
I also wanted to mention two indie films that have expanded to more screens. It's worth noting that Richard Linklater's Boyhood is available in many more theaters than it was upon its original release a few weeks ago. You can now find it at the Alamo Lakeline, Alamo Slaughter Lane, Alamo Village, AMC Barton Creek, Cinemark Hill Country Galleria, Cinemark Tinseltown South, The Moviehouse and Eatery and Violet Crown Cinema. Woody Allen's Magic In The Moonlight has also expanded and can now be found at Barton Creek, Hill Country Galleria, Tinseltown South, Regal Arbor and Violet Crown.
Movies We've Seen
The Dog - In 1972, John Wojtowicz led a bank robbery in Brooklyn to fund his lover's sex change operation. His story became the basis for Dog Day Afternoon. It's one of those stories that you just couldn't make up and Wojtowicz is truly a larger-than-life subject. I reviewed this documentary for The Austin American-Statesman during SXSW this year and raved that it digs deeper than Hollywood's version of events to "show us a complicated and volatile man who ultimately had a lot of heart and a libido to match." (Alamo South Lamar, also available on cable and digital VOD)
Sin City: A Dame To Kill For (pictured above) - Shot right here in Austin, Robert Rodriguez and Frank Miller return to the black-and-white noir of Sin City. Much of the original film's cast is back including Mickey Rourke, Jessica Alba, Rosario Dawson and Bruce Willis. A few newcomers drop in this time around including Eva Green and Joseph Gordon-Levitt. Reviews for the sequel have been mixed, but Debbie recommends catching it in 3D at a theater near you. Her review says, "Miller and Rodriguez create stunning visual imagery that is a wonderful tribute to the source material." (wide, available in 2D and 3D screenings)
Also Opening In Austin
If I Stay - Another supernatural young adult melodrama, this time around with Chloe Grace Moretz in the lead as a teen girl in a coma after a devastating car accident. The official press notes for the film say that she is "caught between life and death for one revealing day." Director R.J. Cutler also helmed the 2009 documentary about Vogue magazine, The September Issue. (wide)
Rich Hill - Winner of the U.S. Grand Jury Prize for Best Documentary at this year's Sundance Film Festival, this film turns the spotlight on three young teens living in rural Missouri. Surrounded by abject poverty, the American Dream seems out of reach for these families. At The Dissolve, Scott Tobias said "the film...burrows as deeply into their specific circumstances as possible, with a goal no more or less lofty than making invisible chlldren visible, in all their heartbreaking vulnerabiity and resilience." (Alamo Slaughter Lane, also available on cable and digital VOD)
When The Game Stands Tall - Just in time for a new football season, this sports drama is based on the true story of a high school team from Concord, California and the end of their record-breaking streak of winning 151 consecutive games. The Passion Of The Christ's Jim Caviezel stars as the winning coach with the always terrific Laura Dern portraying his wife. Michael Chiklis from The Shield also co-stars. (wide)