AFS Series Preview: How Lars Picked the 'Roger Corman' Films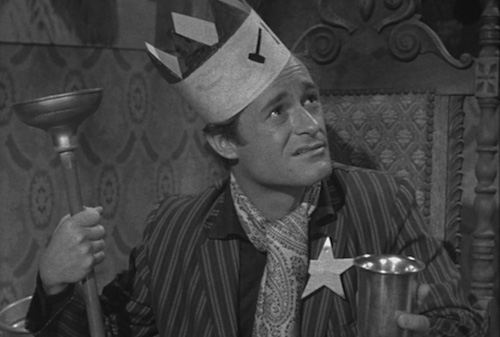 We have him to thank for The Little Shop of Horrors (1960), The Trip, Bloody Mama and a half-dozen Poe adaptations. His producer credits include Piranha, Boxcar Bertha, TNT Jackson, Rock 'n' Roll High School and Sharktopus. (Perhaps best to disregard that last one.) He's notorious for shooting movies on little money in less than a week using sets from other films he'd just completed. Actors/filmmakers who worked on their earliest movies with him include Jack Nicholson, Dick Miller (pictured above in A Bucket of Blood), Robert Towne, John Sayles, Francis Ford Coppola, Joe Dante and Martin Scorsese. Roger Corman has 56 director credits and 409 producer credits on IMDb, and he's still producing.
And Austin Film Society programmer Lars Nilsen had to narrow it down to four features -- plus a bonus documentary on Dick Miller -- for the latest AFS Arthouse series: "Films of Roger Corman." The series, screening Fridays and Sundays at the Marchesa, runs August 8-31. I emailed him (Nilsen, not Corman) to find out the story behind the series. Check out our mini email interview below -- followed by a longer list of Corman films Nilsen would have loved to include, so you can have your own enhanced Roger Corman experience at home.
Slackerwood: What made you decide to pick Roger Corman for this particular series at this time?
Lars Nilsen: I think summertime is the best season for light, fun entertainment movies. I can't recall any series of Corman's directorial work here anytime recently and it seems like a good time. I also took note of the fact that this year marks Corman's 60th year in the industry. The fact that the Dick Miller film [That Guy Dick Miller] was coming out just made the whole thing seem like good timing.
Corman has made so many many movies, how did you narrow them down to the four in the series?
Nilsen: I tried to pick movies from some of his major periods, so -- one from the goofy comedy period which included not only A Bucket of Blood but also Little Shop of Horrors and Creature from the Haunted Sea. There is X: The Man with the X-Ray Eyes, which exists outside of a particular period, but is too oddball and terrific not to screen.
Naturally there is one from the Poe period. I chose Pit and the Pendulum because it's my favorite looking film and I am eager to see the new restoration of it. Finally, I chose Gas-s-s-s, which was his last film for American International pictures and one of the last films he directed because it is never screened and it's an interesting and sometimes very funny disaster.
Programming four-movie mini-series is kind of my MO. I like to give people a sense of the films and start the ones who are truly interested in them on a personal course of study. In my experience, longer series tend to drop in attendance as they go past four films.
Why do you think Austin moviegoers will enjoy these films?

Nilsen: I think just about anyone who has a sense of film history and can enjoy Corman's subversive intelligence is going to love these. It's a door into a whole other world of inexpensive but high quality cinema. While we Americans may think of Corman as a schlockmeister (a reputation which has helped him commercially) these films are a lot better written and directed than 99 percent of anything coming out of the studios at the time. These are very smart movies, and I feel like I can say that to an AFS audience without turning them off.
Which film in the series is a particular favorite of yours?

Nilsen: I really like all of them, but the one I am most looking forward to seeing on the big screen is Pit and the Pendulum. The sets are beautiful and creepy, the screenplay is by the great Richard Matheson and I really love Vincent Price.
Corman filmed several Poe adaptations -- what do you think is especially notable about Pit and the Pendulum?
I think that, of all the Poe adaptations, Pit and the Pendulum has the best script and looks the best. Many would probably choose Masque of the Red Death instead and that's fair, but that's really a British film and I like the California look, feel and sound of Corman's other Poes. Personal preference.
Was there anything you wanted to program but couldn't make work this time?

Nilsen: I did not play a couple of them because they have been played in Austin more recently -- like The Trip -- which I like so much. If I were doing a 16-film series and I could get prints of them all I would choose:
Not of This Earth (the best '50s monster invasion movie)
The Undead (the script is in iambic pentameter!)
Teenage Doll (really underrated -- Fay Spain stars)
Sorority Girl (a great chance for Corman's female regulars to shine)
Rock All Night (great Dick Miller performance)
Machine Gun Kelly (Bronson)
Creature from the Haunted Sea (featuring Robert Towne)
The Intruder aka Shame (Shatner vs. racists in the South!)
Pit and the Pendulum
The Raven
X: The Man with the X-Ray Eyes
Masque of the Red Death
The Wild Angels
The Trip
Bloody Mama
Gas-s-s-s

"Films of Roger Corman" kicks off on Friday night at the Marchesa with That Guy Dick Miller, followed by A Bucket of Blood. Screening dates/times and tickets are available through the Austin Film Society website (or at the door the night of the screening, if any are left).