Review: Sin City: A Dame to Kill For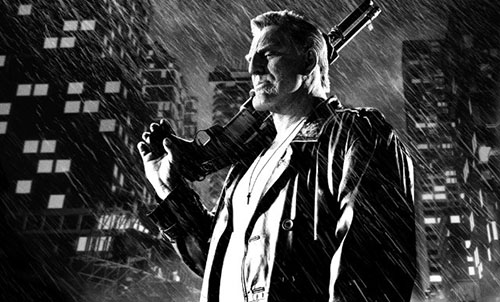 True confession time -- the first time that I watched Sin City (2005), I wasn't enthused due to my naivete. However, a recent viewing with the mindset of watching a graphic novel brought to life changed my perspective drastically. I found myself engaged by the characters, and therefore I was anxious to see what co-directors Robert Rodriguez and Frank Miller had in the cards with Sin City: A Dame to Kill For.
This film is both a prequel and sequel at the same time, as we learn more about the central characters from the first installment -- Marv (Mickey Rourke) is still bashing in heads but this time he gets called in to help Nancy (Jessica Alba) and Dwight (Josh Brolin) with their own personal vendettas. Nancy grieves for the death of her childhood hero and only love, Hartigan (Bruce Willis), who keeps his promise to never leave her even if he is a tormented ghost witnessing her demise.
An interesting subplot serves as the prequel that explains why Dwight's face had been transformed after his encounter with the deceptive and psychopathic Ava (Eva Green), who leaves men in her wake including police partners Mort (Christopher Meloni) and Bob (Jeremy Piven). We also learn more about the loyalty that Gail (Rosario Dawson) and the rest of the women of Old Town have for both Dwight and Marv.
There's a new kid in Sin City, lucky and fierce Johnny (Joseph Gordon-Levitt), who goes up against the vilified and powerful Senator Roark (Powers Boothe) in a game of cards. However, Johnny's not just looking for the money, as an interesting twist is revealed. Will it leave him a winner? I don't want to spoil the ending, but it's definitely a reminder of Miller's graphic and wicked humor.
Alba, Brolin, Boothe, Gordon-Levitt, Rourke -- these are just a few of the heavy-hitters who bring their "A" game to Sin City: A Dame to Kill For to deliver a fast-paced, edge-of-your-seat action film, and also features great cameo appearances from Dennis Haysbert as Manute, Ray Liotta as a philandering husband and Christopher Lloyd as a back-alley doctor.
What's most incredible about the star-studded cast is that since the film was shot using the massive green screen that Austin filmmaker Rodriguez built locally at Troublemaker Studios, most of the cast never encountered other actors with whom they had onscreen dialogue or action. Scenes between Dwight and Marv are so seamlessly played out that their interaction is quite natural and realistic -- and often humorous.
The use of 3D for this movie works magnificently with action, smoke, and body fluids jumping out of the screen at the audience. Coupled with the well-framed cinematography and stark yet lush art design, Miller and Rodriguez create stunning visual imagery that is a wonderful tribute to the source material. The score by frequent Rodriguez collaborator and composer Carl Thiel (Spy Kids, Machete) builds upon the central theme of the original film while creating its own distinct and visceral musical identity.
Often films that rely heavily on special effects and action can miss the mark on the story and characterization, but not this one. The character development particularly of Marv and Nancy is remarkably complex, and I found myself in tears during a scene with Nancy at her darkest moment. The passion and loyalty displayed by these complex and often confused characters demonstrates that you can't judge a book by its cover.
I highly recommend catching Sin City: A Dame to Kill For in 3D at a theater near you, and if you like the soundtrack you can already download it via iTunes. Watch the trailer for Sin City: A Dame to Kill For below: