AFS Essential Cinema: Stanwyck in Her Prime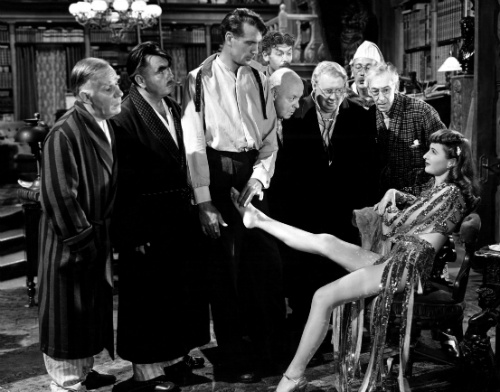 If last summer's pre-code Barbara Stanwyck quartet of films left you hungry for more, you will be glad to know that additional Stanwyck movies are on the way! August's Essential Cinema series from Austin Film Society will showcase films from the prime of Stanwyck's career. AFS Programmer Lars Nilsen has included a couple of well-known favorites with two titles that may be less familiar.
I asked Nilsen why he chose to show more of this amazing actress's movies, and here's his answer:
Last year we showed the early Stanwyck. She had all the fire and personality and talent but you couldn't really call her a mature screen artist yet. The period covered here is Stanwyck as an experienced performer, fully aware of her craft and able to deploy great reserves of feeling and audience sympathy. I feel like if we had only shown the pre-Code films we would be short changing Stanwyck, who is even better in this selection of films.

I think Stanwyck is one of the three or four greatest screen performers of all time and the selection of films here is designed to show off her comic gifts (Ball of Fire and especially The Lady Eve), her ability to bring real feeling to dramatic roles (Internes Can't Take Money) -- and, for kicks, we are showing a film that reunites her with William Wellman, who directed her best pre-Code titles in a movie that is practically a pre-Code film in itself, Lady of Burlesque. In Lady of Burlesque, we see what a captivating performer Stanwyck must have been on the stage and what an excellent dancer she still was.
All four films will be shown in 35mm at AFS at the Marchesa.
The Lady Eve (1941) [tickets]
Thurs, Aug 7, 7:30 pm
After co-starring in the utterly enjoyable The Mad Miss Manton in 1938, Stanwyck and Henry Fonda were matched up again in this Preston Sturges classic. Fonda is a beer baron's heir, and Stanwyck is the lovely con artist out to bilk him (who ends up falling for him). As with most Sturges films, the supporting players here are as impressive as the top names. The cast includes Eric Blore (who appears in earlier Stanwyck comedy Breakfast for Two), Charles Coburn, Eugene Pallette and Sturges regular William Demarest. Here's a trailer:
Internes Can't Take Money (1937) [tickets]
Thurs, Aug. 14, 7:30 pm
This is the lone drama of the four. Joel McCrea (Sullivan's Travels, The Palm Beach Story) plays Dr. Kildare -- the first film appearance of this character -- and Stanwyck is an ex-con trying to find her young daughter.
Nilsen says about the 1937 film, "I included it because I wanted to show Stanwyck's staggering dramatic technique. Not only had her comedic playing improved to something like perfection by this time, so had her dramatic playing. She was nominated for an Oscar for Stella Dallas but the film is a bit tearjerky for my taste. She's terrific but it feels cloying and dishonest. Internes is a small but serious and very well-made film and Stanwyck's scenes are the best examples I can imagine of how to play emotional material with sensitivity, restraint and truth." If you've seen 1940's Remember the Night, you know how well Stanwyck can inspire sympathy in her convict roles.
Lady of Burlesque (1943) [tickets]
Thurs, Aug. 21, 7:30 pm
It would be hyperbole to say: if you only make one of these screenings, make it this one... but honestly this is my favorite of the four selections. Based on a suspense novel by Gypsy Rose Lee (yes, that Gypsy), the William Wellman comedy stars Stanwyck as top-billed burlesque dancer Dixie Daisy. She's wary of comics and is pulled into the mystery of who is killing dancing girls at the house of burlesque. Michael O'Shea co-stars as funny-man Biff Brannigan, doing his darndest to change her mind about dating comedians. The print AFS will screen is on loan from the Library of Congress.
Ball of Fire (1941) [tickets]
Thurs, Aug. 29, 7:30pm
Thanks to this movie being shown on AMC back when they actually showed commercial-free classics, I still remember some random facts about this Howard Hawks movie. For instance, Richard Haydn (who would go on to play Max in The Sound of Music) was only in his thirties when he played the oldest professor of the encyclopedia-writing bunch. But the most important thing to know about Ball of Fire is that Barbara Stanwyck stars as nightclub singer Sugarpuss O'Shea. Gary Cooper is no match for her as straight-laced English professor Betram Potts (aka "Pottsy"). Look at the still above to see how Stanwyck holds the men in thrall. This flick is a perfect ending to a Stanwyck celebration.
[Still from Ball of Fire via Dr. Macro]