SXSW Review: Big Joy: The Adventures of James Broughton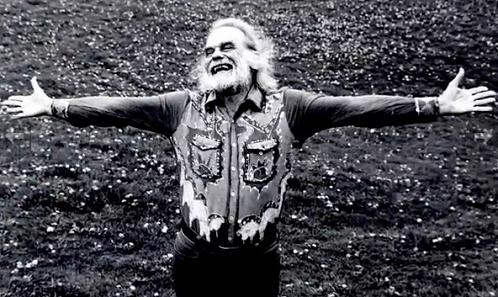 James Broughton's epitaph says about all you need to know about him: Adventure -- not predicament.
For those who want to know more, the splendid documentary Big Joy: The Adventures of James Broughton is a terrific tribute to the revered poet, writer and pioneering experimental filmmaker.
Born in 1913, Broughton overcame a difficult childhood to have a long, fulfilling career and personal life. His father died when Broughton was five, and his overbearing mother sent him to military school at age 9, hoping to break him of his effeminate tendencies. These experiences no doubt informed his work and his lust for life and love as an adult.
He began making experimental short films in New York in the 1940s and made 23 in total, all deeply personal and many featuring groundbreaking themes and copious nudity, which was largely forbidden during his early career. (One of his best-known films, the award-winning 1967 fantasy romp The Bed, is perhaps the nudest film of its era. It played in a San Francisco theater for more than a year.)
Beyond filmmaking, Broughton was a famed poet and writer, publishing 23 books of poetry and prose that were wildly popular (and remain so) among the countercultural set. A central figure in the mid-twentieth century San Francisco Renaissance, he was dubbed the "unofficial poet laureate of San Francisco."
Broughton also is remembered for his many and often unconventional relationships with men and women, from film critic Pauline Kael in the 1940s to Joel Singer, a Canadian student nearly 40 years his junior, who was his partner from the 1970s until his death in 1999.
Big Joy tells Broughton's story in glorious detail, portraying him as someone who lived to "follow your own weird," as he described it. Done in an exuberant, free-flowing style its subject no doubt would admire, the documentary is a celebration of all things Broughton, with generous clips from his films -- really, my life will not be complete until I see The Bed -- and readings from his works.
The film also features archival interviews with Broughton and present-day interviews with some of his many friends, admirers and family members. The interviewees mostly gush with praise, but a few of them -- including his jilted ex-wife, Susanna Hart -- bring Broughton back down to earth in the film's rare unflattering moments. The exalted countercultural icon, the film reminds us, had faults just like everyone else.
But the negative vibes are few in Big Joy. (The title is apt in two ways: It captures the big joy of Broughton's life, and Big Joy is the name he eventually took for himself.) Expertly helmed by Eric Slade and Stephen Silha, whom Broughton mentored in his final years, the movie is frequently hilarious, radiates happiness and is almost universally upbeat; how could it not be, given its subject? Big Joy leaves no doubt as to why Broughton's friends and colleagues found so him so captivating and inspirational: He was the ultimate lover of life and people, a man who welcomed new ideas and experiences and sought new ways to perceive and reflect on his world. (Again: Adventure -- not predicament.)
Like the glorious life it chronicles, Big Joy is awash in humor, introspection, transformative journeys and unbridled sexuality. The documentary's best moments are its least inhibited ones -- not just sexually, but in terms of emotional honesty. Of course Big Joy is visually captivating when actors bare their bodies in Broughton's films, but it's at its best and most inspiring when Broughton's poetry invites us into his mind and soul.
See the exquisite Big Joy, and lose yourself in the beauty of James Broughton's adventure. It will inspire you to follow your own weird.