Movies This Week: August 8-14, 2014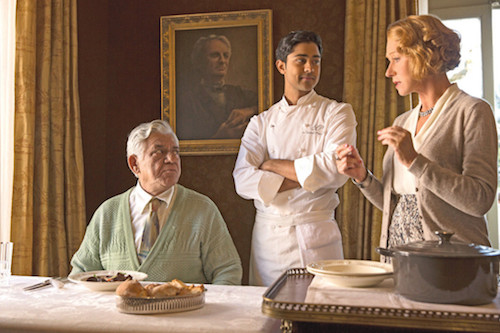 The Austin Film Society kicks off a brand new series featuring classic films from Roger Corman (Jette's preview) with a related documentary called That Guy Dick Miller, about the famed character actor. Tonight's screening will feature a post-film Q&A with Mr. Miller via Skype. It will be followed by a 35mm screening of Corman's 1959 feature A Bucket Of Blood, which features a great lead performance by Dick Miller. The film will also play again on Sunday afternoon.
On Wednesday, Whitey: The United States Of America V. James J. Bulger (from Joe Berlinger, the director of Paradise Lost) will be featured for Doc Nights (Elizabeth's preview), and this month's Essential Cinema series with the incredible Barbara Stanwyck (Elizabeth's preview) finds her on Thursday night starring in a 1937 drama called Internes Can't Take Money, screening in a rare 35mm print.
At the Paramount's Summer Classic Film Series, you can catch a 35mm double feature of Charlie Chaplin comedies this weekend. The Great Dictator and Modern Times will screen at the Paramount multiple times on Saturday and Sunday afternoons. Marlon Brando will be featured in a 35mm double feature on Tuesday and Wednesday evenings with A Streetcar Named Desire and On The Waterfront. Ten classic thrillers from Hitchcock will be featured through the end of next weekend. You can head down for Rebecca and Notorious screening digitally on Tuesday and Wednesday at the Stateside, while Rope and The Trouble With Harry also play there digitally on Thursday night. If you'd rather catch your Hitchcock on film, Psycho and Vertigo are both featured in 35mm at the Paramount on Thursday evenng.
The Alamo Drafthouse and Do512 have another great Sound & Cinema selection Wednesday night on the lawn at the Long Center. The Golden Dawn Arkestra will perform live music and then Drafthouse will project Raiders Of The Lost Ark onto one of their gigantic inflatable Rolling Roadshow screens. A bunch of food truck options, craft beers and non-alcoholic beverages will be on hand for sale. The band will start around 7 pm and the movie will follow after sunset. You can bring folding chairs, blankets and non-alcoholic drinks of your own, but leave the alcohol and pets at home!
Alamo Lakeline is bringing Wet Hot American Summer back to the big screen on Monday night for a regular screening, but if you're a massive fan you may want to consider the quote-along screenings scheduled at Lakeline and Slaughter Lane on Tuesday night. Lakeline is also the place to be for the first Dragon Ball Z feature-length film in almost two decades. Dragon Ball Z: Battle Of Gods screens with select daily showtimes from Sunday-Tuesday and again on Thursday.
Alamo Ritz is hosting quite a few screenings as part of "The Complete David Lynch" series over the next week. Hitchcock's Rear Window is in 35mm on Saturday, Sunday (the main screening for series passholders with reserved seats) and Tuesday as part of the "Influences" portion of the Lynch programming along with Lolita, which plays just once on Monday night in 35mm. There's also a David Lynch Mystery Program on Sunday afternoon before Rear Window that fans of Twin Peaks: Fire Walk With Me will be very interested in, and yet another Mystery Program on Monday night after Lolita. This week's main attraction is 1997's Lost Highway, screening as a Monday matinee and again on Wednesday night (if you're a series passholder, this is the one you want to attend for your reserved seat).
1992's computer hacker thriller Sneakers is this month's Bangarang! selection and it will play in 35mm on Sunday night at the Ritz. Also this week, you can catch a rare archival 35mm screening of The Boogeyman for Terror Tuesday, and Tough Guy Cinema will break out a 35mm print of Walter Hill's terrific 1979 gang drama The Warriors on Tuesday. This will also play soon at Lakeline and, fingers crossed, the relaunched South Lamar location later this month!
Movies We've Seen
The Hundred-Foot Journey - Swedish director Lasse Hallstrom (Salmon Fishing In The Yemen, Chocolat) returns with this delectible treat that will appeal to fans of The Best Exotic Marigold Hotel. Helen Mirren stars as the owner of a classic French bistro who (at least initially) does not take kindly to an Indian family from Mumbai wanting to open a restaraunt across the street from her business. Elizabeth's review notes that the film is beautifully shot and that the comedic touches are "more memorable than the plodding drama." (wide)
Also Opening In Austin
Into The Storm - If you're into disaster porn, this one should be up your alley. A cast of mostly unknown leads are guided through 90 minutes of viciously strong tornados by the director of Final Destination 5. (wide)
James Cameron's Deepsea Challenge 3D - This documentary, presented by National Geographic, finds the famous director of Titanic on a journey to the deepest depths of the ocean. Using a submersible device he designed himself, Cameron explores the Mariana Trench, seven miles beneath the surface of the water. (Tinseltown North, Regal Metropolitan)
Magic In The Moonlight - Woody Allen's 44th feature film is not shaping up to become one of his most beloved. Colin Firth and Emma Stone star in this romantic comedy which has recieved incredibly mixed reviews, currently sitting with a middling 53% on Rotten Tomatoes. (Regal Arbor, Violet Crown Cinema)
Step Up: All In - The fifth installment in the series finds the dancers battling in Las Vegas. (wide, available in 2D or 3D screenings)
Teenage Mutant Ninja Turtles (2014) - Michael Bay produces this family franchise reboot, complete with plenty of Pizza Hut product placement. The reviews are atrocious, but that sort of seems besides the point with a movie like this. It will likely please a new generation of fans while probably pissing off all the adults who were once fans of the original series. (wide, available in 2D or 3D screenings)