Review: The Hundred-Foot Journey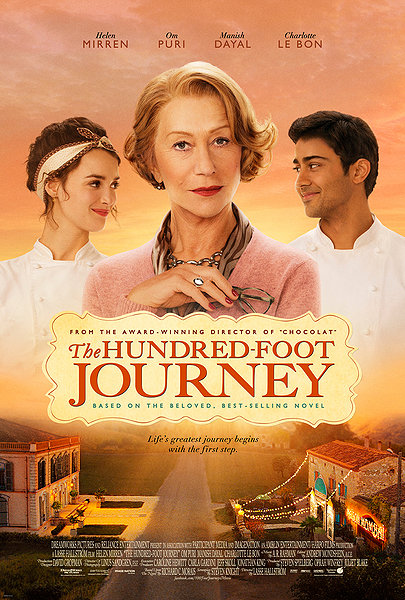 New release The Hundred-Foot Journey is a beautifully-shot drama produced by Oprah Winfrey and Steven Spielberg, who likely hope it will prove a hit along the lines of The Best Exotic Marigold Hotel. Formidable British actress Helen Mirren gets top billing as strict French restauranteur Madame Mallory. Her establishment has a Michelin star and brings in big name political figures. However, Madame Mallory's work and life isn't the main focus of this colorful film from Lasse Hallstrom (Chocolat, Salmon Fishing in the Yemen), adapted by Steven Knight (Eastern Promises) from a novel by Richard C. Morais.
A family of refugees, the Kadams from Mumbai, moves into the vacated building across the street from Madam Mallory's restaurant. Papa (veteran Indian actor Om Puri, Gandhi) wants to open an Indian restaurant in this quiet French village, with the help of son and aspiring chef Hassan (Manish Dayal, 90210, Switched at Birth) and other adult children (Amit Shah and Farzana Dua Elahe). Even the two much younger siblings help out.
The Hundred-Foot Journey is really Hassan's story. The film opens to his narration, and lots of exposition. As soon as cute Marguerite (Charlotte Le Bon, Yves Saint Laurent, Mood Indigo) comes on the scene -- she's sous chef for Madame's kitchen, of course -- it is a given that she's the love interest for Hassan's character. The film deserves some credit for following the success of a character of color, but his plotline drags during the second half; this causes the movie to feel longer than its actual two-hour length.
Hallstrom's new movie will appeal to older theatregoers but seems tailor-made for the Pinterest/Instagram generation. The cinematography by Linus Sandgren (American Hustle), especially the delectable footage of food, is glorious. A long tracking sequence expertly shows the Kadams getting set up in their new digs, but the overuse of lens flare in the film is a distraction.
The score by A.R. Rahman (Slumdog Millionaire) adds emotional punch and vibrancy to The Hundred-Foot Journey. The tone of the script is all over the place, with the comedic moments more memorable than the plodding drama. Still, this film begs to be shown at the Alamo Drafthouse with an accompanying special menu.