Movies This Week: August 1-7, 2014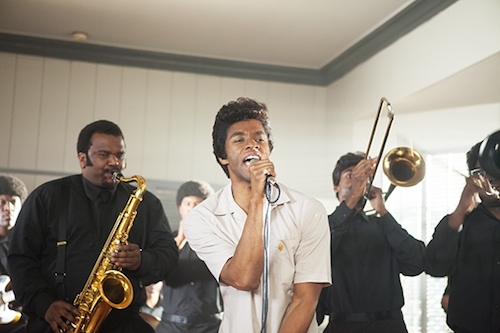 In terms of wide releases, it's a fairly quiet week due to Marvel taking over more than 4,000 screens nationwide. Universal is countering with its James Brown biopic, but there's no other real compeition in the market for mainstream crowds. Specialty audiences are still discovering Richard Linklater's Boyhood (Don's review), which expands to AMC Barton Creek and Alamo Drafthouse Lakeline this weekend, while continuing with plenty of showtimes at Alamo Slaughter Lane, Regal Arbor and Violet Crown Cinema.
Speaking of Mr. Linklater, he'll be at the Marchesa tonight to introduce Vincente Minnelli's The Band Wagon. It's a free screening for folks who contributed to last year's Austin Film Society campaign to make improvements at Marchesa Hall and Lars Nilsen reports that the 35mm print is "pretty much perfect." Capacity permitting, $10 general admission tickets will be available. Barbara Stanwyck wil be taking over the Essential Cinema series for August (Elizabeth's preview), kicking off with a 35mm screening of The Lady Eve on Thursday night. Henry Fonda and Charles Coburn also star in this 1941 classic by Preston Sturges.
The Paramount Summer Classic Film Series is headed into the 1940s this weekend with 35mm prints of Casablanca and The Philadelphia Story on Saturday and Sunday. Wednesday and Thursday finds the series jumping ahead into the 1950s with a double feature of All About Eve and The Bad And The Beautiful, both also screening in 35mm.
Looking at the Alamo's specialty listings this week, the Ritz has a 35mm screening of A Fish Called Wanda on Sunday night. This is one of my all-time favorite comedies and you don't want to miss it on the big screen! "The Complete David Lynch" series opens up this week to include films that influenced his work. That means that on Monday night you can see Otto Preminger's Laura in 35mm while Lynch's own Twin Peaks: Fire Walk With Me plays on Wednesday. (If you're brave enough, the Alamo Lakeline is hosting an entire 25-hour marathon of the Twin Peaks series -- as of press time, there are a few seats left up front.) There's a very rare screening of Todd Haynes' Superstar: The Karen Carpenter Story on Monday night at the Ritz as part of the "Homo Arigato!" series.
Our friends who host Girlie Night better have plenty of Kleenex on hand for their screening of Steel Magnolias on Tuesday night at Alamo Lakeline. The menu looks pretty incredible for the Deschutes Beer Dinner for Stand By Me on Tuesday night at Alamo Slaughter Lane while Monty Python Live (Mostly) features a broadcast from London's O2 Arena on Wednesday and Thursday at both the Alamo Lakeline and Slaughter.
Finally, Cinema East is happening on the lawn of the French Legation Museum on Sunday night with a screening of The Foxy Merkins. This outrageous selecton from the Sundance Film Festival is about a "down-on-her-luck, lesbian hooker in training" who meets her match and hits the road. From the director of Codependent Lesbian Space Alien Seeks Same.
Movies We've Seen
Get On Up (pictured above) - Chadwick Bozeman (who starred as Jackie Robinson in last year's acclaimed drama 42) is mesmerizing as "The Godfather Of Soul" in this otherwise lukewarm biopic about the life of James Brown. Director Tate Taylor struggles to depict much beyond the myths behind the man and the mommy issues that informed his life. The film works best when it focuses on Brown's incredible stage persona and musicianship, including recreations of his legendary performances like "Live At The Apollo." My review says that it's "impossible to discount the movie as a whole because the songs will make you dance in your seat throughout the film's somewhat bloated 139-minute running time." (wide)
Guardians Of The Galaxy - This Marvel comic adaptation is not only guaranteed to please hardcore fans, but it's also winning over critics across the country. Currently sitting with a solid 90% on Rotten Tomatoes, I guess most people aren't as uninterested in talking raccoons as I am. Mike has our review and he says it "features a feel-good soundtrack of 1970's hits and art direction that seems inspired by visions of Jodorowsky." (wide, local screenings available in 2D, 3D, digital IMAX 3D and D-Box Motion Seating)
Also Opening In Austin
Code Black - This award-winning documentary by physician Ryan McGarry takes us directly into the heart of Los Angeles County General Hospital, with one of the busiest emergency rooms in the nation. The film follows the training of new doctors in the trauma bay and was shot by McGarry when he was already working up to 80 hours a week at the hospital. (Regal Arbor)