Review: Boyhood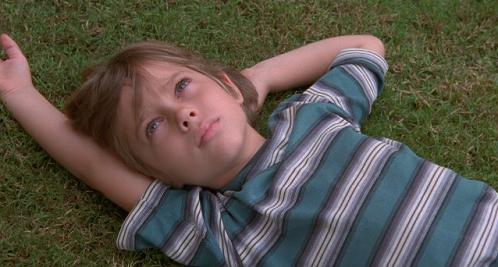 It took 12 years to make Boyhood. After seeing it, it took me about 12 seconds to declare it one of the best films ever made.
That's right, gentle Slackerwood readers -- one of the best films ever made.
Read on only if you're fond of superlatives, for this review is laden with them. And Boyhood deserves every one -- it is nothing less than a monumental cinematic achievement, a movie that may redefine what is possible in the world of filmmaking. It is stunning and amazing and mesmerizing, and I could go on and on about it -- and will.
Boyhood's story isn't complicated. It follows a boy, Mason (Ellar Coltrane), and his family as he grows from age six to 18. Along the way, Mason experiences the wonders of youth as well as the heartbreaks, while his family tries to remain functional despite its dysfunction. Mason's life story isn't remarkable, but it's wonderfully told and deeply meaningful thanks to writer/director Richard Linklater's terrific script.
What is remarkable -- astounding, actually -- is that Linklater filmed his masterful opus over 12 years, shooting for a few days every year with the same lead actors. This ambitious technique creates a groundbreaking and way-cool visual effect: We see Mason and his older sister, Samantha (Lorelei Linklater), literally grow up as the story progresses, starting as young children and becoming preteens, adolescents and finally young adults. Their parents (billed as Mom and Dad and played by Patricia Arquette and Ethan Hawke) also age a dozen years; of course, their appearances change less dramatically.
Boyhood's unprecedented use of age progression might sound like a gimmick, but it isn't. It's wondrous -- the characters age almost magically, and the effect is striking at times. But it's not Boyhood's only reason for being; it hangs out in the background as the story and characters drive the film. (Oh, if only every filmmaker would use visual effects so judiciously.) The end result is at once extraordinary and ordinary -- Boyhood may have been filmed over 12 years, but everything is so carefully matched and deftly edited that the film looks and flows like any well-crafted conventional film, as if it were shot in a couple of months. Boyhood is a seamless whole -- it's not Twelve Short Films About Mason.
Its wow factor aside, the age progression emphasizes one of Boyhood's fundamental themes: Time flies. As the film compresses 12 years into slightly less than three hours, it tells us that youth is fleeting. Boyhood is about the bittersweet reality that our childhoods are over before we know it.
The script also drives home this message with all the humor, poignancy and insight we expect from a Linklater film. One of Linklater's many gifts is that he can tell a seemingly ordinary, narrowly focused story in an extraordinary, universal way; in Boyhood, he tells the story of one childhood as the story of all our childhoods, one family's story as every family's story. The triumphs and tragedies of Mason's family are the stuff of all our lives -- and as in all of Linklater's best films, everything feels joyously and painfully real. When Mason feels lost on his first day in a new school, tries to make sense of his mom's struggles and realizes that his life plans will change many times, we share his troubles and revelations because we've all been there.
The characters in Boyhood are just as real; we either are them or have met them. This is another Linklater gift -- filling his movies with familiar but fascinating people we know. Of course great characters demand great acting, and the Boyhood cast is up to the task in every way.
As Mason, Coltrane owns the film. Thanks to Boyhood's long production schedule, we witness not only Mason's physical and mental maturation but also Coltrane's maturation as an actor. (This is yet another way the film breaks new ground.) Portraying a character believably as he grows from boy to man is no small feat; essentially, it requires a great child actor to grow into a great adult actor. Fortunately, Coltrane is both. He plays Mason perfectly at every age -- and he is indeed acting, not just playing himself. From six-year-old Mason's angry fights with his sister to his sense of infinite possibilities on his first day at college, Coltrane never misses an emotional note. He's superb, and let's hope Mason is only the first of many starring roles for this talented young actor.
As Samantha, Lorelei Linklater has the same challenge as Coltrane -- playing a child growing to adulthood -- and also nails her character. Samantha matures from an annoying big sister to a supportive one; Lorelei Linklater captures this transformation perfectly, while also playing Samantha as something of a drama queen. (Samantha reminds us that adolescence is mostly about your parents embarrassing you. Her parents-are-so-lame arguments with Mom and Dad are some of the film's best moments.)
Arquette and Hawke are just as convincing as Mom and Dad. They play two damaged parents who lead separate lives, sharing custody of two sometimes difficult children and doing their best not to involve their kids in their bickering. Arquette plays Mom as fiercely dedicated to her kids but often frustrated with her life and always exhausted (in other words, she's pretty much every single mom). Hawke's Dad is loving and wants to stay connected to his kids, but responsibility isn't his thing; at least he's honest about who he is, an overgrown party boy who's not really cut out for parenthood.
Boyhood also has a great supporting cast. The standout is perennial bit player and self-described "no name actor" Marco Perella as Bill Welbrock, who has a profound impact on Mason and his family. To avoid spoilers, I won't say more about the role except that it's the film's darkest. I will say that Perella is sensational and unforgettably frightening. Why hasn't the film industry given this terrific actor -- who has appeared in more than 60 films and TV series -- his due?
Texas film fans will see other familiar faces in small roles and bit parts. Among many Texan actors and notables, look for Chris Doubek talking to himself in a restaurant, Richard Andrew Jones as a God and gun-loving grandfather and Charlie Sexton as one of Dad's musician friends. And Boyhood would be incomplete without the esteemed David Blackwell as a liquor store clerk.
At this point in my reviews, I usually quibble about a minor fault or two in a film I otherwise adore. But not Boyhood; it's perfect. It is, in fact, a masterpiece. Again: one of the best films ever. A film about so much more than just a boy -- really, it's about life. A film unlike any other before it, astonishing not just for the way it was filmed, but even more so for the poetic way it captures the human experience. And a film -- like Linklater's other groundbreaking masterpiece, Slacker -- that fans, critics and film scholars no doubt will be talking about decades from now.
Austin/Texas connections: Boyhood is so thoroughly Texan, there are too many to list. The film was shot in many Texas locations including Houston, Austin, San Marcos and Alpine, with local crews and extras. Richard Linklater lives in Austin and is a Houston native. Ethan Hawke is an Austin native.