Review: Guardians of the Galaxy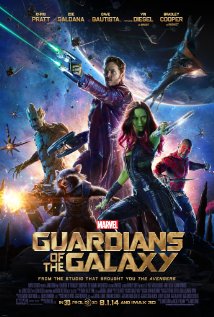 With its post-credits teasers for The Avengers after each superhero movie, Marvel generated excitement and buzz. After seeing Guardians of the Galaxy, I'm convinced that this movie, and not The Avengers, is the ultimate end product that all those scenes were teasing. Written by James Gunn (Super, Slither) and Nicole Perlman, and directed by Gunn, Guardians of the Galaxy is a space opera like nothing that's hit screens since Flash Gordon in 1980.
Based on a relatively new addition to the Marvel Comics universe, Guardians of the Galaxy fully realizes the possibilities of a comic book brought to life with phenomenal visuals and a script full of unexpected surprises and laughs. Readers of the series will notice some departures from a strict retelling, including a couple of absent members of the group (who will likely turn up in a sequel), but this is far and away the most colorful, flashy and entertaining release the studio has brought us yet.
Guardians of the Galaxy stars newly-buffed Parks & Rec star Chris Pratt as Peter Quill, aka "Star-Lord," the wisecracking leader of the group -- an unlikely misfit of a superhero with more charisma than Tony Stark. His work as a sort of outer-space Indiana Jones soon lands him in trouble with very dangerous people, and the only way through his predicament is to save the galaxy. He is joined on his quest by the lovely green-skinned assassin Gamora (Zoe Saldana) and muscle-bound alien Drax (Dave Bautista).
It is the last two members of the group, however -- Rocket Raccoon (voiced by Bradley Cooper) and his bodyguard/companion Groot (voiced by Vin Diesel) -- who will provide the best merchandising fodder. While Quill is something of a Luke Skywalker type, young and full of unrealized potential, Rocket and Groot are clear analogues for Han Solo and Chewbacca with a little of R2-D2 and C3PO thrown in the mix. They provide most of the comedic relief to the epic dark galactic struggle in which the story is immersed.
A strong contender for my favorite movie this summer, Guardians of the Galaxy features a feel-good soundtrack of 1970s hits and art direction that seems inspired by visions of Alejandro Jodorowsky. I can't say enough great things about this movie, and I can't wait to get to a theater to see it again.