Review: Get on Up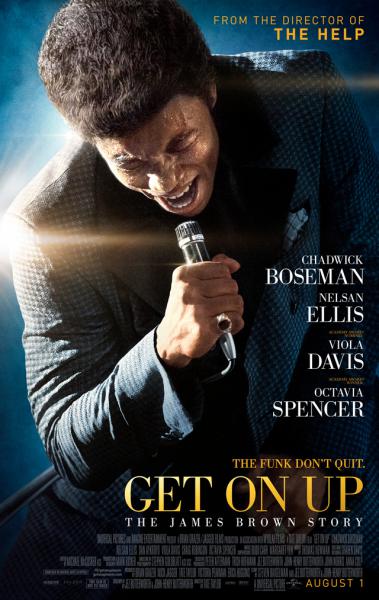 The average music biopic has become so riddled with cliches in recent years that the entire genre was spoofed in a parody (Walk Hard: The Dewey Cox Story) that managed to be spot-on and over the top at the same time. In Get on Up, director Tate Taylor, coming off his successful big-screen adaptation of The Help, brings together a gifted cast and crew to tell the story of "The Hardest Working Man In Show Business," but it falls into many of the traps that made the biopic format so easy to mock in the first place.
James Brown's life began in 1933 while the country was in the midst of the Great Depression. Get On Up doesn't start with his birth, but rather opts to open with a bizarre incident in the late 1980s with him running around his office in a green velour tracksuit brandishing a shotgun to determine who had just used his bathroom. Brown is portrayed by Chadwick Boseman (who also took on the role of the legendary Jackie Robinson in last year's 42) and his dedication is clearly evident, especially during the recreation of the live concert sequences. In one of the film's many odd creative decisions, he frequently breaks the fourth wall to address the audience and explain his motivations.
As we weave in and out of over 50 years of history in the making, the curious structure and tone of Get on Up become increasingly problematic. One moment we are running in the woods with Brown as a child playing with his mother and shortly after we're on a flight to Vietnam that is being shot at with his entire band on board preparing to land for a USO concert in 1968. We catch glimpses of Brown's difficult childhood and how he eventually ends up being raised in a whorehouse by his aunt (Octavia Spencer), but these moments only serve to feed more into the myth of James Brown instead of shining a light on the man he became.
James Brown's accomplished musical legacy is very separate from how he really was as a human being. The movie doesn't completely gloss over his faults, but it also doesn't linger on topics like domestic violence and drug use. There are moments that feel incomplete, as though they were pulled out of a much longer picture. As such, the audience is kept at a distance more often than not. The closest that the film comes to an emotional breakthrough is when Brown's estranged mother (Viola Davis) turns up at the Apollo. After the biggest performance of his career, he has to face the woman who left him behind to fend for himself against an abusive father. There is plenty more heartbreak sprinkled throughout the film, but it happens too quickly to have much impact.
Brown's live musical achievements are thankfully depicted in glorious detail including his 1963 "Live At The Apollo" concert, an appearance at the "T.A.M.I. Show" in 1964 and the historic 1968 concert at the Boston Garden right after the assassination of Martin Luther King, Jr. These performances and the multiple sequences that take place in recording studios fill Get on Up with some of the greatest songs ever recorded. It's impossible to discount the movie as a whole because the songs will make you dance in your seat throughout the film's somewhat bloated 139-minute running time.
The supporting cast of backing musicians is filled with talent including Craig Robinson (The Office) as Maceo Parker, Tariq Trotter (better known as Black Thought from the band The Roots) as Pee Wee Ellis and Nelsan Ellis (True Blood) as Brown's right-hand man, Bobby Byrd. Dan Aykroyd also turns up as Brown's longtime manager and booking agent Ben Bart, and R&B singer Jill Scott stars as DeeDee, Brown's second wife. All of the music featured is from the original multitrack recordings and Boseman mimes to Brown's own voice, including some previously unreleased live recordings that take center stage here.
There may have been a great movie inside Get On Up and it was whittled away to get to the final cut. As musical biopics go, it's fairly standard despite its nonlinear approach to tell the story. It does, at least, give over copious amounts of screen time to what people love most about Brown -- his music.