Movies This Week: February 14-20, 2014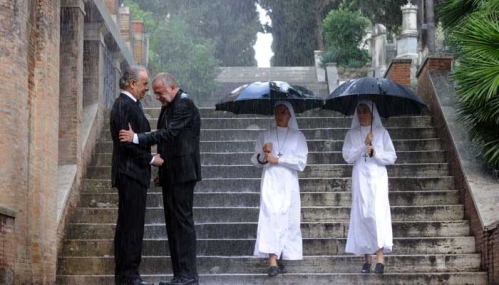 The Austin Film Society's Godard Vs. Truffaut series continues on this weekend with a 35mm print of Godard's A Woman Is A Woman tonight and Sunday afternoon at the Marchesa. There's also an austin premiere on tap Sunday afternoon for The Big Shootout with director Mike Looney, Edith Royal and members of the 1969 UT football team in attendance. The Q&A will be moderated by KLBJ's Ed Clements.
On Monday night, you can head back over to the Marchesa for "An Austinite's Guide To The 2014 SXSW Film Festival." It will feature a Q&A with festival programmers Janet Pierson, Jarod Neece and Claudette Godfrey as well as a happy hour and a filmmakers' chat about how to make the most of the fest. On Wednesday, Richard Linklater will be hanging out with a 35mm print of Sam Fuller's White Dog and Essential Cinema is bringing you a newly restored DCP of the 2002's Aleksandr Sokurov's Russian Ark on Thursday.
If you're looking for Valentine's Day ideas, we already covered the special romantic events going on this weekend at the Blue Starlite. There will also be Casablanca feasts happening at the Alamo Ritz and the Alamo Slaughter Lane tonight. If you want to save some dough, Casablanca will continue to screen in 35mm at the Ritz from Sunday-Thursday afternoons. If romance isn't your thing, the Ritz is going to be paying tribute to the late Philip Seymour Hoffman with a 35mm screening of Synecdoche, New York on Saturday afternoon. Proceeds from the event will be going to Hoffman's Labyrinth Theater Company in New York. A Cinema Cocktails presentation of Billy Wilder's Sabrina on Sunday at the Ritz not only has drink specials, but also includes free mini macarons from la patisserie. The movie plays again on Tuesday at Lakeline, sans free sweet treats.
Drafthouse Films has a special sneak preview of their upcoming release Cheap Thrills at Slaughter Lane on Saturday night. Actress Sara Paxton is expected to be in attendance. Aleksandr Sokurov's Faust is playing at Slaughter on Sunday and Wednesday. If you're also catching Russian Ark, you won't want to miss this! Director Lucy Mulloy is coming to the Alamo Village on Sunday afternoon for a Cine Las Americas screening of her film Una Noche and Miyazaki Madness is serving up Princess Mononoke in a 35mm print at the Village for select screenings from Saturday through Thursday.
The Paramount 100 has more silent cinema classics on Wednesday night. You can catch a double feature that includes a digital restoration of 1922's Nosferatu paired with 1925's The Phantom Of The Opera.
Movies We've Seen
The Great Beauty (pictured above) - Paolo Sorrentino's follow-up to This Must Be The Place is Italy's submission for the Foreign Languge Film Oscar this year. A rare new release from specialty distributor Janus Films, Caitlin's review calls it "novelistic in its storytelling and enthrallingly ambitious." (Violet Crown Cinema)
Love And Air Sex - This Austin-based comedy had its world premiere at SXSW last year when it was known as The Bounceback. While it's available now on VOD, the Alamo Drafthouse is going to have live Q&As in conjunction with screenings tonight, tomorrow and Sunday and tonight's sold-out 8 pm screening will feature an Air Sex competition hosted by Tim League. Don's festival review said that it's "genuinely funny" and "smart enough not to take itself too seriously." (Alamo Slaughter Lane)
RoboCop - Paul Verhoeven's original 1987 film had to be severely edited to avoid an X-rating by the MPAA at the time strictly for the explicit violence. This new reboot thought it was a better idea to go the PG-13 route, which instinctively makes me want to avoid it all costs. Mike will have our review this weekend. (wide, also available in digital IMAX at AMC Barton Creek and Regal Gateway and D-Box Motion Seating at the Galaxy Highland)
Winter's Tale - Longtime producer and screenwriter Akiva Goldsman has made his directorial debut with this adaptation of Mark Helprin's 1983 novel. Jordan will have our review later this weekend, but early notices have not been kind. (wide)
Also Opening In Austin
About Last Night - The director of Hot Tub Time Machine has updated the 1986 Brat Pack classic by attempting to stick a bit truer to the story in David Mamet's 1974 play (Sexual Perversity In Chicago) on which it was based. With its setting relocated to Los Angeles and featuring a mostly African-American cast, this is likely to be the most successful of the 80's-era reboots that is hitting theaters this weekend for Valentine's Day. (wide)
Endless Love - It's hard to imagine that this generic remake of 1981's teen romance will fare as well at the box office as About Last Night. Starring Magic Mike's Alex Pettyfer and Gabriella Wilde (who was also in the recent Carrie remake), Louis Black's review over at the Austin Chronicle calls it "colossally tone deaf and off key in every way." (wide)
Visitors - Godfrey Reggio (the visionary director behind The Qatsi Trilogy) has teamed up with composer Philip Glass for another visual masterpiece, this time in a stark 4K black and white presentation comprised of facial closeups that will either fascinate you or bore you to tears. (Regal Arbor - Exclusive One Week Engagement)
Now Available On Home Video
Wadjda - One of 2013's finest films (Jette's review) is now available in a Blu-ray/DVD combo package from Sony Pictures Classics. Saudi Arabia doesn't have any movie theaters and popular culture is something that is enjoyed discreetly at home. First-time director Haifaa Al Mansour had to shoot the film's exterior scenes concealed inside a van so she could not be seen instructing the men on her crew. It's an appropriate anecdote when comparing her directorial difficulties to the lead character, a feisty 10-year-old girl who longs to own her own bicycle. It seems like such a small, obtainable dream, but that isn't the case when you are growing up female in the conservative Saudi culture.
The quietly subversive nature of this young girl's story is inspirational. Waad Mohammed is phenomenal as Wadjda, it's not difficult to see that her own spirit is very similar. It's a true shame that this film did not make its way to the Academy's Foreign Language shortlist this year because it deserves to be seen by a wider audience.
Sony's Blu-ray contains a gorgeous 1080p transfer and thankfully contains some decent supplements. There is a 38-minute Directors Guild Of America Q&A with Al Mansour and a 33-minute making-of featurette that contains interviews with the cast and crew and a lot of on-set footage. A full-length commentary track covers a lot of the same material from the individual supplements, but is a beautifully detailed listen.