Review: The Great Beauty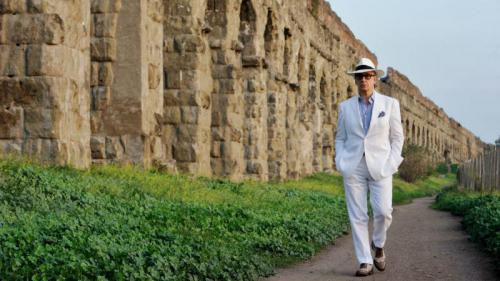 With a sprawling and often dreamlike narrative that examines grand themes of life, death and art, The Great Beauty (La grande bellezza) is novelistic in its storytelling and enthrallingly ambitious.
Directed and written by Paolo Sorrentino, The Great Beauty was Italy's submission for this year's Best Foreign Film Academy Award and it has made the cut to compete for the Oscar alongside four other films. Mirroring the scope of other lofty Italian films (Federico Fellini's 8 1/2 and La Dolce Vita certainly come to mind) as well as the work of revered writers like Marcel Proust, Sorrentino is passionate and audacious in his approach to a story that is classically familiar in its basic framework and often surprising as well.
At the story's center is Jep Gambardella (Toni Servillo). He wrote a moderately successful novel as a young man, and following that chose to veer into a life of partying, carousing with beautiful people and rarely making it to bed before dawn. As the film opens he has just turned 65, and after hearing some painful news that reminds him of his younger days and the great love he lost, this well-dressed, smarter-than-average socialite is beginning to tire a bit.
As he grows older he spends plenty of time thinking about the things he never did, but he also settles even more comfortably into the worldview he has seemingly always held: We're all on the brink of despair, and to pretend otherwise is a sham. Art can serve as a salve for our wounds and the creation of beauty is something especially worthwhile, but ultimately we may as well tell ourselves the stories we want to hear while keeping our eyes closed to reality, because really, what's the difference?
This may sound dreary in practice, but watching a film in which reality is presented merely as a suggestion is anything but. Colors pop from the screen, music and dancing add strange bursts of energy between mundane moments, and under the surface exist sensitive souls worth getting to know, flaws and all. Jep's lonely, meandering ways lead him through a series of important interactions with friends and acquaintances, and his pensive strolls through Rome's towering ruins visually reflect the journey at the heart of this thoughtful and meticulously crafted film.
Aside from the gorgeous visuals, the unexpected (and best) moments are largely brought about by the women of The Great Beauty. A 103-year-old nun, a child painter being exploited for her fiery talents, a "past her prime" exotic dancer and a wise magazine editor are just a few of the characters who add perspective to the film. They all help Jep more than he helps them, but none of them really needs anything from him to begin with. Several strong female characters in a single movie? It's a rare event these days and refreshing to see.
Alternately flashy and contemplative, brooding and uplifting, The Great Beauty tackles the story of everything as seen through the eyes of a man aspiring to do nothing. Thankfully Sorrentino isn't as listless as his protagonist, and in the space of a couple hours has created something bigger than the sum of its beautiful parts.