SXSW Review: The Bounceback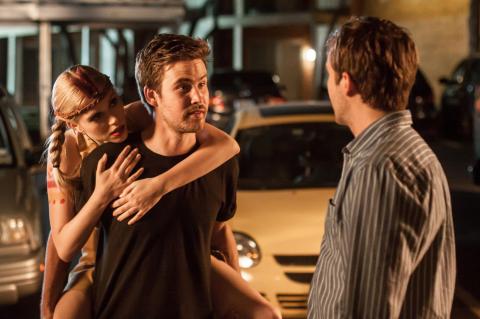 The Bounceback could have been just another clichéd romantic comedy about angst-filled twentysomethings looking for love. (Okay, let's be honest: they're looking for sex.) But thanks to Austin filmmaker Bryan Poyser's considerable talents -- he graced us with Dear Pillow and Lovers of Hate -- the film is a wryly observant take on relationships and popular culture and a cut above most movies in its genre.
Shot in Austin and awash in River City landmarks and youthful culture, The Bounceback centers on New York City medical student Cathy (Ashley Bell) and her ex-boyfriend Stan (Michael Stahl-David), a wannabe actor currently delivering pizzas in Los Angeles. Both are former Austinites, and when lonely Stan learns that Cathy will visit her friend Kara (Sara Paxton) in Austin for a weekend, he hastily books a flight to Austin also, hoping to cross paths with his ex while partying with his friend (and Kara's former boyfriend) Jeff (Zach Cregger).
If all this sounds like a setup for lots of cutesy romantic semi-hilarity, rest assured that it isn't. Stan's plan for a not-quite-coincidental reunion with Cathy falls apart before he even arrives in Austin; he's so busted when Kara and Jeff see each other at the airport while waiting for Cathy and Stan. Things spiral downward from there; Stan discovers that Jeff has taken up Air Sex (think air guitar, but without guitars and with sex) and seems content to spend his time with an infantile crew of beer-swilling horndog roommates. Serious student Cathy finds that Kara is no more mature than Jeff; her major goal for the weekend is to help Cathy get laid.
The story that follows is somewhat predictable -- there are romantic distractions, a lot of heartache, a lot of partying and some sex (real, not air). But the humor is brash, crude (boy, is it ever crude) and snarky enough to make The Bounceback a very good time at the movies. Yeah, by the third act we know the ending will be one of two or three likely scenarios -- it's all a matter of who hooks up with whom. But there is a surprising twist or two, and thanks to all the laughs, the predictability doesn't really detract from the fun.
Speaking of fun, although the ridiculous phenomenon of Air Sex (yes, the term is capitalized) parodies itself, Poyser and the gang somehow elevate its absurdity to new heights of, well, absurdity. From the outlandish performances at Austin's Alamo Drafthouse Ritz theater (emceed by Austin's Paul Soileau) to the wonderfully stupid performer names (in this crowd, Huge G. Rection is the height of sophistication), The Bounceback skewers lowbrow pop culture and those -- like Jeff -- who take it all just a bit too seriously.
Although The Bounceback is mostly about comic antics -- it's a far less serious film than, for example, Dear Pillow -- Poyser's knack for creating believable onscreen relationships is evident in the movie's truly romantic moments. Given The Bounceback's raucously debauched atmosphere, the film's occasional forays into romance feel surprisingly genuine. The chemistry is palpable, if too fleeting for the relationships to be fully explored. Given that these moments hint at truly interesting romantic possibilities, more of them would be welcome. Of course, this would have made The Bounceback a very different (dare I say chick-flicky?) film.
Like most comedies, The Bounceback is light on character development. As such, the film demands great comic timing from its actors -- which they deliver -- but gives them little opportunity to flesh out their characters or display much dramatic range. (The Bounceback is funny enough, however, that this isn't a problem.) If I can't name a best dramatic performance, I certainly can name a best comic one: Paxton's portrayal of the proudly slutty Kara, whose take-no-prisoners approach to all things sexual creates many of the film's funniest moments. A close second is Cregger's hyperactive take on the sexual Neanderthal Jeff, an Air Sexing foil to the low-key and decidedly more grown-up Stan. (Early in the film, it's readily apparent that ex-lovers Kara and Jeff would have been the perfect couple if only they had the maturity to realize it.)
Bawdy and barbed, The Bounceback is a fine addition to Poyser's growing body of work. It's a genuinely funny (if unashamedly lightweight) romp that's smart enough not to take itself too seriously, and it delivers enough local atmosphere to satisfy any fan of Austin films. (Any serious fan of Austin Air Sex competitions may, however, be somewhat offended.)
Austin/Texas connections: The Bounceback was filmed at many familiar Austin locales, including Sixth Street, the Alamo Drafthouse Ritz, Justine's Brasserie, El Azteca, and the Broken Spoke. Poyser has been part of the Austin film community for more than a decade. While the leads aren't local, many familiar Austin actors appear in minor roles and cameos. Austin Film Festival even gets a mention.
The Bounceback screens at SXSW again on Friday, March 15 at 9:15 pm at the Stateside and Saturday, March 16 at 4 pm at the Rollins Theater.