Review: Wadjda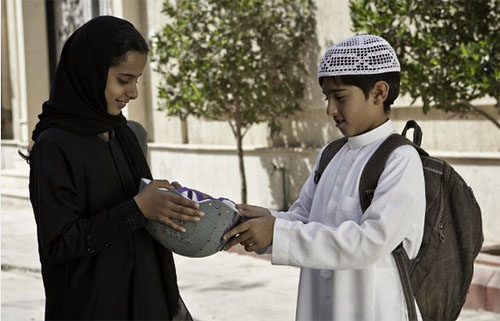 I'm guessing many women reading this review can remember learning to ride a bicycle -- getting the training wheels off, or refusing to have them in the first place, perhaps having someone hold the back of the seat and run behind you ... and that glorious moment when you achieve solo cycling.
In the movie Wadjda, the title character is a girl who wants to own and ride a bike in a society where such an activity is considered inappropriate for females. An event most of us take for granted becomes subversive, and the simple story of the film takes on many layers. It's remarkably fascinating, primarily due to its contemporary Saudi Arabia setting.
The basic premise of the story -- Wadjda (Waad Mohammed) wants the bicycle for sale at the nearby toy store, and will do anything she can to earn the money for it -- is enhanced by the other women in the ten-year-old character's life. Filmmaker Haifaa Al-Mansour has taken a situation that many of us can identify with, and uses it to show us the shape of women's lives in Saudi Arabia. Wadjda's mother (Reem Abdullah) is consumed with fear that her husband will leave them and marry a woman who can give him a son. The schoolmistress at Wadjda's school, Ms. Hussa (Ahd), is continually finding fault with the girl who simply will not take pains to be appropriately ladylike.
And it's impossible to watch Wadjda without drawing parallels between the filmmaker's situation herself, if you know the story -- the movie is the first feature directed by a woman in Saudi Arabia. Al-Mansour was not supposed to work with men in public when shooting on location, and often had to direct from inside buildings and vans, communicating remotely with her crew. It is not just a girl and her desire for a bicycle.
Mohammed is perfect for the role -- artless without seeming amateurish. In fact, all the young people cast in the movie give believable performances. The adult actors are excellent as well, particularly Ahd as Ms. Hussa.
The story has no stereotypical villains. Ms. Hussa may be Wadjda's nemesis, but she's not the typical withered old headmistress of movies and novels -- she's a gorgeous young woman sporting cute high heels under her modest dress, and possibly one who feels hampered and restrained in her private life. Wadjda's father obviously loves her, but can't see her as a substitute for the son he desperately wants. And Wadjda's decision to study the Qu'ran for a school contest (that might win her the money for her treasured bicycle) leads her to unexpected understanding.
I saw a trailer for Wadjda -- after seeing the movie -- that compartmentalized the film into your standard foreign arthouse fare, as though all films qualifying for a Best Foreign Film Oscar can be distilled into the same "oppression leading to triumph of the human spirit" mold. But it's not that simple. Those of you who feel that American movies ran short this year on strong female characters should definitely give Wadjda a try -- it's funny, and smart, and makes its message clear without smacking you on the head with it.