A Cinematic Guide to Texas Politics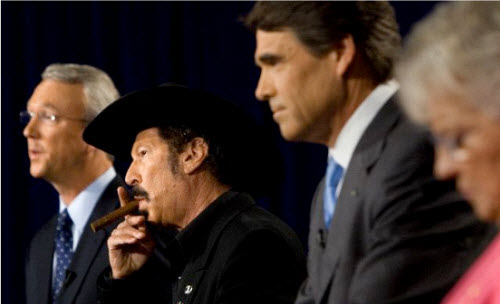 Over the past few weeks, many people in Texas and out are being exposed to Lone Star political and legislative processes and quirks for the first time. It can be puzzling, rage-inducing and sometimes hilarious. (Occasionally, all three.)
Fortunately, many filmmakers have documented both the broad -- often as in comically broad -- and fine points of Texas politics over the years. So if you want to figure out what's been going on over there in the Capitol, perhaps some of the movies on this list might help you out. Or they'll give you a good laugh to help distract you from what's going on. Or you can treat them like old-fashioned melodramas and boo and hiss some of the villains. (This really has happened during some screenings of political movies I've attended.)
I'm sorry these all aren't available through streaming -- you might have to buy a DVD through the movie's website. Local filmmakers, please follow the lead of David Hartstein, who was motivated when I told him about this article to put Along Came Kinky (pictured at top) on Vimeo video-on-demand.
Incendiary: The Willingham Case (Don's review) -- The SXSW 2011 screening I attended was one with a lot of booing, mostly of Gov. Rick Perry. It's about the battle of science versus folklore -- with a strong assist from politics. Cameron Todd Willingham was executed in 2004 after being convicted for the 1991 deaths of his two children in a fire. Perry declined to issue a stay of execution despite evidence that showed the arson theory, which was the basis of the conviction, was faulty. (Available on DVD, iTunes, and through Tugg.)
The Revisionaries (Don's review) -- Controversial political happenings in Texas are not limited to the Capitol. This movie looks at the Texas State Board of Education as it reviews textbooks ... potentially rewriting history and introducing religion into science. (Available on Netflix Instant, and on DVD through retailers or Kino Lorber).
The Education of Shelby Knox (Don's review) -- Lubbock teenager Shelby Knox decides to become active in promoting sex education in her public high school, and learns a great deal about politics in the process. Watching her over the course of the film is fascinating. Knox now lives in Austin and you can figure out her current politics from her Twitter feed. (Available on DVD through the Docurama site)
Dildo Diaries -- The state law that inspired this documentary is no longer in effect, but this is nonetheless an extremely timely film to watch. It includes video footage of the Texas legislature in process, which will show you that any behavior that might have irritated you in the recent special sessions is nothing new. On the other hand, you get another chance to watch Senfronia Thompson kicking ass and taking names. Interview subjects include the late Molly Ivins, whom I have been missing particularly in the past month. (Available on DVD via the film's website)
Along Came Kinky... Texas Jewboy for Governor -- You might recall that in 2006, musician Kinky Friedman ran for governor of Texas, with a campaign that seemed extremely viable at least for awhile. Local filmmaker David Hartstein followed Friedman and his staff throughout the race, with fascinating results. You can actually see the exact moment that the campaign died. Perry turns up in this one too, natch. (Available for rental on Vimeo VOD, and on DVD via the film's website.)
The Least of These -- This documentary takes an in-depth look at the way undocumented immigrating families are held in detention centers, with a focus on a privately run facility in Taylor. Community activists and lawyers work to improve conditions there. You will want to have a box of tissues handy. And possibly something soft to throw in anger. (Available to watch streaming for free on SnagFilms, and it's embedded below.)
Last Man Standing -- No one at Slackerwood has seen this 2002 movie because it's hard to find, so I'm glad I tracked down a DVD source. UT professor and filmmaker Paul Stekler (Getting Back to Abnormal) examines two political races in Texas: one for a state representative from Central Texas, one for the Democrat nominee for governor. Just because I know how it ends (sort of) doesn't mean it's not going to be fun to watch. (Available on DVD through the Docurama site)
I've left off a few newer movies that aren't yet available to watch: Ann Richards' Texas (Debbie's review) (HBO seems to have the rights, but no release date -- they're missing a great opportunity window right now if you ask me), and An Unreal Dream: The Michael Morton Story (my review). If you have info about their availability, please leave a comment.
Finally, there are a couple of feature films related to Texas politics that you might enjoy. The obvious one is Charlie Wilson's War (although you'd get just as much from Molly Ivins' delightful essay on Wilson). And Don also suggested Machete. He may have a point.
And for a look at the Capitol rotunda that has been so thronged this month, I recommend Charles Durning's "Sidestep" number from The Best Little Whorehouse in Texas. You can watch the video here and for the reprise in the Rotunda, here. Unfortunately, I couldn't find any embed code to display the video here -- if someone figures it out, let me know.