Lone Star Cinema: The Education of Shelby Knox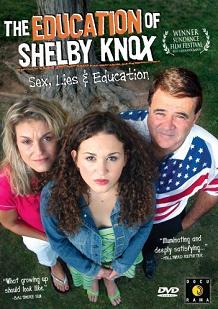 As we watch footage of Lubbock teenagers hanging out in a parking lot at the start of The Education of Shelby Knox, we also see some startling statistics: Lubbock's teen pregnancy and sexually transmitted disease rates are among the highest in the nation. One in 14 girls gets pregnant every year, and the teen gonorrhea rates are twice the national average.
Let's hope this situation has improved since The Education of Shelby Knox was released in 2005. But if this intriguing documentary about one girl's fight to bring sex education to her school is any indication, change comes slowly to places like Lubbock.
The movie follows Lubbock high schooler Shelby Knox's somewhat quixotic crusade to replace the Lubbock school district's abstinence-only sex education policy with a comprehensive sex-ed curriculum based on biology rather than ideology. Along with her fellow Lubbock Youth Commission members, Knox launches a well organized and impressively sophisticated campaign. The media-savvy group lobbies Lubbock residents and public officials, hoping to garner enough support to change the archaic policy. Later, Knox also gets involved in a gay student group's campaign for official recognition by the school district.
A study in contradictions, Knox is an ideal documentary subject. An evangelical Christian, she's devout in her faith and unfailingly respectful of conservative clergy. She's taken the True Love Waits pledge of sexual purity until marriage. But she's also progressive in her political and social views, a nascent liberal in Lubbock's sea of extremely conservative Republicans. A straight-A student, she's also a strong-willed teen who isn't shy about speaking truth to power. As self confident as she is, she sometimes can't hide her fears, one of which is that she'll anger her parents.
But Knox's parents -- evangelical Republicans with occasionally moderate views -- are surprisingly (and admirably) supportive of their daughter's crusade. They agree with her stance on sex ed, but are fully aware of the repercussions that await the family as Knox takes on the school board, the church and Lubbock's Bible-thumping citizenry. To their enormous credit, Knox's parents are more concerned about her welfare than their own. Never mind the price they may pay in their business and social circles; what matters most to them are their daughter's happiness and future.
As the title implies, The Education of Shelby Knox is more about Knox's personal and political enlightenment than her campaign for better sex ed. The film follows her journey from a naïve sophomore -- a girl who's never seen a condom and thinks public officials actually listen to teenagers -- to a mature, politically savvy and battle-weary senior who strongly opposes her church's stance on social issues. Her coming of age is a riveting transformation, one the film explores with great intimacy and captivating style, portraying Knox as a sympathetic but entirely human protagonist. With her take-no-prisoners attitude, we know she's destined for a life and career far beyond the provincial confines of Lubbock. (And indeed she is living that life. According to her blog, Knox earned a political science degree from The University of Texas. Now 25, she lives in New York City, travels the country as a feminist political organizer and is the Director of Women's Rights Organizing at Change.org.)
A terrific documentary, The Education of Shelby Knox is a powerful piece of filmmaking that presents one teenager's coming of age as a metaphor for our society's coming of age regarding sexuality and its politics. Texas film fans will appreciate the film's portrayal of life on our deeply red state, where that coming of age is still very much in progress.
The Education of Shelby Knox is available on Netflix Instant and DVD. The DVD has few extras, but does include an interesting featurette about pregnant Lubbock teens.
Austin/Texas connections: The Education of Shelby Knox was filmed in Lubbock. The film screened at the 2005 SXSW Film Festival. One of the credited additional photographers is Austin cinematographer Deb Lewis.