SXSW Review: An Unreal Dream: The Michael Morton Story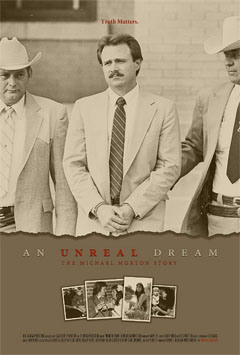 The timing for An Unreal Dream: The Michael Morton Story to premiere in Austin at SXSW could not have been more appropriate, if you know the news story it recounts. And how much you know about Michael Morton's life may dictate how much you enjoy this documentary from Houston writer/filmmaker Al Reinert (For All Mankind, Apollo 13). The film won the Documentary Spotlight audience award at SXSW earlier this month.
The short and incomplete version: Chris Morton, Michael's wife, was found beaten to death in their Williamson County home in 1988. Michael Morton was charged with the crime, found guilty, and sentenced to life in prison. But he continued to assert his innocence. If you've paid attention to Austin-area news in the last week, you know how this situation has played out.
An Unreal Dream is structured as though Michael Morton is casually telling the story of his life to us. He sits at the front of a courtroom and shares his perspective as though we're seated right across from him. His narrative is enhanced by archival news footage, still photos and interviews with people who know him, from his lawyers to his fellow inmates. When his son Eric Olson appears on camera, and he and Morton start to talk about how Morton's prison sentence affected his child, it's heartbreaking.
I didn't know Morton's whole history when I saw An Unreal Dream -- I knew about how he fit in the Chris Morton murder case, and how that's transpired recently, but the details were new to me -- how long he was in prison, etc. And that's why I'm not including those details here, in case you aren't acquainted with them either. I can't say how well the story would hold the attention of a viewer who had closely followed the story over the years.
No matter how much of the background you know, the interviews will still hold your interest. I particularly liked Morton's original defense attorney, Bill Allison. Morton himself recounts his story with extremely personal details. He details his relationship with God in a way that is touching without being cloying or proselytizing.
I felt the documentary lagged during the years Morton was in prison and nothing was going on regarding the case. As interesting as the interview subjects are, they can't carry the film without more forward motion of the plot, so to speak. Fortunately, this interval is fairly brief and the momentum picks up again.
The score from Rich Brotherton and Chuck Pinnell complements the film well without being overt, and the interviews are crisply shot and edited. The TV news footage from the 1980s is not in the greatest shape, but should look acceptable on a TV screen.
I wish you could all see An Unreal Dream: The Story of Michael Morton this week, considering the case is currently so prominent in the local news. (You could always drive out to the Victoria Texas Independent Film Festival and catch it during the first weekend in April.) It's an excellent retelling of a poignant story. I'd say that I wouldn't want to live in Williamson County after seeing it, but if that kind of thing were true then I would have left Texas after seeing Incendiary: The Willingham Case at SXSW 2011. And here I am, still in Austin, getting the chance to see these excellent political documentaries as they premiere.
Austin/Texas connections: The events in this film took place primarily in Williamson County, and some of the archival footage is from local TV news. (Elizabeth noted you can spot a young Judy Maggio.) Reinert and producer Nellie Gonzalez are from Houston. Other producers are from Austin, including Jason Wehling (Good Night, Saturday Morning Massacre) and the filmmakers behind another Texas political doc, The Least of These -- Clark and Jesse Lyda and Marcy Garriott.
For a somewhat different perspective on this film, read Elizabeth's dispatch from SXSW.