AFF Review: Ann Richards' Texas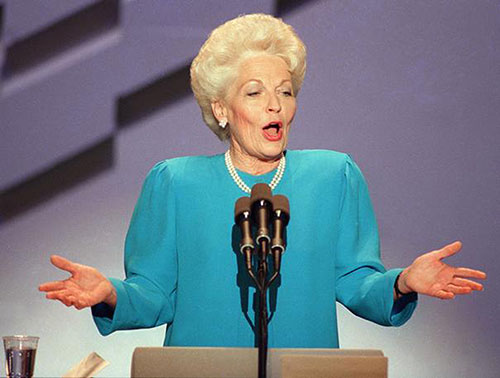 Six years after her death, filmmakers Jack Lofton and Keith Patterson team up to portray the most memorable woman in Texas politics in their directorial debut, Ann Richards' Texas. The documentary reminds me of a happier time when women's rights were championed by formidable progressive supporters in the Lone Star State. The movie screened at AFF after its world premiere at the 2012 AFI SilverDocs Festival, where it won the WGA Documentary Screenplay Award.
Former Texas Governor Richards was an outspoken woman who went from housewife and teacher to a politician who led the state in 1990. It was her keynote speech at the 1988 Democratic National Convention in support of presidential candidate Michael Dukakis that moved her into the spotlight and the Governor's Mansion -- a formidable accomplishment for a Democrat in a red state, not to mention for a woman who wasn't a "good old boy" millionaire like her Republican opponent, Clayton Williams.
Through the use of archival video footage and cartoons interspersed with interviews with statesmen and celebrities who knew Richards well, Ann Richards' Texas takes viewers from her introduction into politics through her successful bids for county commissioner, state treasurer and governor. We see Richards as a early supporter and friend to a young Sarah Weddington, the lawyer who was the first woman to represent Austin-Travis County in the Texas Legislature and later won the historic Roe vs Wade case. Richards was instrumental in empowering women to take on leadership positions at a time when wives were required to have their husbands co-sign for credit.
The supporting interviews in Ann Richards' Texas feature a broad cast of friends and supporters from politicians such as Michael Dukakis and Bill Clinton to journalists Tom Brokaw and Dan Rather, as well as entertainers Dolly Parton and Lily Tomlin and musicians Willie Nelson and Jerry Jeff Walker. Parton created the songs and music for the film as well, which fit in quite nicely with the tone of this documentary.
The editing and pacing of Ann Richards' Texas is lively and keeps the audience engaged, although the final act could have included more on Richards' life after the 1990s. A pivotal issue referenced in Richards' failed re-election campaign is centered around Karl Rove's backroom influence and attacks on progressive Texas politicians. For folks interested in this subtopic, I strongly recommend following up with the 2004 documentary Bush's Brain, which would make an excellent companion piece in a double feature.
Although Ann Richards' Texas hits only key events in Richards' professional career and political history, it is a good starter for folks unfamiliar with her legacy. Richards' humor and intelligence illuminates the screen almost as much as it energized Texas politics 20 years ago. Ann Richards' Texas is being distributed by HBO -- stay tuned for updates on when this documentary will air.
Texas connections: Director Jack Lofton and editor Chase Rees are from Houston, Texas. Most of the events in the documentary are set in Austin, with a fair amount of archival news footage.