2012 in Review: Debbie's Alternative Awards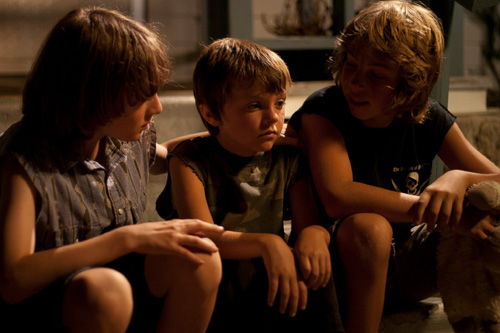 2012 was a year of change not only for Slackerwood -- we were taken under the wing of Austin Film Society, does it get any better than that? -- but for me. Asked to describe what I do in five words or less, it's simply been "watch movies and drink beer." Sounds simple enough, but the creativity and inspiration I've discovered in the last year since a major career change has been both frightening and exhilarating. I became the lead curator for AFS SXSW Shortcase, and was admitted to the Austin Film Critics Association (AFCA), which meant watching a lot more films this year.
Top Ten Lists are interesting for less than ten seconds after reading, unless you disagree with a selection or the order -- then perhaps you might ponder the list for a few minutes. I use an analogy when talking about craft beer -- "it's a good thing people have different palates, or else we'd all be drinking macro American light lagers." Therefore I won't be listing any "Worst of" as there may be some merit in a film that others may appreciate.
So while I did compile a "Best of 2012" list recently, I'd also like to mention some special awards I would personally give based on particular merits. Without further ado, here are my alternative awards:
Austin Filmmaker to Watch: Kat Candler (Hellion)
I met Kat Candler briefly at the 2006 South by Southwest premiere of jumping off bridges, a heartfelt portrayal of grief and healing that had me wanting to see more from this young writer/director. Candler's writing is genuine and engages the audience wholeheartedly, and her ability to direct actors of all ages -- especially boys -- brings out the best in her cast. I didn't know what to think at first of the short film Hellion from the trailer of young hellraisers terrorizing their young brother (pictured above), but this 2012 Sundance selection was both hysterically funny and touching. I look forward to the feature-length Hellion, which is currently in development.
Comeuppance Award: Gina Gershon as Sharla (Killer Joe)
There's a fine line when it comes to brutality involving women in films. However, when an actor can portray the depths to which an immoral person will go to betray their family for greed, gender shouldn't matter. As Thomas Haden Church mentioned when he addressed the NC-17 rating in this interview, "You have a crime and you have punishment, and it's up to each individual's life experience to determine what justifies the other." Gershon brilliantly portrays a woman who manipulates her family and has no remorse for the deadly impact of her failed scheme.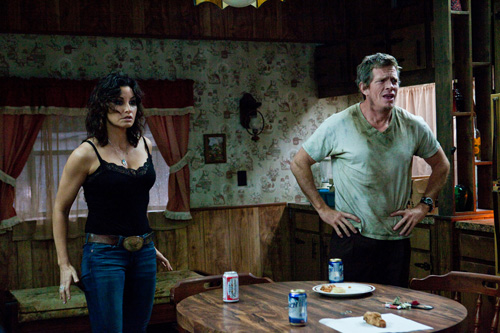 Rubberneck Award: Holy Motors
I walked out of the Fantastic Fest screening of Holy Motors, speechless. After several minutes of processing, all I could think was "I don't get it -- can someone explain it to me?" but decided it would be a waste of time for all parties involved. However, certain vignettes and music from this odyssey through the streets and bowels of Paris with the personalities of Denis Lavant keeps drawing me back in. I also look forward to watching the earlier films of Leos Carax that feature the multifaceted Denis Lavant, including Boy Meets Girl and The Lovers on the Bridge.
Most Enlightening Panel Discussion: Frank Darabont at Austin Film Festival
Covering three major annual film festivals for the last few years as a member of the press can cause a bit of disconnect from fandom, but hearing Darabont speak at the AFF 2012 brought out the geek in me. The room was completely full and the audience hung on his every word as he spoke about Shawshank Redemption, The Green Mile, The Mist and The Walking Dead. He shared sage advice for writers and filmmakers alike, stressing the importance of building relationships.
Best Interviewer: Alvaro Rodriguez
I was impressed by Alvaro Rodriguez's 2011 AFF Conversations in Film with Tom Holland (Fright Night), but that discussion on horror writing paled in comparison to his 2012 conversation with Silence of the Lambs writer Ted Talley (pictured below). Rodriguez thoroughly researches and brushes up on his interviewees' work and presents filmmakers with thought-provoking questions that engages the audience. I admire his ability to draw out the inner workings of his fellow creative artists -- hopefully AFF will have more Conversations in Film in 2013 hosted by Rodriguez.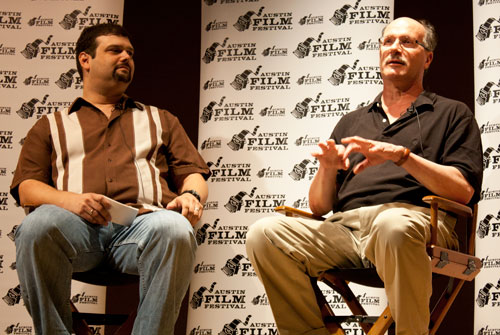 Movie you should watch not just because it's what the cool kids like: Moonrise Kingdom
The films of Wes Anderson may not have mass appeal but there's quite a cult following thanks to the romance in Bottle Rocket, the wit of The Royal Tenebaums and the absurd visual style of Life Aquatic with Steve Zissou. Moonrise Kingdom encapsulates all these qualities, with phenomenal performances from an all-star cast including Frances McDormand and Bruce Willis.
Bookend Beefcake: Bullhead and Rust and Bone
I can't include Bullhead in my Top Ten list since it was my number one film of last year, but technically its local release date in early 2012 has it popping up on some lists. For two movies with such dissimilar plots, Matthew Schoenaerts portrays similar tough characters in each film but with very different outcomes. Marion Cotillard quite convincingly portrays a young woman dealing with a painful recovery from a tragedy.
Most Engaging Interviewee: Sacha Gervasi (Hitchcock)
Gervasi (pictured below) is a "filmmaker's filmmaker," that is. someone who so appreciates another artist's complexity and creativity -- in this case, master of suspense Alfred Hitchcock -- that he made a film about him. In Hitchcock, we not only view through a peephole into the making of Psycho but also into Hitch's psyche and complicated relationship with women. Gervasi's respect for Hitchcock is transparent in our interview, as well as his desire to introduce new generations to the films of Alfred Hitchcock. I found his candor to be both engaging and comfortable.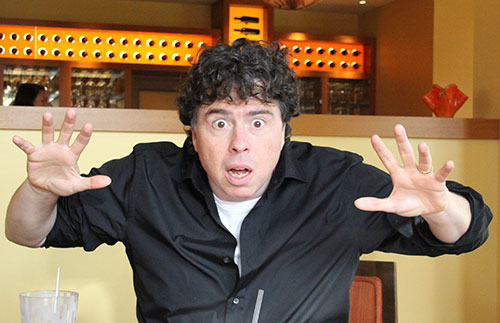 Tearjerker of the Year: Beasts of the Southern Wild
The raw imagery of destruction in the Louisiana bayous along with the quest of young Hushpuppy (Quvenzhané Wallis) for her missing mother makes it difficult to keep a dry eye in this film. Beasts of the Southern Wild has received several Academy Award nominations, including Best Achievement in Directing for Benh Zeitlin, Best Motion Picture of the Year, Best Performance by an Actress in a Leading Role for Quvenzhané Wallis and Best Adapted Screenplay.
Feel free to share your memorable movie experiences from 2012 in the comments below.