Horror Film Writers Share Their Secrets at AFF Event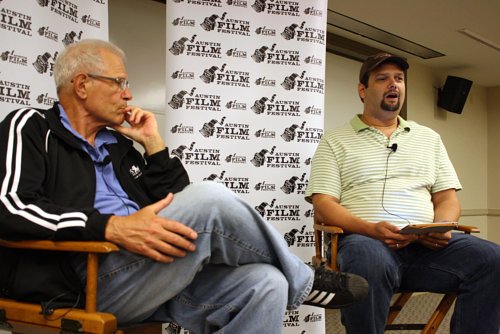 One of the most frequent questions in panels at Austin film festivals I've attended is, "What is available here for writers?" My advice on where to find the best content at a local film festival is the Austin Film Festival (AFF). During the mentoring sessions, roundtables and panels, emerging writers and filmmakers interact with veterans of the television and film industry.
You don't have to wait until AFF in October to catch great writers and filmmakers talking about their craft. AFF hosts Conversations in Film throughout the year. Their most recent event, "Words That Go Bump in the Night: Writing Horror Films," brought together screenwriters Tom Holland (Fright Night, Cloak and Dagger) and Alvaro Rodriguez (From Dusk Til Dawn 3: The Hangman's Daughter, Machete) to talk about how they started in the film industry and the state of genre filmmaking. The conversation turned into more of an interview of Holland by Rodriguez, who seemed as enthused as the audience members to ask Holland questions. I would like to have heard more from Rodriguez, but his well-thought-out questions and style kept the conversation lively -- especially when it came to talking about Anthony Hopkins and favorite horror movies.
Holland was in town to screen a new 35mm print of the original 1985 version of Fright Night at the Alamo Drafthouse. With the Dreamworks remake of Fright Night starring Colin Farrell due in theaters later this month, there's a lot of buzz for the original movie as well. I'm especially excited to see that the remake special effects were handled by K.N.B. Effects Group -- Robert Kurtzman, Greg Nicotero and Howard Berger's SFX house that also handled the From Dusk Til Dawn series in addition to hundreds of television and film projects. Find out after the jump what Holland had to say about the state of Hollywood, how he got into film and insights into writing.
Tom Holland is no stranger to central Texas -- his best friend from high school was from San Antonio, so Holland has been visiting this region of Texas since he was 16. His friend's brother was head of the creative writing department at The University of Alabama, so Holland was exposed to writers while in his teens. Despite being surrounded by authors, Holland wanted to write movies, which "wasn't considered respectable." He was interested in film, but there were no film schools at the time with the closest field of study being theatre. Holland stated that all the interest in film has grown in his lifetime.
Holland really wanted to direct, but the only way to get into directing was through writing. Fright Night was his love letter in 1985 to Hammer horror films. At a time when the industry was deluged with slasher films, Fright Night was his reaction against the death of old-school terror and the Gothic romanticism of Peter Cushing, Vincent Price and Edgar Allen Poe.
With success in Japan and Europe, the film changed his life. Holland states that he got in just under the wire of Hollywood going corporate. Columbia Pictures management attention was on prestige films such as Perfect, so no one bothered him. Holland admitted that he was not a horror addict, but rather was addicted to action, science fiction, and suspense. Genre films happened because they were entry-level jobs, and Holland warns, "Be careful what you get good at" -- but repeatedly stated that fate and luck fueled his success.
Alvaro Rodriguez shared that working with his cousin Robert Rodriguez on El Mariachi and later co-writing From Dusk Till Dawn 3 was when he started feeling, "Now this is possible" to succeed in filmmaking. He joked with Holland about the myth of the $7,000 movie -- more likely closer to $35,000. Rodriguez spoke of his own good fortune of the wildly successful fake grindhouse trailer that opened the doors for his first feature-length film, Machete.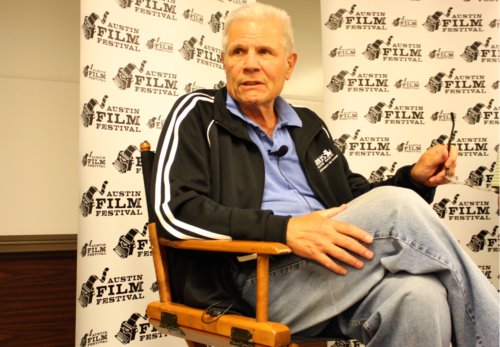 Holland still appears shocked and amazed at the cult success and revival of Fright Night, as he had no sense of what it would become. As humble as Holland was during the evening, he appeared quite proud that the film has become inter-generational, evidenced by parents with their kids in the audience.
"Considering the film was rated R at the time, it would now be PG or PG-13 -- showing how anesthetized we've become," he said
Holland further emphasized that as a writer, you have to be in love with the process and the process has to be the reward -- not the success of a project as the reward. He spoke about Psycho 2, which was considered a risky venture -- no one wanted to touch it, as it was considered poison to remake a classic. What started out as a cable movie with a small budget, become much more due to worldwide interest in seeing Anthony Hopkins as Norman Bates again.
When asked by an attendee, "What's the first thought that goes through your head when you sit down to write?" Holland responded:
"It's still a mystery, as you can't say why things work -- but it does begin with the writer. There is no terror like the terror of a blank page. Writing is asocial, where directing is a social activity. You have to know where you're headed -- and that it's worked every way, and failed every way. Don't be afraid to screw it up."
[Photo credit: "Tom Holland and Alvaro Rodriguez," "Tom Holland," by Debbie Cerda]