AFF 2012 Dispatch: Building Relationships and Collaborations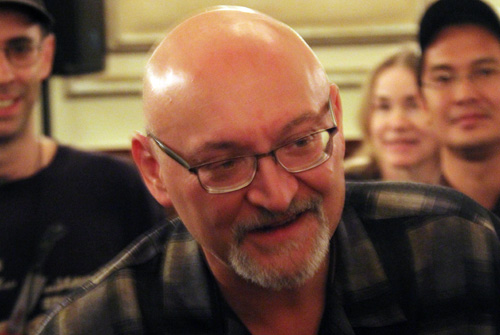 This year, I was disappointed to miss out on my traditional filmmaker networking and photo ops during Austin Film Festival (AFF) at the annual Hair of the Dog Brunch on Sunday. As I walked through the Driskill Bar, I was envious of the cliches of attendees engaged in enthusiastic conversation at every table. I was determined to meet some filmmakers before the day was over, and had to look no further than the well attended panels on the final day of the conference.
I was delighted to hear my personal favorite filmmaker Frank Darabont (The Green Mile, Shawshank Redemption), pictured above, speak with moderator and AFF Executive Director Barbara Morgan about how he got his "break" into movies and the collaborations and friendships that have fueled his career over the years. After his panel he greeted and spoke with attendees, signing autographs and consenting to photos with a stream of fans. Find out what he had to share with the audience after the jump.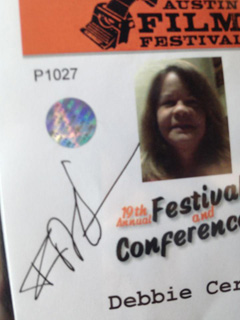 Having attended Darabont's special screening of The Mist in 2007 at Alamo Drafthouse, I knew AFF attendees would be in for an entertaining conversation with the engaging and amusing Darabont. He spoke about his screenwriting, and shared his two primary advice tips: "Have the capability to keep your butt in a chair for ten hours a day writing," and "Find an agent who is a good salesman, because you'll be too busy writing to sell yourself well."
Darabont also spoke about the relationships and collaborations that have given him the ability to surround himself with a good team. He revealed that his partnership with director Chuck Russell and representation by Hollywood agent Allen Greene came about through rather unconventional means -- he didn't really know or even like Russell, but called him up to ask if he knew of a good agent. Russell and Darabont wound up co-writing a remake of The Blob, and Greene liked Darabont's material well enough to represent the unproven screenwriter.
When asked about his collaboration with writer Stephen King, Darabont stated it's "more of a friendship than a collaboration." He wrote a letter to King in 1980 asking to make a short film out of one of his stories. King agreed and liked the short film so much that he later gave Darabont the rights to The Shawshank Redemption.
Darabont and King became very good friends, so much that Darabont re-affirmed that it is not a collaboration but that he has "his proxy and his trust," and offered The Green Mile -- "Steve gives me the rights and says, 'Invite me to the premiere,' and I tell him that I want him to read the script, and then I'll invite him to the premiere."
Although Darabont didn't speak for long about his latest success story, The Walking Dead, he did answer my audience question regarding working with special effects artist Greg Nicotero and balancing the visceral visual effects with the psychology of terror conveyed in his screenwriting. He attributes the balance stemming from their mutual ability of storytelling, crediting Nicotero for his role and contributions to the filmmaking team. Darabont awarded his own autographed AFF badge to a "winning" question regarding The Majestic, attributing its lack of box-office success to timing and "not having Jim Carrey talking with his butt." He good-naturedly signed several attendees' badges as seen above.
The importance of building relationships was also emphasized in another panel I attended that day, "Independent Filmmaking: Crowdfunding Your Indie Film," moderated by Texas Film Commission's former interim Executive Director Evan Fitzmaurice and including speakers Victoria Westcott (The Trailer Park Holiday), Jeremy Cloe (Apple Juice, Something in the Air) and Lisa Rudin (Missed Connections, The Vanishing Point).
Westcott is the producer of the upcoming feature film Locked in a Garage Band, written and directed by her sister Jen Westcott. She's successfully funded two projects via Kickstarter and has spoken about crowd-funding at the Los Angeles Screenwriting Expo and TED X. She talked about the thread that she'd seen at AFF 2012, about building relationships and the value brought to a film project.
Rudin referenced the teamwork on both film and television projects that she'd been involved with, including her time as a production assistant on an episode of Real Time with Bill Maher.
My final panel of the day was "Independent Filmmaking: The Short Film" which was moderated by AFF short film programmer Bears Fonte and included Alberto Belli (The Case of the Missing Garden Gnome), Amy Grappell (Quadrangle), James Pears (The Other Side) and Matthew Ornstein (Atlantis). The panelists shared their personal experiences and advice on the process of making a short film, including how to be efficient and what makes for a good short film.
Local filmmaker Grappell spoke about the success of her short film at Sundance and SXSW, which led to an HBO adaptation into a dramatic cable TV series. First-time filmmaker Ornstein related how he'd initially intended to direct Atlantis as a feature but due to time and money constraints the short film format was a better fit for his storytelling. Pears spoke about how he managed to shock and awe big names in the movie industry by badgering executives at Panavision and other well-known equipment companies.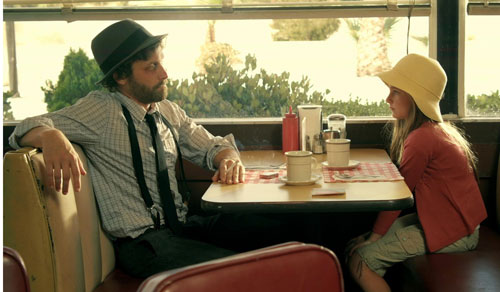 I wrapped my Sunday with a double dose of short films at Alamo Drafthouse Village, beginning with the Shorts Program 8, "The Future Now," and closing with Shorts Program 5, "A Bit of Ridiculousness," which featured Alberto Belli's The Case of The Missing Garden Gnome. As a diehard Encyclopedia Brown fan when I was a kid, I loved the premise of a ten-year-old girl teaming up with her estranged father -- a hard-boiled private eye who likes to work alone -- to find a missing garden gnome. Belli goes for a neo-noir technique of mixing traditional film noir attitudes with modern palettes and technology in this amusing tale of a garden caper.
Check back for a more extensive look of the (inter)stellar films of Shorts Program 8 that left me laughing and crying, most notably HENRi with a cameo appearance by Margot Kidder in the aptly named role of Dr. Calvin.
[Photo credits: "Frank Darabont After Session," "Darabont Autograph" by Debbie Cerda, all rights reserved.]