2011 in Review: Don's Top Ten and Other Lists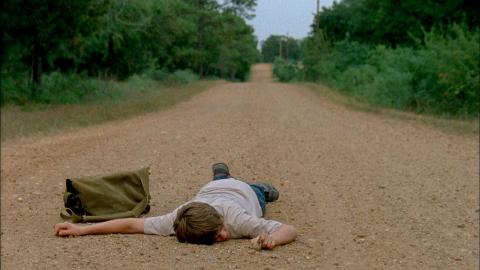 Here are my top ten and other notable films from last year. To be eligible for my list, a movie had to release in the U.S. in 2011 and screen in Austin in 2011 also. (Some well reviewed 2011 releases have not yet opened in Austin.)
1. Hugo
Martin Scorsese leaves his cinematic comfort zone with this family-friendly film, and the result is spectacular. Set in 1930s Paris, Hugo is the story of an orphan absorbed in a mystery involving his late father. But it's really an unabashed love letter to the magic of movies -- something Scorsese understands as well as anyone. Combining a captivating story, amazing 3D visuals (far more than a gimmick in this film, they're used to great effect) and a deep and abiding love of filmmaking, Hugo is no less than a masterpiece. (Mike's review)
2. Shame
A frank, raw and unnerving look at sexual addiction with a rare NC-17 rating, Shame follows soulless, bitter New Yorker Brandon Sullivan (Michael Fassbender) and his depressed and directionless sister Sissy (Carey Mulligan) on their downward spirals into emotional hell. Fassbender and Mulligan give the year's most fearlessly provocative performances in what is arguably the year's most fearlessly provocative film, one that lays bare many ugly truths about human relationships with brutal honesty. Looking for the feel-good film of the year? Skip this one. (my review)
3. Take Shelter
Young husband and father Curtis (Michael Shannon) sees apocalyptic visions; does he need to protect his family from a coming storm, or from himself? An eerie tale of threats real and imagined, Take Shelter has meaning far beyond its story of one family's troubles. Shannon's Oscar-worthy take on the unhinged Curtis is unsettlingly real; far more unsettling is what Take Shelter says about America's cruelly inadequate health care system. (Jenn's review)
4. Five Time Champion
A hit with critics and audiences at the 2011 SXSW Film Festival, local indie Five Time Champion proves yet again that superb films are borne from talent and passion, not Hollywood money. This story of three generations of a small-town Texas family is an exceptional film in every way, reminding us with great pathos and humor that no matter how old we are, relationships never get any easier. With a keenly observant script and flawless performances from an ensemble cast of first-time and veteran actors, Austin filmmaker Berndt Mader's first feature film deserves to become a classic. (my review)
5. Inside America
A narrative film with the look and feel of a documentary, Inside America (which had its U.S. premiere at the 2011 SXSW Film Festival) is an unfiltered and unflinching look at the lives of six high school students in Brownsville, Texas. Made on a shoestring budget by Austrian writer/director Barbara Eder, Inside America is a stark reminder that for many Americans -- especially those living along the Mexican border -- the so-called American Dream is little more than a fantasy. With a dead-on script and astoundingly natural performances by nonprofessional teenage actors, Inside America captures the students' world with fierce realism, startling intimacy and relentless, howling anger. It's a film every American should see. (my review)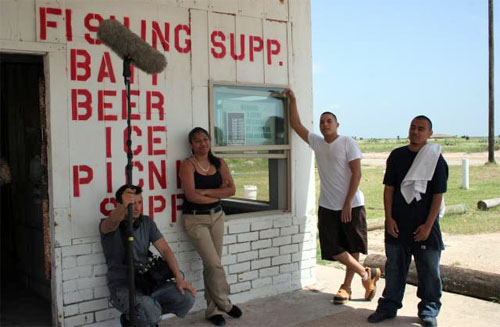 6. Beginners
Christopher Plummer gives one of the finest performances of his long career in the hilarious and poignant Beginners, a complex, multilayered film about a young artist (Ewan McGregor) whose father (Plummer) drops two bombshells: he's dying of cancer and is gay. Beginners combines disparate elements unlikely to work together -- two love stories, a coming-out comedy, a withering statement about bigotry, a tragic death, a commentary about art versus commerce and even an oh-so-cute dog, not to mention multiple time periods and settings. It shouldn't work at all -- but it works smashingly well. A brave, tragicomic blend of relevance and romance, Beginners is a timeless take on relationships and a timely plea for tolerance. (my review)
7. The Artist
In 1920s Hollywood, silent movie star George Valentin (Jean Dujardin) wonders if the arrival of talking pictures will end his career. His story contrasts with that of Peppy Miller (Bérénice Bejo), a young dancer and actress whose career rises as Valentin's falls. The Artist is as clever, romantic and entertaining as any film of 2011; this is especially remarkable given that it's a silent film. An homage to Hollywood's early days, The Artist proves that a great story needs no dialogue. (Jenn's review)
8. Martha Marcy May Marlene
The creepiest film on my list, Martha Marcy May Marlene is the bizarre story of Martha (Elizabeth Olsen), a damaged woman who struggles to reassimilate with her family after escaping from an abusive cult. Olsen (younger sister of twins Mary Kate and Ashley, but thankfully, you'd never know it in this film) is superbly strange as the haunted, paranoid Martha. And former Austinite John Hawkes is skin-crawlingly sinister as the intense, controlling cult leader. (Elizabeth's review)
9. Submarine
In this quirky, highly stylized coming of age story, Welsh teen Oliver (Craig Roberts) has two goals: scoring with the sexy and comically mean-spirited love of his life, Jordana (Yasmin Paige), and saving his parents' marriage when his mother's ex-boyfriend (a self-proclaimed psychic hilariously played by Paddy Considine) moves in next door. Paige is particularly memorable as the adamantly unromantic and slightly dangerous Jordana. Submarine could have been too cute for its own good, but its off-kilter humor and world view make this charmingly weird comedy one of the year's most likable films. (Jette's review)
10. Rango
This mesmerizing animated film is no kids' movie; in fact, I suspect most children would find it somewhat boring, and their parents would be surprised at the film's language and bawdy humor. Rango is very much a grown-up film, a slightly surreal story about a movie-loving chameleon (voiced by Johnny Depp) who, after being freed from his boring modern-day life in a terrarium, winds up in a lawless Old West outpost full of wisecracking desert critters. (It all makes sense -- sort of -- when you see the film.) Like Hugo and The Artist, Rango is a wonderful tribute to vintage filmmaking (in this case, Spaghetti Westerns). And the animation is arguably the most vibrant and stunningly realistic ever. (Mike's review)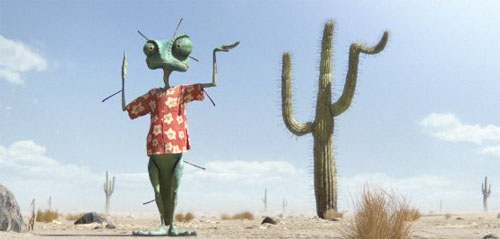 Films That Would Have Made My Top Ten List If It Were a Top 20 List
Attack the Block
The Girl with the Dragon Tattoo
Hanna
The Ides of March
Incendiary: The Willingham Case
J. Edgar
Midnight in Paris
Page One: Inside the New York Times
The Tree of Life
The Trip
Honorable Mentions:
Cedar Rapids
This seemingly ordinary workplace comedy is a pleasant surprise; thanks to a clever script and hilarious performances from Ed Helms and John C. Reilly, Cedar Rapids is one of the year's sharpest, funniest films.
Slacker 2011
Remaking the classic Slacker could have been a recipe for disaster. But 24 teams of Austin directors and film crews somehow managed to pull off a loving tribute to (and affectionate parody of) Richard Linklater's venerated film. Slacker 2011 is a great way to honor the film that made many of us fall in love with Austin and played a pivotal role in creating the Austin film industry. (my review)
Rubber
I cannot say Rubber is a great film. But I can say this exercise in cinematic Dadaism about a self-aware, homicidal tire (yes, really!) is a gloriously strange film that demands respect for its sheer audaciousness. Don't try to get Rubber -- just revel in its oddness and don't ask questions.
Most Overrated:
Drive
This stylish but jarringly schizophrenic blend of non-action and splattery gore is neither an "art house action film" nor the minor masterpiece a zillion critics say it is. It wastes the impressive talents of Ryan Gosling and Carey Mulligan; don't let it waste your time also. (my review)
Bridesmaids
Mostly clichéd and predictable, Bridesmaids has a few cleverly funny moments and gives the Wedding Industrial Complex a well deserved skewering. But with its insultingly happy, crowd-pleasing ending, it's hardly the feminist statement so many critics claim it is. Also: Even when cheap bathroom humor involves women, it's still cheap bathroom humor. Yeesh. (Jette's review)
Two Hours of My Life I Want Back:
Jack and Jill
Adam Sandler has reached a new low point in his career (yes -- even lower than Grown Ups), dragging Al Pacino down with him. Jack and Jill is an excruciatingly unfunny exercise in unmitigated idiocy; we've come to expect as much from Sandler. But Al, Al, Al...what were you thinking? (my review)
Please Watch These Wonderful Austin-Related Films:
American: The Bill Hicks Story
Better This World
Cancerpants
Natural Selection
Skateland
Films That Didn't Make Any of the Above Lists, But You Really Should See Them Anyway:
Cave of Forgotten Dreams
The Greatest Movie Ever Sold
Incendies
Into the Abyss
My Week with Marilyn
Project Nim
The Skin I Live In
Source Code
Thunder Soul
Winter in Wartime