Review: Hugo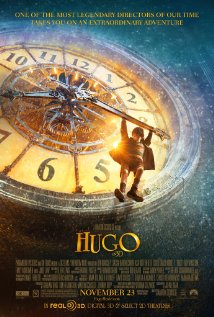 The last Martin Scorsese film I saw was Shutter Island, a movie that garnered great critical acclaim, but which I felt suffered from an all-too-predictable ending. Thus, I have little interest in revisiting it. I hardly dared hope that Hugo would live up to the promise hinted in the teaser trailers I'd seen. But it did in fact far exceed my expectations.
John Logan (Rango, The Last Samurai) has created a superlative adaptation of Brian Selznick's novel The Invention of Hugo Cabret. This isn't just the story of an orphan boy living in a train station in 1930s Paris. It is, as one friend described it, "Scorsese's love letter to film." The answer to each mystery unlocks another until a dramatic reveal so poignant it left the audience in tears of both sadness and joy.
There aren't enough Oscars to cover Hugo. It is a rare magical film that is almost too good for the Oscars. If they held a once-a-decade competition between all the best picture winners, it might be a worthy contest. Starting with Scorsese's direction, and adding what James Cameron says is the best use of 3D he's ever seen, including his own films. Hugo opens with a bird's-eye fly-through of a train station, a single shot so detailed, so amazing that words fail me. The steampunk aesthetic and rich recreation of Parisian characters made it almost a surprise not to see the name "Jeunet" in the credits.
Asa Butterfield has already made a name for himself in such films as Son of Rambow, The Boy in the Striped Pajamas, The Wolfman and soon Ender's Game. He is a perfect fit for the clockmaker orphan, running through hidden steam tunnels and minding the great clockwork of the station. He finds an ideal match in Chloë Grace Moretz's Isabelle, a shy girl with an adorable quirky twisted grin. The character is so innocent and sweet, it's hard to believe this is the same girl who knocked us out as Hit Girl in last year's Kick-Ass.
Within a cast of today's best character actors including Sacha Baron Cohen, Christopher Lee, Richard Griffiths, Jude Law, Helen McCrory and Emily Mortimer, Ben Kingsley is a standout. Kingsley and Butterfield have a chemistry akin to Mr. Wilson and Dennis the Menace. His grouchy exterior gives way to much deeper emotions as the story unfolds. After flops like Prince of Persia and The Love Guru, it's good to see Kingsley in a film worthy of his talents.
I dare not risk saying too much more about Hugo. It is a riddle wrapped in a mystery enshrouded by an enigma, and the unravelling of that is a delightful adventure the whole family can enjoy. The movie touched me on every level, with a stunning score by Howard Shore, unbelievable visuals and a heartwarming story brought to life by extraordinary actors. For reasons that will become clear when you see it, I will recognize Hugo as my favorite movie of this year and perhaps the last decade.