Review: Rango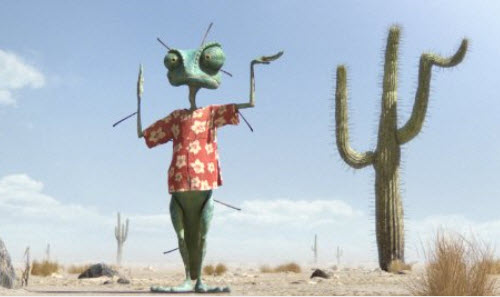 It was disappointing to hear that director Gore Verbinski wouldn't be making the next Pirates of the Caribbean movie, but now that I've seen the reason, all is forgiven. Rango, opening today, is a family movie that isn't just for kids, and not only for kids and their parents, either. Rated PG, the animated film includes saucy, bawdy, even raunchy language that will give parents a good belly-laugh, but roll like a tumbleweed right over the heads of most children under 13. And it's still got enough good slapstick humor and standard cartoon elements to keep the kids entertained.

But for lovers of film, Rango is on an entirely different plain of the Old West. First, Rango himself (Johnny Depp) is a chameleon, the actor of lizards, who spends his idle time in the terrarium acting out movies of his own design with his only companions, a headless Barbie doll and a wind-up fish. He spends all his time being other people, but doesn't really have a grip on who he actually is. In something like a Picasso-view of Toy Story in reverse, when Rango is separated from the family who owns him, he doesn't try to get back to them. There's no attachment, and they're gone without a second thought. Instead, he heads into the desert to find water and discover who he is, in an adventure narrated in theatrical style by a chorus of avian mariachis.

The very first inescapable thought as you watch Rango is how unbelievably realistic everything looks. Everything, from the sky and scenery to the individual textures on each character's face represents a level of detail that can't be captured by the word "stunning." This is the first animated feature from ILM aka Industrial Light & Magic, the visual effects branch of Lucasfilm behind movies from Star Wars right up to Transformers and Iron Man 2. I have never seen an animated film with this level of detail. Honestly, it blows Avatar out of the sky.

After your mind recovers from the gorgeous visuals, you'll start to notice characters and voices that are so familiar, but you won't be able to quite place them. They're all familiar from various classic films. Ned Beatty voices the mayor based on John Huston's Noah Cross from Chinatown. Another character is modeled entirely after Lee Van Cleef. Then you start to see shots that are directly from films like Fear and Loathing in Las Vegas, Star Wars, even Pirates of the Caribbean. To mention several others would risk venturing into spoiler territory. Still, the more you know the works of Depp, Verbinski, ILM, etc, the more you'll recognize.

Rango was a treat on every level, and I can't wait to see it again. It may be a bit early to say, but it has a good chance of being my favorite movie this year.