A Tour of Austin Filmmaking Via 'Slacker 2011'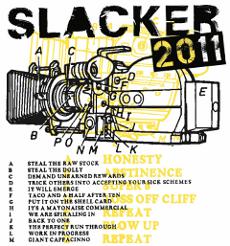 Of all the movies undergoing remakes, sequels, "reboots" and so forth, the last one I ever expected to get such treatment was the 1991 Richard Linklater film Slacker. But here we are, two decades after the movie premiered in Austin, and Austin Film Society and Alamo Drafthouse have teamed up to organize a remake ... sort of. Surprisingly, I'm not making the usual squinchy face of distaste that I do when I hear about remakes, which may have to do with the talent involved.
Slacker 2011 is not just a potential film, it's a project to raise money for the Texas Filmmakers' Production Fund (TFPF). Nearly two dozen local (or formerly local) filmmakers have signed up to re-create scenes from Slacker -- perhaps showing us how much Austin has changed in the last 20 years. Each filmmaker will re-shoot a scene in its original location, and the scenes will be edited together for Slacker 2011. The film will premiere on August 31 ... obviously not at the same theater where Slacker premiered, though (the now-defunct Dobie).
How does fundraising tie into this? You can donate money to the Texas Filmmakers' Production Fund and different levels give you different premiums, like the fundraising campaigns for indie films through Kickstarter and IndieGoGo. $50 gets you a ticket to the Slacker 2011 premiere and a thank-you on the AFS website; other levels offer autographed DVDs of both films, the chance to be an extra or have a speaking role in one of the Slacker 2011 scenes, and for $25K, Executive Producer credit.
The list of filmmakers is impressive if you know something about the Austin film community. However, I think it's unfair to make that assumption, or to leave you with nothing but a handful of IMDb links. Therefore, the bulleted list below provides a little more info about who these filmmaker are, what they've worked on, and if they themselves have benefitted from the TFPF program. It's a nice little tour of local filmmaking with some fascinating interconnections. I know more about some filmmakers than others, so if I've missed something notable, let me know in the comments.