SXSW Review: The Happy Poet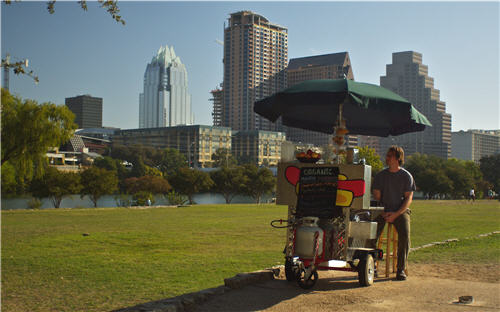 Paul Gordon's The Happy Poet had its world premiere this week at SXSW to an over-capacity and appreciative crowd at Alamo Ritz.
Bill (Paul Gordon) has a dream to open a healthy and organic food cart. This simple dream seems impossible due to poor credit and no experience (he's a poet), and no one believing in him, but he's determined to make it work, despite the pressure to open a hot-dog stand instead. With the unlikely allies of unemployed friend Donnie (Jonny Mars), a slacker-philosopher who haggles for the first sandwich (Chris Doubek), and Agnes (Liz Fisher), who quickly becomes a regular, it looks like his dream will take off. But can the Happy Poet food stand make a stand for healthy food, or will Bill be forced to sell out and sell hot dogs?
Gordon's deadpan delivery accentuates Bill's uncertain resolve. As funny as his delivery is, it also makes Bill a relatable character the audience roots for even while laughing at his awkwardness or painfully bad poetry. The other cast members are equally memorable, particularly Doubek as Curtis, who attaches himself to Bill with an enthusiasm impossible to ignore. That's not to discount local musician Jonny Mars as the friend who's help may be sabotaging Bill's efforts, or Fisher as the love interest intrigued by poetry and whole food.
THe Happy Poet is the kind of indie film that puts Hollywood to shame -- a low-key comedy with a simple story that leaves you with a smile. The comedy isn't outrageously insulting, and the protagonist isn't hamming it up to force laughs. Instead, it's a genuine story that people can relate to, carnivores and vegetarians alike.
With the food-stand renaissance Austin is enjoying these days, Bill's dream of micro-entrepreneurship is particularly topical. But it's not about the food, it's about the dream, the perserverance to realize it, and the people who matter along the way.
The Happy Poet is a contemporary American Dream with a Keep Austin Weird twist that will make you wish there was a Happy Poet food cart near you. So far it's my favorite of SXSW 2010.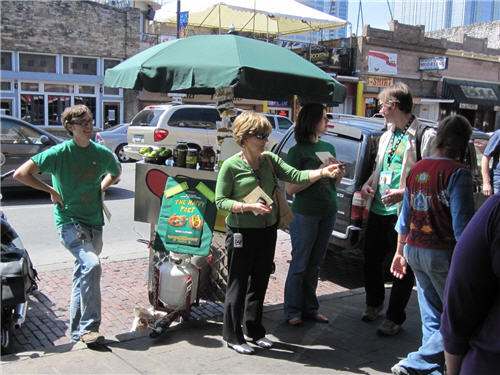 Austin Connections: The Happy Poet food stand was set up on Auditorium Shores. Other scenes are set at Wheatsville Co-op and Jenn's Copies, with a lot of driving past The Drag and downtown Congress Ave. Hey Cupcake on South Congress was used for the food trailer scene, and the storefront scene was Cissi's Market (also on SoCo). Other neighborhood locations are not as clear, but if they're local to you, they'll probably stand out.
The Happy Poet screens one more time at the Alamo Ritz on Thursday, March 18, at 6:15 pm. It's in Ritz 2 (the little one), so get there early.