Review: Dance with the One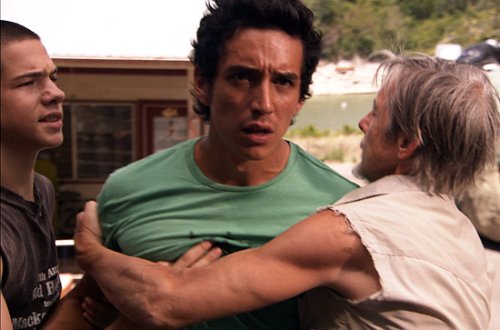 From the UT Film Institute (The Cassidy Kids, Elvis and Annabelle) comes the powerful drama Dance with the One, which premiered at SXSW Film Festival last month and screened this week at the Dallas International Film Festival. Actor Michael Dolan (Hamburger Hill, Biloxi Blues) makes his directorial debut with a story co-written by Smith Henderson and Jon Marc Smith. As thrilling and suspenseful as a crime caper, it's really the family drama and determination of the main character that engage viewers.
In Dance with the One, small-time pot dealer Nate (Gabriel Luna) is in the business to support his family. Scarred by the tragic death of their mother, Nate wants to get his little brother Sitter (Mike Davis) away from his alcoholic dad Owen (Gary McCleery), as well as himself and his childhood sweetheart Nikki (Xochitl Romero) out of Texas to Oregon. Nate takes the opportunity to help his boss Bobby (Paul Saucido) -- who's also Nikki's dad -- to take care of a situation with a harder substance, hoping the money he earns will be the final push to freedom. However, things go wrong when the drugs go missing, and Nate must find a way to protect his family from the silent partner out for his investment and blood.
The mostly Hispanic ensemble cast of Dance with the One features some memorable and genuine performances, most notably Luna as Nate, Davis as Sitter, and Romero as Nikki. The one character that could have been given a bit more development in the first act is Owen, as it causes some difficulty buying into his motives. Important exposition is delayed and sparse that may leave some viewers pondering what his motivation is, especially if you miss key dialogue. McCleery delivers a lot of cheesiness, but at the heart he's still a father who's even more scarred than his sons from the wife who had been lost to him long before her actual death.
The tight editing and cinematography that rely on tight shots drives Dance with the One at a nice pace, building up the intensity of the story. Intercut scenes play off one another quite well. Although the dialogue could have been a bit more polished, overall the writing was well done and a major plot twist caught me off-guard. Despite its low budget, the production comes across as high quality. The musical score includes songs from local artists ranging from legendary punk rockers Big Boys to modern psychedelic rock band The Black Angels, which support the energy and passion of this film.
Despite the central story revolving around illegal drugs, Dance with the One is not about "crime doesn't pay." This film is about the lengths to which someone will go to protect the ones they love, and the sacrifices to be made. I highly recommend seeing and supporting this local film, and look forward to seeing the young cast members in future roles.
Notable Austin locations: Filmed entirely on location in Austin, including Scoot Inn and other establishments in East Austin.
Austin connections: Local crew and cast, including Dana Wheeler-Nicholson (Friday Night Lights) and Paul Saucido in supporting roles. Score production and arrangement by Screen Door Music's Brian Standefer and Bukka Allen, with a diverse soundtrack featuring Austin musicians and band including Roky Erickson, Doug Sahm, The Black Angels, Big Boys, Phranchyze, and the Damnations.