SXSW Spotlight: Geoff Marslett, 'Mars'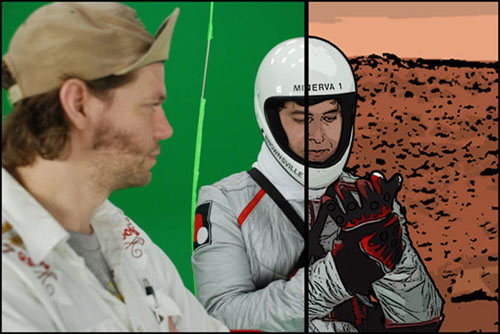 Among the many world premieres at SXSW in just two weeks is Geoff Marslett's Mars, a sci-fi rom-com indie brimming with local and nationally known talent. Earlier this week, Jette and I caught up with Marslett and talked about Austin, film and food over a long brunch at Olivia on South Lamar.
Marslett is a veteran of short films, and a self-taught animator on faculty at The University of Texas at Austin. His films have been featured at CinemaTexas, SXSW, and even in Spike and Mike's Sick and Twisted Film Festival (vol. 7). Perhaps best known for the award winning Monkey Versus Robot as well as Bubblecraft, Marslett has worked on 14 of his own shorts as well as contributing to other films such as Last Man Standing: Politics Texas Style. In 2009, Marslett was named one of the "25 New Faces of Independent Film" by Filmmaker magazine.
Three years ago, Marslett started working on Mars, with a 17-day live-action shoot followed by two years of animation work. This was a labor of love and obsession, with Marslett and his team of animators and interns working impossible hours to complete the film over the last two years while he also juggled a teaching schedule at UT's RTF program.
Marslett clearly understands the importance of casting. When asked about casting, he didn't let limited resources stand in his way:
"You can watch a movie that has a mediocre script, a great cast can totally save it. But if you have a bad cast and a great script, you can't save it if people don't sell the story. So in the end I wanted a solid cast ... We didn't have much money and I didn't really have much of a track record but that took a lot of phone calls to casting agents. I had a couple samples of animation. I'd done Bubblecraft, so I was able to send them a length of that they could watch it, and I think that did get us callbacks from people who otherwise would have ignored us. I got this thing that looks kinda cool, and actors like to look cool, so maybe they'll do this. We did work really hard, we spent the bulk of pre-production mainly with casting of the film. "
Collaboration is common among indie films, and Mars is the dictionary example. The cast alone includes other directors bringing features to SXSW this year, including Paul Gordon (The Happy Poet), Michael Dolan (Dance with the One), and Mark Duplass (Cyrus -- co-directed with brother Jay). Duplass also produced Lovers of Hate. Who needs Kevin Bacon and his six degrees?
"I believe I met Mark once before [working on Mars together]. We had a lot of common friends. We had a lot of people interested and lined up to do the role and and certainly at the time even higher profile than Mark was. I think at the time The Puffy Chair had been out. He wasn't all over the media by any means then. I always liked Puffy Chair, and when we brainstormed we put in a call to him. When I talked to all the actors, by far, Mark was the one who got the script the most. I felt like he understood and when we talked about it I really liked his take on the Charlie character. He was working on True Adolescence at the time that we were scheduled to shoot so we moved the entire production a month later to work with Mark. And it did mean we lost out on a couple others, people I'd lined up for other roles. But I just felt I really liked his read of Charlie and I needed that. Fast forward two years in the future and I'm really pleased not surprisingly his career has taken off."
Duplass wasn't the only casting coup. Not only did Marslett secure former gubernatorial candidate and Texas Agriculture Commissioner hopeful Kinky Friedman as the president in Mars, but award-winning animator Don Hertzfeldt has a cameo as well as local comedian Jerm Pollett (Master Pancake).
"Kinky [Friedman] was the last one we cast. I always knew the kind of personality for the president character to be shot and we weren't able to find anyone during the initial shoot of September 2007 for that role. We'd not found the right president. We went ahead and shot everything else. We did 3 days pick-up in June... he was the last one. Kinky definitely fit that bill. David Hartstein was my A.D., he directed Along Came Kinky, so we knew exactly who to call. Kinky did a great job."
While actors are used in the film, it's entirely animated. Marslett explains the process, and how it differs from other Austin animated films, Waking Life, A Scanner Darkly. His intention was to create a comic-book look in animation (versus making life action simulate animation in Richard Rodriguez's Sin City).
"Unlike Waking Life and Scanner Darkly, they shot on location and used rotoscoped, their whole environment they're tracing over what you'd see. In this film [Mars], nothing they'd pick up, nothing they'd stand in front of nor where they go is real. It's entirely green screen picking up little green boxes meaning props. The only thing that we shot was actors in costumes period. No props, no anything, no location, except one ... there's a swimming pool. We shot in real water, we had to do that. But short of that, it's all 100 percent animated.
"I'm really curious what people think. The style is a little different I think from anything that's thrown out there.
"With the animation I wanted the style that we created that felt almost real. I did spend several years working on that aesthetic, on the way we did the characters. Tray Duncan and I were writing the program to do the processing the colors, the texture of the hand-drawn stuff on top, the composite. I wanted again to feel not quite Scanner and Waking Life looking, and not quite as realistic as something like Sin City, but oddly not just because they're Austin, and my aesthetics were Austin films. But somewhere in between those two I was hoping the look fell in there, kind of like a graphic novel come to life. It felt realistic, but just out of reach."
Centered around a space race, Mars is technically science fiction, but Marslett pointed out that while the sci-fi setting is important, it's secondary to the core of the story.
"It's a romance. I want people into sci-fi and stuff to go because it's a sci-fi film. But I don't want people to think it's sci-fi like space battles and that. That's something I tried [to convey in] the trailer. I wanted to be very clear in what they're going to see. There might be a little action, there might be a spaceship, but I'm gonna see a romance, really. That's the reason I set it in space, other than the clever thing to do with my name. To me romance is so very approachable, but it's also like that thing on the top of that one shelf that you can't quite reach.
"I wouldn't use dark and edgy to describe this film. It's not really what this film is about. There are undercurrents of the bad side and what do we do when we explore new places... how do we treat Mars. It's essentially an update film; it's a romance. Romance is happy, however long it lasts. Whatever happens, I wanted the film to feel that way."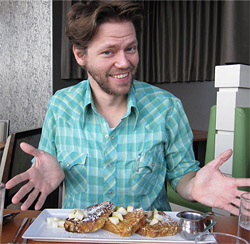 I really wish I could share the entire interview via podcast with you, but being at a popular restaurant for brunch, I'll spare you the poor sound quality. Needless to say, Marslett is a great interview and dining companion (he even offered us some of that luscious French toast shown at right), and these excerpts should get you as excited about Mars as the Slackerwood team is.
"I really couldn't say enough nice things about the cast. I'm so happy with their performances. People've asked me, what's the humor like. Is it slapstick, is it this? If I had to compare it to something I'd compare it to Doctor Who. It's funny in a way that some people aren't going to think it's funny... I think the ones who get the humor are going to really really enjoy it."
Mars has its world premiere at SXSW on Saturday, March 13, 2010 at the Alamo Ritz.
Since the film is a local production, you might fret that seats at the premiere will all be filled by cast and crew, but don't worry. Marslett mentioned that the bulk of the cast and crew will be at the later Alamo South Lamar screenings, and that he himself was willing to give up his seat if necessary. There will be cast and crew at the first two Q&As at least, although who's at which screening will change, as not everyone will be in Austin in time for the first screening.
[Photo credits: Geoff Marslett and Mark Duplass on set of Mars. Courtesy Swerve Pictures. Geoff Marslett about to enjoy brunch at Olivia. Courtesy Jenn Brown.]