Tap-Dancing Zellners, Putting on the (Alamo) Ritz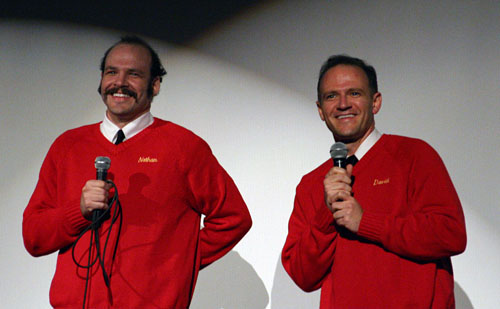 On Monday night, I headed to Alamo Drafthouse Ritz for an evening titled "Zellneroids! The Zellner Brothers Short Film Cavalcade," not sure what to expect. I did not expect live tap-dancing and singing, that's for sure.
Nathan and David Zellner are Austin filmmakers who have been making films in Austin, primarily shorts, for more than 10 years. Their short films have played festivals around the world, including Sundance. Sundance was also where their feature film Goliath premiered in 2008. I reviewed Goliath earlier this year when it was released on DVD.
The Zellners have a somewhat askew sense of humor that works beautifully in short films like the ones we watched on Monday. They're fond of including their pets in their films, and they also seem to like dressing in costumes. On Monday night, as you can see above, they wore matching red sweaters with their first names on them, as thought their mom had dressed them for the occasion.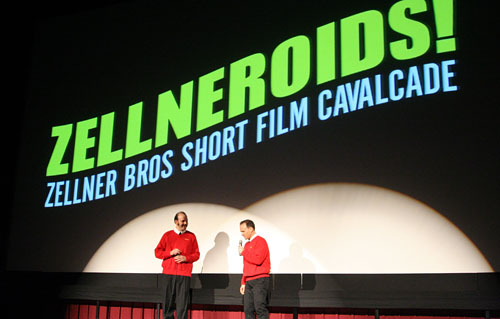 After Alamo programmer Zack Carlson introduced the brothers, they took the stage to thank everyone ... and to tap-dance. I've seen nearly all their short films at this point, and none of the films showed off this particular talent. If I had only gone to that "Zellners vs. Duplasses Smackdown" at SXSW 2007, I might have anticipated this.
After the dance number, we watched about a dozen shorts, starting with Flotsam/Jetsam (2005) and ending with Foxy and the Weight of the World (2005). I prefer the shorts that aren't merely silly -- my favorites are the two-part Aftermath on Meadowlark Lane (2007), which might tell you more about the brothers than you really wanted to know, and Quasar Hernandez (2004), the first short of theirs I ever saw (for this article), about a Big Brother relationship drawing to a close.
Admittedly I also enjoy the films where David and Nathan Zellner actually appear, together, and end up fighting in one way or another. The three Fiddlestixx shorts, which played Sundance this year, were probably my least favorites -- goofy but not striking me as especially funny -- although I did relent a bit about the third one, Larry Blindon, and not just because I liked the costumes.
When the shorts were over, the Zellners retook the stage for a Q&A session. Most of the people in the audience were familiar with the filmmakers, or perhaps they remembered that awful Q&A in Baghead (which has David Zellner in it), so the few questions tended to be about the filmmakers' future projects.
David informed the crowd that in January, he and Nathan had filmed "a Sasquatch giving birth" and were deciding what to do with that footage. They're done with the Fiddlestixx shorts for now, as their funding for them dried up, noting that "it's very expensive to hire a gibbon."
"Hopefully, we'll be doing a feature next," he said.
The last question was obviously a plant (and I couldn't see who planted it), in which someone melodiously asked the Zellners to sing. And they did. They launched into a rendition of, of all things, "The Neverending Story," and finished it off with more of their dance stylings. My notes say that "David Zellner is the poor man's Neil Patrick Harris," but I may have gotten caught up in the moment.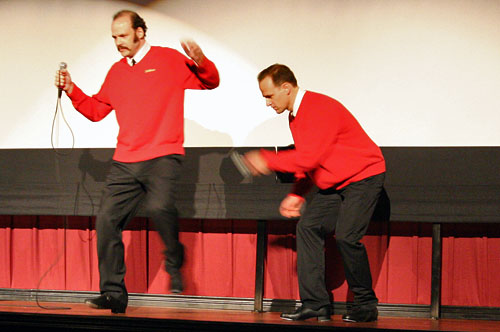 One final observation: I wrote yesterday about Austin theaters and had some discussion about which types of movies draw a crowd and which do not. The Zellners' short films are all available online -- you could have a "Zellneroids!" fest of your own on your computer for free and wouldn't see anything we didn't seen onscreen. (I noticed someone shot video of that tap-dancing, so eventually you might be able to watch that, too.) Even so, the theater was about three-quarters full, on a Monday night -- the big theater at Ritz, not the little one. Sometimes it's the community experience as much as it is the programming.