2009 in Review: Debbie's List
Before I get into the meat of my personal best and worst of 2009, I'd like to reflect on my Slackerwood experiences with a slight tangent. Through my experiences as both an attendee and volunteer at South by Southwest over the years, I've come to appreciate "defining moments" -- an awareness of a synchronicity that represents that event. For SXSW Film Festival, one of these defining moments was my encounter with Jim Jarmusch (pictured after the jump), which I later conveyed in my "first" Slackerwood contribution for the Alamo Downtown Blog-a-thon. Other moments included a conversation with Penelope Spheeris in the ladies room at local bar, or the ultimate -- Louis Black introducing me to Jonathan Demme.
As a film geek, I'm grateful that Slackerwood founder/editor Jette Kernion brought me on in June to share the cool and interesting film happenings and my personal opinions of films. I'm especially grateful to the Slackerwood audience, for supporting us in our love for film, and for allowing me to share my Slackerwood defining moments. There are moments during a conversation with a filmmaker there's a self-awareness -- I'm getting some intimate filmmaking insight that I get to share!
Enough sentiment, on to my personal list:
Best (and Most Frequent) Local Celebrity Encounter: I saw Austin Film Society founder and local filmmaker Rick Linklater more than any other local celebrity this year. Despite his reserved nature he was always pleasantly polite, whether a guest at the premiere of Mike Judge's film Extract or my interview with him and Christian McKay.
Best Austin Meta Moment: The documentary The Eyes of Me was filmed in my old neighborhood near 45th and Lamar so it was interesting to see familiar streets and bus stops I've walked myself. I now look at that area with a different perspective, wondering what obstacles are presented to people with visual impairments.
Most Bizarre Moment in a Theater: I was a bit unnerved when the Nazi banners unfurled at the Inglourious Basterds screening at Cinemapocalyse. Even more so, I felt conflicted -- even if the characters fleeing from the fire were Nazis, the carnage was almost more than I could stomach. Yes, I believe the Holocaust occurred so no need to discuss further.
Biggest Regret: Not stressing to my boyfriend how much I really wanted to see Star Trek: The Wrath of Khan at the Alamo Drafthouse, and waiting too late to RSVP. I'll defer to Chip to share the gory details. We now own both The Wrath of Khan and Star Trek on Blu-ray, and I'm ready for a double feature.
Best Austin Film "On Location" Experience: Thanks to Tim League's personal plea for locations for Simon Rumley's new film Red White & Blue, my boyfriend and I had what might be a once-in-a-lifetime chance to host a film shoot in our house. I still have some great photos to share, but since they could be considered spoilers you will have to wait. Temperatures hit in the triple digits that week, and several cast and crew members found quiet cool corners to rest before the next scene. Rumley, shown below, started wearing a cowboy hat. Suffice to say, I now get spooked when I'm home alone late at night, nervous that someone might be peeking in our living window and...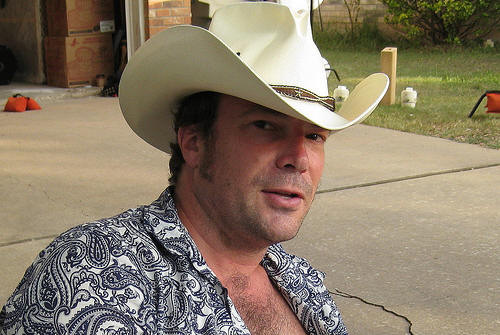 Best Impression of a UT Frat Boy on 6th Street: Who dares to argue that Spanish filmmaker Nacho Vigalondo is not the ultimate party animal? He's become the mascot of Fantastic Fest, always leading the charge to punish the liver or just one more round of karaoke -- last time I saw him, he was dancing with himself to the tune of Billy Idol's "Dancing with Myself" at the Highball. Keep an eye out for this Spaniard -- he's a creative genius, writer/director of the critically acclaimed 2007 science fiction/suspense thriller Los Cronocrimenes. An English-language remake is in production, as well as his sci-fi video game comedy Gangland.
Most "Austintacious" Filmmakers: I know, that's not really a word in my vocabulary. I use it to describe the visiting filmmaker or actors that most embrace Austin culture, that embrace the openness and spirit of the Austin film community.Without a doubt, my choice for 2009 is the cast and crew of Herpes Boy. Everyone associated with this quirky fun film who were in attendance at the Austin Film Festival gave up their seats at both sold-out screenings. Even co-producer and actress Beth Grant (pictured below) worked the line and the room to get as many filmgoers in as possible. Beth also spent time at the University of Texas that week mentoring film students. The director Nathaniel Atcheson, writer and lead actor Byron Lane along with lead actress Ahna O'Reilly were humble and appreciative of the opportunity to present their film in Austin.
Most Useful Lesson Learned: During a film festival, always have a back-up plan and be flexible.
Useful Lesson Still Not Learned: When working a film event, you can never have enough batteries charged for your camera or audio recorder.
Most Useful Red Carpet Lesson: I had a foot up thanks to Jette's humorously titled "Kevin Smith broke my (red carpet) cherry." Pack light, and don't forget water. With temperatures hitting the triple digits this summer, I did not envy the bands playing in the heat of the day for the Bandslam red carpet premiere.
Worst Interview Moments: Although there are times when I cringe because I've asked a question that the actor/director doesn't quite understand, it's not been the worst part. What I find most disappointing is the loss of nuances in a conversation or gestures that can't be conveyed through a transcribed interview or podcast. I had to leave out the most interesting story that Christian McKay (Me and Orson Welles) told about working with Richard Linklater, as critical moments were represented in pantomime. On the other hand, I captured Robert Forster on video during his Q&A at Cinemapocalypse, and due to its lengthiness I've not been able to successfully upload for viewing. Whether I need to overcome my ineptedness with iMovie or YouTube, I promise you'll see it here soon!
Biggest Surprise: After seeing Postal and the trainwreck Q&A with Uwe Boll at Fantastic Fest 2007, I wasn't sure if I really needed to see Rampage, which was also written and directed by Boll (pictured below, center), the filmmaker everyone loves to bash. I'm glad that I didn't miss it -- despite the violent theme, this film was solid and well-paced with interesting sub-texts. I spoke to Uwe between screenings, and he was very polite and well-spoken. Lead actor Brendan Fletcher was apologetic in his Q&A for the violent nature of Rampage, but it was not nearly disturbing to me as Natural Born Killers or Surveillance. I hope to review Rampage when it receives distribution, but in the meantime check out Jette's review over at Cinematical or C. Robert Cargill's review at Film.com.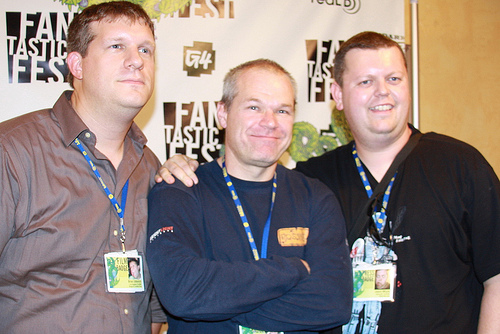 Most Serendipitous Moment: As much as I personally enjoy watching short films, I suspect many of the filmmakers don't receive a lot of attention from film critics. I'll admit only half-heartedly accepting a screener of Inside while at a filmmakers luncheon, but after learning the female filmmaker Tracie Laymon had recently left Austin for L.A., I was intrigued enough to check it out. Her film was wickedly funny, and I enjoyed our interview time together. For our interview session, rather then meet Tracie near her hotel I took her to my favorite local coffee shop, Progress Coffee. Coincidentally, friends of Tracie were in line in front of us -- Andi Scull-Steidle, founder of the multimedia non-profit H.O.P.E. Campaign and her husband, Brian Steidle. Brian was the subject of the documentary The Devil Came on Horseback, which exposes the atrocities in Darfur, Sudan.
[Photo credits: Debbie Cerda with Jason Bateman at Extract premiere, by Jette Kernion; Jim Jarmusch and Debbie Cerda at Coffee and Cigarettes premiere by the late John Koller, beloved friend and volunteer; and all other photos by Debbie Cerda: Simon Rumley on Location; Brian Udovich of Rough & Tumble Films, Uwe Boll and Jason Whyte of efilmcritic.com at Fantastic Fest; Beth Grant at AFF.]